Eco-evo-devo of the lemur syndrome: did adaptive behavioral plasticity get canalized in a large primate radiation?
Frontiers in Zoology
2015
12(Suppl 1):S15
Published: 24 August 2015
Abstract
Background
Comprehensive explanations of behavioral adaptations rarely invoke all levels famously admonished by Niko Tinbergen. The role of developmental processes and plasticity, in particular, has often been neglected. In this paper, we combine ecological, physiological and developmental perspectives in developing a hypothesis to account for the evolution of 'the lemur syndrome', a combination of reduced sexual dimorphism, even adult sex ratios, female dominance and mild genital masculinization characterizing group-living species in two families of Malagasy primates.
Results
We review the different components of the lemur syndrome and compare it with similar adaptations reported for other mammals. We find support for the assertion that the lemur syndrome represents a unique set of integrated behavioral, demographic and morphological traits. We combine existing hypotheses about underlying adaptive function and proximate causation by adding a potential developmental mechanism linking maternal stress and filial masculinization, and outline an evolutionary scenario for its canalization.
Conclusions
We propose a new hypothesis linking ecological, physiological, developmental and evolutionary processes to adumbrate a comprehensive explanation for the evolution of the lemur syndrome, whose assumptions and predictions can guide diverse future research on lemurs. This hypothesis should also encourage students of other behavioral phenomena to consider the potential role of developmental plasticity in evolutionary innovation.
Keywords
evolution
behavioral development
masculinization
canalization
lemurs
"… natural selective factors impinge not on the hereditary factors themselves, but on the organisms as they develop from fertilized eggs to reproductive adults. We need to bring into the picture not only the genetic system by which hereditary information is passed from one generation to the next, but also the "epigenetic system" by which the information contained in the fertilized egg is expanded into the functioning structure of the reproducing individual. Each organism during its lifetime will respond in some manner to the environmental stresses to which it is submitted, and in a population there is almost certain to be some genetic variation in the intensity and character of these responses. Natural selection will favour those individuals in which the responses are of most adaptive value."
C. H. Waddington (1959) p. 1635
Background
Comprehensive studies of behavior ideally include multiple perspectives, including not only investigations of adaptive function, but also of underlying mechanisms, developmental processes and the phylogenetic history of a trait [1]. Historically, behavioral ecologists have primarily focused on the function of a behavior in light of environmental factors that improve optimization of this trait [2]. By also studying the developmental causes of behavioral variation, patterns of variation among closely related species and their ancestors, and how this variation is brought about by neuro-endocrine mechanisms, today's behavioral biologists are increasingly paying more attention to the perspectives that characterized much work by classical ethologists [3, 4]. These more comprehensive approaches increasingly reveal details about the processes and mechanism underlying both, the flexibility of behavior and the constraints imposed upon it [5, 6].
Behavior varies across several spatio-temporal scales, including over the lifetime of an individual, among individuals within social units or populations, among populations of a species and among closely related species. Identification of the forces and mechanisms that produce variability at these different levels, but also of those that conserve adaptive behavioral solutions, is a major goal in behavioral biology (reviewed in [5, 7–10]). Studies of consistent individual variation in various behavioral traits, many of which are correlated across time and contexts, provide opportunity for identifying the factors and processes that generate both, behavioral diversity and uniformity [11–14]. The fact that individuals under virtually identical social and ecological conditions can and do express different stable behavior patterns indicates substantial genetic influences on these traits [8, 15]. Significant genetic influences on such personality traits have indeed been documented, and some are correlated with morphological and life-history traits that affect individual fitness [15, 16]. Thus, we are beginning to understand what part of phenotypic variation in a behavioral trait can be attributed to additive genetic variation, epistatic, maternal or environmental effects [17, 18], but phenotype shaping through epigenetic or other developmental processes may also contribute to inter-individual variation [19–23].
Little is still known about the interaction between developmental and evolutionary processes in shaping phenotypic variation in behavioral traits, however. While integration of evolutionary biology with developmental genetics into 'evo-devo' afforded a deeper understanding of multicellular development and morphological evolution (e.g. [24]), this approach has only rarely been applied to behavioral traits. However, it has, for example, been proposed that molecular pathways controlling feeding behavior and reproduction in solitary insects are part of a genetic toolkit underlying the evolution of the division of labor in honeybee workers [25]. An even more comprehensive approach posited that environmental factors generate and induce genotypic and phenotypic variation at multiple levels of biological organization, while development acts as a regulator that can mask, release, or create new combinations of variation [26]. If natural selection subsequently fixes this variation, novel stable phenotypes can emerge [20]. Because behavioral phenotypes respond much more flexibly to environmental factors than other traits [5], such an 'eco-evo-devo approach' may also improve our understanding of other behavioral phenomena. Here, we develop the hypothesis that a suite of behavioral and morphological traits characterizing virtually an entire primate radiation may represent an example of adaptive canalization of a developmental process, a general mechanism first suggested by Waddington [19] that has only recently received renewed attention [26–28].
The lemur syndrome
The living primates of Madagascar (Lemuriformes) represent the endpoints of an adaptive radiation following a single colonization in the Eocene [29]. The more than 100 species from 5 families, and at least 17 species that went extinct in recent centuries following human colonization of the island [30], exhibit diversity in life history, ecology and social systems that rivals that of all other primates combined [31–34]. In colonizing different habitats, ranging from arid spiny forest to humid rain forest, lemurs have diversified into the smallest (30g) as well as some of the largest primate species (160 kg) with corresponding fast and slow life histories, diverse activity patterns, dietary specializations and types of social organization [34]. About 20% of the living lemur species are group living, i.e. their bisexual groups contain on average at least 3 adults. The currently available phylogenetic evidence suggests that group living evolved twice independently; once in the Lemuridae (genera Lemur, Eulemur, Hapalemur and Varecia) and once in the Indriidae (genus Propithecus) [35, 36].
Group-living lemurs exhibit a combination of morphological and social traits that have been referred to as the lemur syndrome [37], and which contrasts strongly with patterns found among other primates as well as most other mammals (see below). The co-occurrence of the main components of the lemur syndrome (lack of sexual dimorphism, even adult sex ratios, female dominance and mild genital masculinization) indicates both, a potential functional and or proximate connection as well as apparent deviations from predictions of sexual selection and socio-ecological theory. In this section, we will first review the components of the lemur syndrome and contrast it with similar patterns in other mammals before reviewing existing hypotheses about its origin and function. We will then present a hypothesis and a mechanism that combine ecological, developmental and evolutionary processes to account for the evolution of the lemur syndrome.
A new, integrative hypothesis about the evolution of the lemur syndrome
In this final section, we combine the insights summarized above with various types of indirect evidence from studies of other taxa to develop the hypothesis that the lemur syndrome is the result of evolutionary canalization of developmental consequences of chronic maternal stress. We develop this hypothesis in four steps (Figure
2
) and summarize relevant evidence, assumptions and predictions at each level.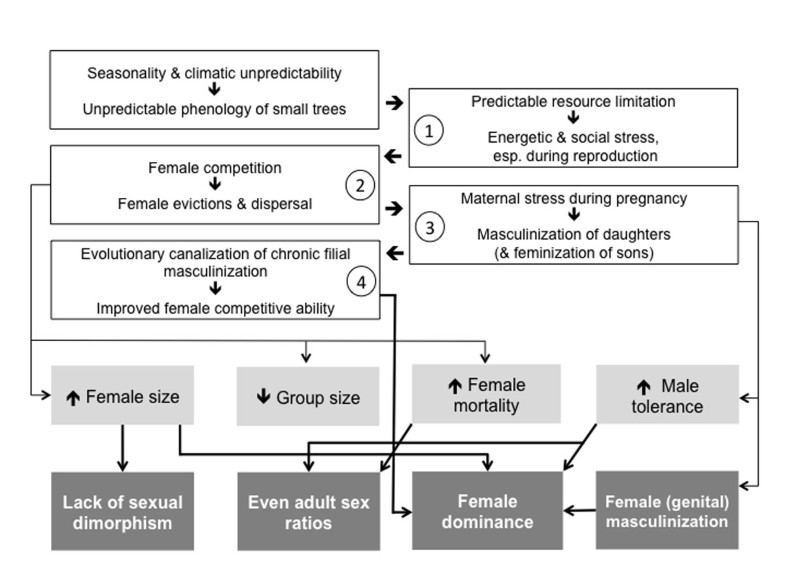 First, we assume that lemur females are subject to significant resource limitation, especially during reproduction, creating recurrent energetic limitations. Seasonal variation in resource availability has been documented at study sites throughout the island [146, 150], but seasonality in itself is not a sufficient condition because other primates and mammals in South America, Africa and Asia are exposed and adapted to similar magnitudes of climatic seasonality [176]. However, compared to these other regions harboring primates, Madagascar is characterized by more pronounced unpredictability of intra- and interannual variation in precipitation [150]. This includes humid rainforest habitats, which are characterized by high contingency, i.e. the extent to which rains fall in similar amounts in each month from year to year. Climatic unpredictability, in turn, is associated with more unpredictable periods of flowering and fruiting [150]. In addition, fruit trees in Madagascar are smaller than those in other tropical forests [177].
The combination of these effects apparently creates distinctive patterns of phenology [178, 179], characterized by rather unpredictable seasonal availability of limited amounts of primate foods within the overall constraints of pronounced seasonality. Lemurs have adapted their life histories to these conditions [72, 180, 181], including the timing of reproduction and growth [182]. Across species, gestation and lactation of lemurs are timed such that late lactation and weaning, i.e. the periods with the greatest energy requirements, coincide with periods of presumed food abundance [146, 183]. During much of their reproductive cycles, lemur females, and in particular those of larger species with absolutely longer gestation and lactation, are therefore potentially exposed to massive environmental stress [148, 184] during many if not most of their lifetime reproductive events because the exact timing of food availability is poorly predictable. Thus, unpredictability is a constant of lemur ecology, i.e., energetic stress for reproducing females will arise every year (i.e. predictably), but the exact onset, strength and duration of rainfall, flowering and fruiting are unpredictable.
Some of these fundamental aspects of lemur ecology deserve additional study to better evaluate the validity of these assumptions. For example, additional data on climatic predictability should be available nowadays from many more sites around the tropics, including additional sites representing different Malagasy ecosystems, and the same is true for data on tropical tree size and long-term phenology, so that some of the pioneering studies on patterns of climatic and phenological variation can be repeated with much bigger sample sizes. In addition, there are now methods available for non-invasive measurements of energy metabolism [185], and demographic data from long-term lemur study sites can be used to investigate inter-annual covariation between climatic variation and the timing of reproductive events and postnatal growth schedules [149, 186]. Furthermore, annual variation in cortisol dynamics should be studied in relation to fluctuations in environmental stressors in more detail, in additional species, and, where possible, experimentally, to determine whether any covariation represents an adaptive stress response or only an attempt to deal with recurrent stressors [187], possibly even by reducing cortisol excretion in response to chronic stress [188]. Thus, additional comparative studies are required to demonstrate the uniqueness of these aspects of lemur ecology, but the available evidence appears robust enough to assume with some confidence that lemurs are faced with some unusual and harsh ecological challenges.
Second, we postulate that group-living lemur females suffer from pronounced female competition for access to resources. Given the climatic and phenological vagaries, access to food may have limited female reproductive success on a regular basis. Females in solitary and pair-living species can alleviate these costs by spacing out [46], but females of group-living species pay a triple cost of feeding competition. First, they are larger than most solitary and pair-living species and therefore have absolutely higher energetic needs. Second, by living in groups, they suffer from feeding competition with several other adult conspecifics, including other reproductive females. Finally, the consequences of feeding competition are likely to create social stress that exacerbates the effects of the ecological stressors. This combination of effects may explain why the group-living species of the Lemuridae and Indriidae, which evolved group living independently, exhibit the lemur syndrome in a very similar manner and why some of its features are less pronounced in solitary and pair-living species.
Evidence for pronounced female competition in group-living lemurs comes from several sources. First, group size, and in particular the number of adult females, is smaller than in other primates of the same body size, and many groups of the group-living species contain only one or two adult females [85, 87]. Second, in groups with more females, the probability of successful reproduction decreases significantly [86, 103], and the probability of eviction (Lemuridae) or dispersal (Indriidae) increases [86, 100, 101]. Evictions often coincide with either the mating or birth season [86, 102, 189]. Finally, in female ringtailed lemurs, cortisol levels increased from an intermediate trough with both decreasing and increasing group size, presumably reflecting the effects of increasing between-group and within-group competition, respectively [190]. Female cortisol levels were also elevated in this species as a function of reproductive season, food availability and social rank [191, 192]. Also, at the microhabitat level, stress levels of female collared lemurs (Eulemur collaris), but not of red-bellied lemurs (Eulemur rubriventer), increased in poorer habitats [184, 193]. Nonetheless, the physiology of female stress in lemurs is surprisingly understudied, and studies on a range of species in different habitats are indicated to better characterize their response to abiotic (e.g., climate), biotic (e.g. food availability) and social stressors. Furthermore, long-term studies can contribute additional habitat- and species-specific details on the circumstances of female evictions and dispersal events. Thus, while based on studies of only a few species, the assumption of intense female competition seems justified, and selection on traits that alleviate its negative fitness consequences can be expected to be strong.
Third, based on studies in several other mammals, we postulate that maternal stress during pregnancy leads to the masculinization of daughters. It had long been noticed that prenatal maternal stress has downstream effects on offspring phenotypes [194, 195], but only more recent work has identified specific effects on offspring social and sexual behavior, cognitive abilities, emotional and stress responsiveness as well as sexual differentiation and their underlying neuro-endocrine mechanisms [196–202]. Importantly, simple but elegant experiments could link biologically valid prenatal maternal stress with behavioral masculinization of daughters, including increased serum testosterone concentrations and sympathetic adrenomedullary activity, male-typical distribution of androgen receptors in the hypothalamus, and feminization of sons [197]. Also, the more aversive a mother's environment, the longer her stress response [201]. These effects are no longer regarded as pathologies, but rather as adaptive preparation for prevailing ecological and social conditions [196, 198, 201, 203]. The observation that a relationship between maternal response to stressors, more specifically maternal cortisol levels, and offspring masculinization is also found in some fish [204] suggests that the mechanisms mediating this effect might be phylogenetically old. Recent endocrinological research on fish has furthermore suggested a possible crosstalk between the glucocorticoid and androgen pathways. Specifically, 11-β hydroxysteroid dehydrogenase (11-β HSD), an enzyme that inactivates cortisol in fish and mammals, has been hypothesized to be also implemented in the synthesis of 11-oxygenated androgens, explaining the stress-induced masculinization in some fish, essentially as a by-product of 11-β HSD properties [205].
This step of this hypothesis assumes that the same or similar prenatal endocrinological processes occur in lemurs, but the perinatal endocrinology of lemurs is poorly known. Very preliminary evidence indicates that female fetuses (in E. rufifrons) are exposed to much lower levels of prenatal estrogens, exposing them to higher androgen/estrogen ratios compared to male fetuses [171]. In baboons (Papio cynocephalus), as perhaps in other Old World primates, females pregnant with daughters also exhibit higher estrogen and testosterone metabolites than when pregnant with sons [206], but the levels in baboon females with a female fetus are only relatively lower, and not, as in the lemurs, absolutely very low. In ringtailed lemurs, pregnancy is associated with increased androstenedione and testosterone levels [170], but the sources of these steroids (maternal or fetal) remain unknown [207]. Thus, current knowledge on lemur perinatal endocrinology is insufficient to evaluate this assumption about the proximate mechanisms that may link stress with masculinization. Because the necessary invasive experiments with pregnant lemurs are ethically and legally impossible, it remains to be seen whether these assumptions of the hypothesis can be eventually tested with non-invasive methods or with comparative studies of other mammals.
Fourth, we assume that, in a final step, the recurrence of maternal stress during pregnancy and the corresponding masculinization of daughters over thousands or millions of generations have led to canalization of the effects in a way originally envisaged by Waddington [19]. Thus, masculinized daughters ought to be better prepared to compete with other females in adverse environments, so that natural selection will enhance the effects of maternal programming. Over evolutionary times, phenotypic plasticity has to be sacrificed for such canalization to occur, and adaptive canalization (i.e. benefits > costs) is indeed most likely to occur in conditions where the affected traits have direct consequences for survival or fecundity [208]. Costs of maintaining plasticity are higher in high stress environments [208], which, if persistent and predictable, further decrease the benefits of plasticity, so that natural selection is more likely to favor fixed phenotypes [209]. For example, maintaining the ability to breed year-round may not be adaptive for most lemur species and has presumably therefore been given up in favor of seasonal breeding. Finally, emerging genetic adaptations to environmental stress may have benefitted from synergistic epistasis, i.e. mutations that occur against a genetic background that has a prior history of adaptation to environmental stress can be favored [210, 211]. Thus, evolutionary mechanisms to consolidate initially plastic developmental process under relevant environmental homogeneity and cost benefit ratios into a suite of stable adaptive traits do exist, and other mechanisms have been suggested for other traits subject to developmental plasticity [27]. However, despite its theoretical plausibility, it is impossible to reconstruct the details of these evolutionary processes during lemur evolution conclusively. Given a suitable model system, such as small mammal species that can be bred experimentally under laboratory conditions, however, it should be possible to test the prediction that conditions of chronic environmental and social stress will lead to stable female masculinization that persists at some point also under benign conditions.
Conclusions
In this paper, we have summarized the current state of knowledge on an intriguing behavioral and evolutionary phenomenon in a radiation of primates. We have integrated ultimate and proximate perspectives from existing explanations of the phenomenon and proposed that an evolutionary mechanism acting upon a developmental process may link existing hypotheses for a more comprehensive explanation. This new hypothesis is difficult to test because it is about a historically completed event, but we hope that the associated assumptions and predictions about particular aspects will stimulate and guide future research on lemur behavior, ecology, physiology and development. More generally, increased appreciation of developmental processes and their potential roles as drivers of adaptive evolutionary change seems warranted.
Declarations
Acknowledgments
We thank Fritz Trillmich, Norbert Sachser and the other organizers for the invitation to present this paper at the workshop on "New perspectives in behavioural development: adaptive shaping of behavior over a lifetime?" and for inspiring and encouraging our integrative perspective on animal behavior. Very constructive comments by two anonymous referees greatly improved the clarity of our presentation. We dedicate this paper to the memory of the late Alison Jolly (1937-2014), who inspired several generations of lemur biologists, including ourselves, in so many ways.
Declarations
This publication was funded by the German Research Foundation (FOR 1232) and the Open Access Publication Fund of Bielefeld and Muenster University.
Authors' Affiliations
(1)
Behavioral Ecology and Sociobiology Unit, German Primate Center, Göttingen, Germany
Copyright
© Kappeler and Fichtel 2015
This article is published under license to BioMed Central Ltd. This is an Open Access article distributed under the terms of the Creative Commons Attribution License (http://creativecommons.org/licenses/by/4.0), which permits unrestricted use, distribution, and reproduction in any medium, provided the original work is properly cited. The Creative Commons Public Domain Dedication waiver (http://creativecommons.org/publicdomain/zero/1.0/) applies to the data made available in this article, unless otherwise stated.