The normal development of Platynereis dumerilii (Nereididae, Annelida)
Frontiers in Zoology
2010
7:31
Received: 8 March 2010
Accepted: 30 December 2010
Published: 30 December 2010
Abstract
Background
The polychaete annelid Platynereis dumerilii is an emerging model organism for the study of molecular developmental processes, evolution, neurobiology and marine biology. Annelids belong to the Lophotrochozoa, the so far understudied third major branch of bilaterian animals besides deuterostomes and ecdysozoans. P. dumerilii has proven highly relevant to explore ancient bilaterian conditions via comparison to the deuterostomes, because it has accumulated less evolutionary change than conventional ecdysozoan models. Previous staging was mainly referring to hours post fertilization but did not allow matching stages between studies performed at (even slightly) different temperatures. To overcome this, and to provide a first comprehensive description of P. dumerilii normal development, a temperature-independent staging system is needed.
Results
Platynereis dumerilii normal development is subdivided into 16 stages, starting with the zygote and ending with the death of the mature worms after delivering their gametes. The stages described can be easily identified by conventional light microscopy or even by dissecting scope. Developmental landmarks such as the beginning of phototaxis, the visibility of the stomodeal opening and of the chaetae, the first occurrence of the ciliary bands, the formation of the parapodia, the extension of antennae and cirri, the onset of feeding and other characteristics are used to define different developmental stages. The morphology of all larval stages as well as of juveniles and adults is documented by light microscopy. We also provide an overview of important steps in the development of the nervous system and of the musculature, using fluorescent labeling techniques and confocal laser-scanning microscopy. Timing of each developmental stage refers to hours post fertilization at 18 ± 0.1°C. For comparison, we determined the pace of development of larvae raised at 14°C, 16°C, 20°C, 25°C, 28°C and 30°C. A staging ontology representing the comprehensive list of developmental stages of P. dumerilii is available online.
Conclusions
Our atlas of Platynereis dumerilii normal development represents an important resource for the growing Platynereis community and can also be applied to other nereidid annelids.
Keywords
Ventral Nerve Cord
Ciliary Band
Apical Tuft
Ventral Longitudinal Muscle
Posterior Growth Zone
Background
In the past decades, the annelid Platynereis dumerilii has been established as a marine animal model for developmental, evolutionary and neurobiological research as well as for ecology and toxicology [1–6]. It is especially suitable for comparative studies because several lines of evidence indicate that its evolutionary lineage has been slow-evolving. For example, P. dumerilii has a highly conserved gene structure [7] and genes involved in the development of the central nervous system are expressed in a conserved molecular topography in P. dumerilii and vertebrates [8, 9]. Gene expression during development of the two-celled larval eye may reflect the bilaterian ground pattern [10].
Bilaterian animals comprise three main taxa: deuterostomes (e.g. chordates, hemichordates, echinoderms), ecdysozoans (e.g. arthropods, nematodes), and lophotrochozoans (mollusks, annelids and other marine invertebrates). "Classical", well-established animal models belong to the ecdysozoans (fruit fly, C. elegans) or deuterostomes (mouse, chicken, fish). Lophotrochozoans are still largely under-represented despite their obvious relevance to comparative approaches that seek to unravel the ground pattern of all bilaterians.
P. dumerilii, which has been kept in laboratory culture since 1953, easily breeds in captivity where it produces offspring throughout the year [6, 11]. One single batch can contain more than 2000 eggs, which undergo embryonic and larval development in a highly synchronized manner [6]. Eggs, embryos and larvae are transparent and measure only 160 μm in diameter, making them accessible by conventional light microscopy as well as confocal laser-scanning microscopy (CLSM) in which structures throughout the organism can be visualized in whole mounts. They are well-suited for immunohistochemistry [12] and whole-mount in situ hybridization (WMISH) [13], which can be combined with confocal reflection microscopy [14], fluorescent WMISH and double WMISH [15]. Efficient microinjection techniques have paved the way for morpholino knock-down, RNAi and transgenesis (Arendt lab, unpublished data). Various transcriptomic and genomic resources have been generated and the whole genome has been sequenced (Arendt lab and others; unpublished).
Since the 1970 s, several studies have described different aspects of P. dumerilii development. Fischer [16, 17] showed that the oocytes first develop asynchronously in clusters, connected by cytoplasmic bridges. Later during maturation, oocyte development becomes synchronized, the cytoplasmic bridges disappear and all the gametocytes of the female become mature and fertilizable synchronously [16, 17]. The early phase of embryonic development was characterized by Dorresteijn et al.[18], Dorresteijn [5], Dorresteijn and Eich [19] and Ackermann et al.[20]. These studies revealed the specific contributions of individual blastomeres to the larval body. Also it was found that the fate of each blastomere is dependent upon the different amounts of nuclear β-catenin protein that results from asymmetric cell division during early embryogenesis [21]. Beginning with the eight-cell-stage, β-catenin shows a sister-cell asymmetry along the animal-vegetal axis following all cell divisions. Experimental ectopic activation of nuclear β-catenin leads to the adoption of the sister-cell fate [21]. In addition, the regional medio-lateral patterning and differentiation of the nervous system [8, 9] and the development of the larval and adult eyes [2, 10, 22] have been investigated in greater detail. Morphometry revealed convergent extension movements in the neuroectoderm [23]. Segmentation, mushroom body development, mesoderm formation and the germ line development have also been studied [24–33].
The terminology of P. dumerilii larval development
Polychaete larval development comprises traditionally three major stages: the trochophore, the metatrochophore and the nectochaete. The trochophore is a spherical larva characterized by an equatorial ciliated belt - the prototroch [34], and an apical organ with a ciliary tuft [34, 35]. (Häcker [36] described an even earlier stage, called protrochophore, a pre-larva with a broad preoral band of short cilia but without mouth and anus.) The transition to the metatrochophore is accompanied by the development of a segmented trunk, which is slightly elongate in comparison to that of the trochophore [36]. The next stage is the nectochaete larva, following Häcker's [36] definition. The nectochaete larva bears parapodial appendages used for swimming and crawling, and resembles the adult in major traits.
This basic subdivision in trochophore, metatrochophore and nectochaete has also been applied to P. dumerilii[6, 37].
An additional staging system currently used for P. dumerilii development refers to hours post fertilization (hpf) at 18.0°C [12]. This system allows for precise staging provided the temperature is kept constant. Given that the developmental rate of P. dumerilii is highly stereotyped between batches [5, 6], the time-based system is sufficient for precise references. Furthermore, Fischer [38, 39] introduced a staging system based on the morphology of the larval and adult eyes at 19°C ± 1°C. However, since minor temperature fluctuations cause significant changes in the pace of development, resulting differences in developmental speed complicate the comparison between studies. It is, for example, impossible to stage-match results from publications with 20°C [1] and 18°C reference temperature. This problem was also noted by Fischer [38, 39].
In order to complement the hpf-based staging system with a temperature-independent reference system we define here a series of developmental stages, based on characters that are easily scored by conventional dissection or light microscopes and allow the comparison with other annelids. This is complemented by an overview of the development of the nervous system and body musculature, which offer additional diagnostic features for staging after antibody staining. The aim is to provide the growing community working on this annelid with a more refined, morphology-based reference system for P. dumerilii development and to present a synopsis with high temporal resolution of changes of morphological characters during postembryonic and larval development.
Results
An overview of all developmental stages is given in the schemes in Figures
1
,
2
,
3
,
4
,
5
and
6
.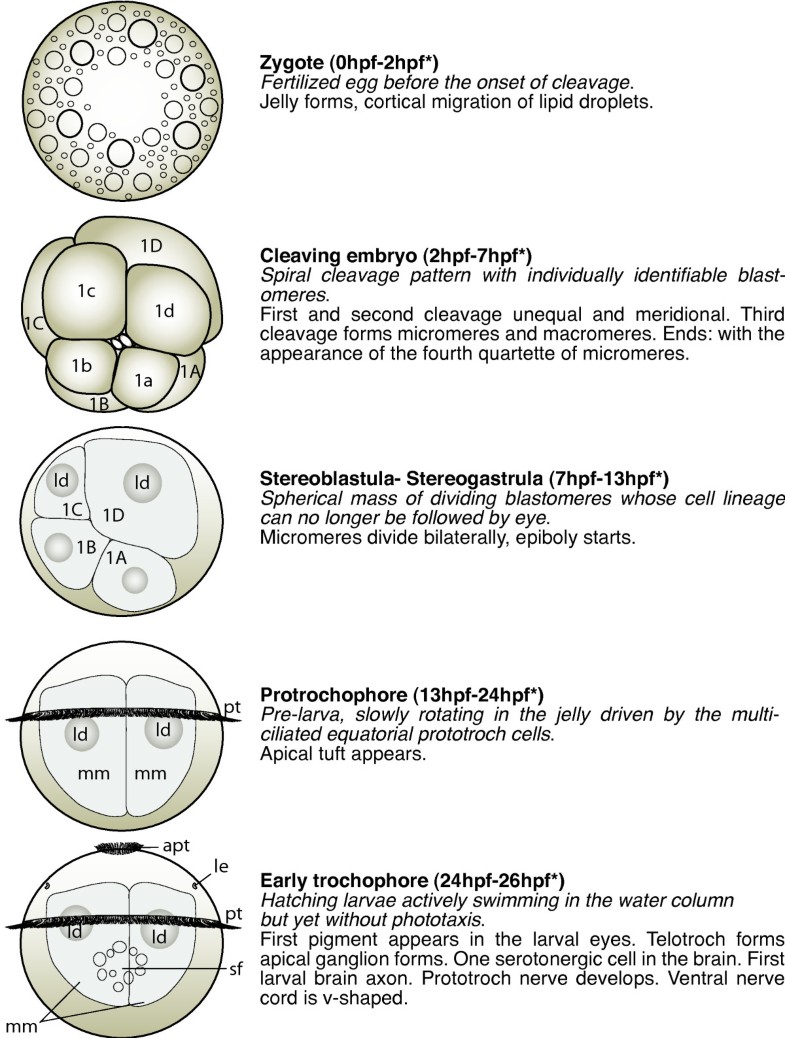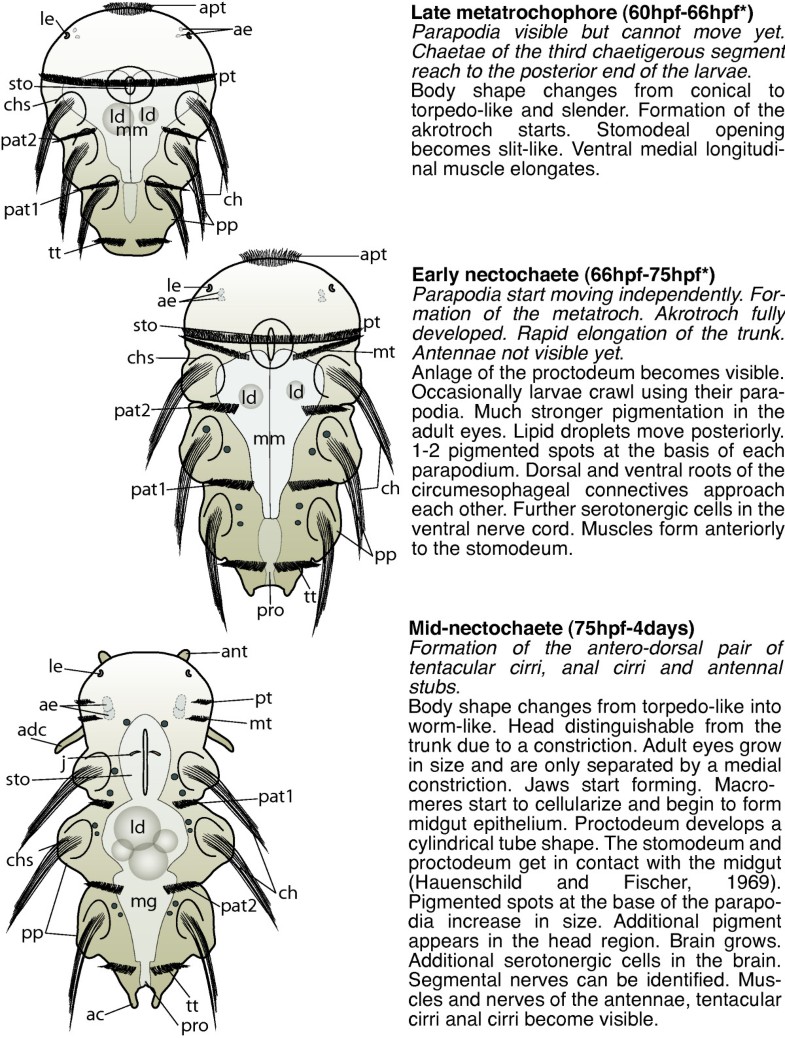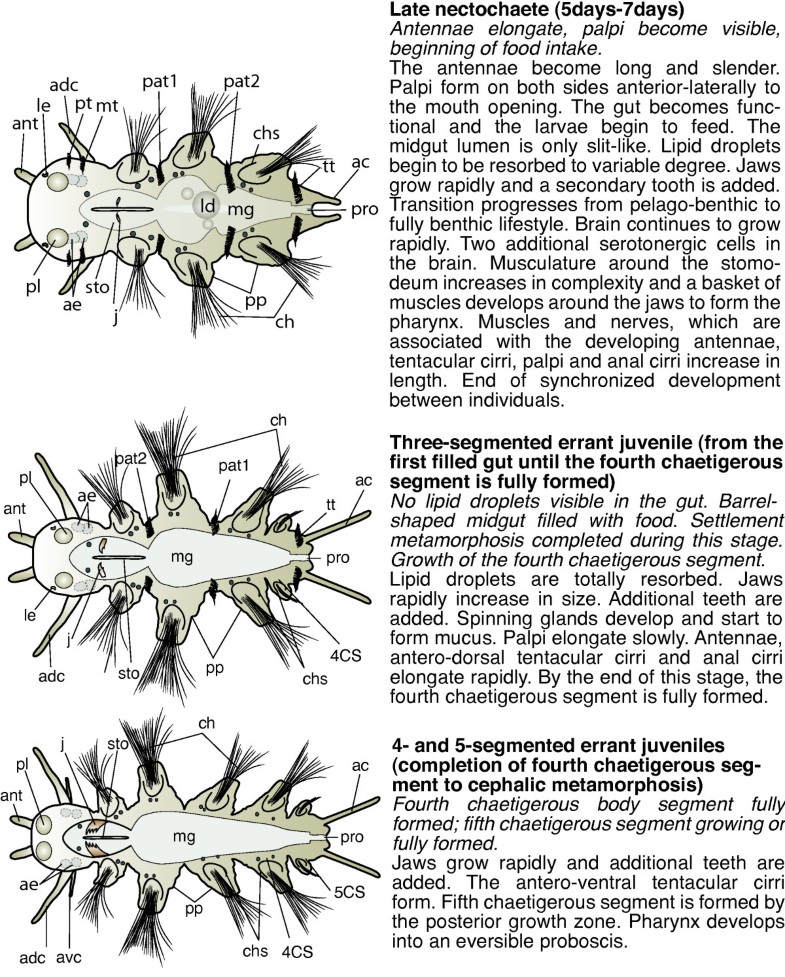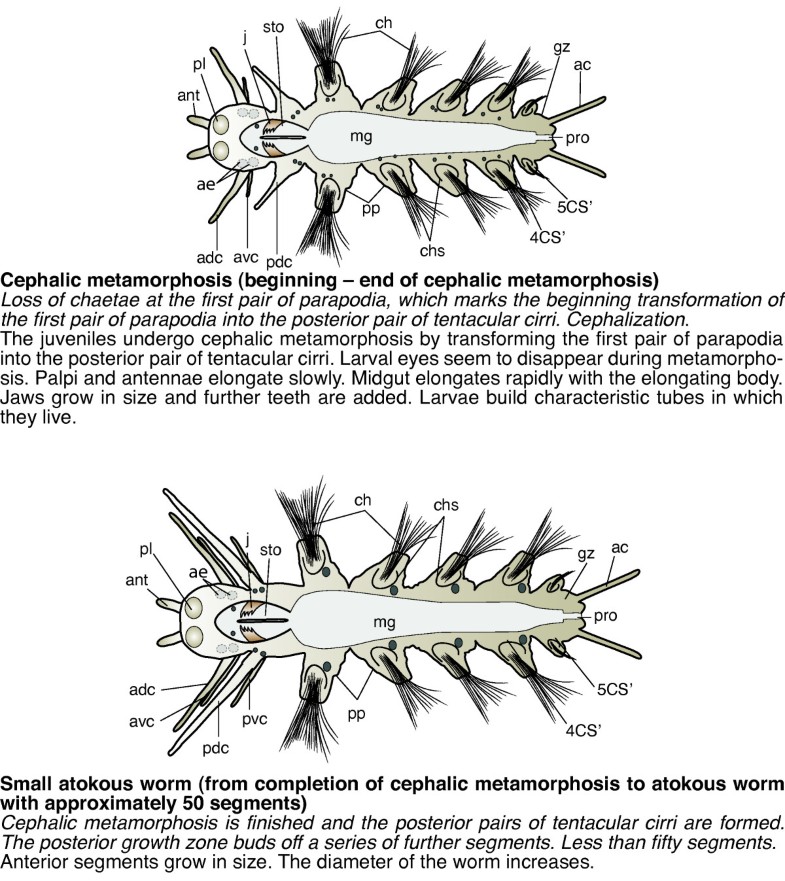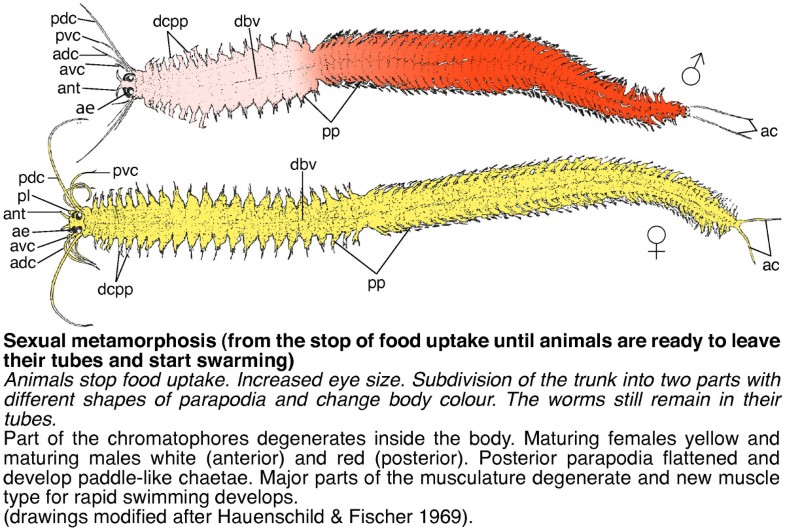 Conclusions
We present the first comprehensive atlas and staging system of Platynereis dumerilii normal development. An overview of all stages including schematic drawings for each stage covering the most important morphological characteristics is given in Figure 1, 2, 3, 4. Stage names have been adopted, whenever feasible, from commonly used terminology for annelid larvae [6, 36, 62]. The atlas includes light microscopy images for reference as well as confocal scans of the stage-specific nervous system and musculature.
Methods
Platynereis dumerilii culture
P. dumerilii larvae were obtained from an established breeding culture, following Dorresteijn et al.[12], and were raised in a climate chamber at 18°C ± 0.1°C (Type KB53, Binder, Tuttlingen, Germany). To test the effect of different temperatures on the developmental rate some larvae were kept at 9°C ± 0.5°C, 14°C ± 0.1°C, 16°C ± 0.5°C, 20°C ± 0.5°C, 25°C ± 0.5°C, 28°C ± 0.5°C, 30°C ± 0.5°C and 34°C ± 0.5°C.
Sampling, Fixation and Staining
In total 15 batches were split into around six parts each and fixed at different time points. For each stage two to five samples were taken and analyzed. Furthermore, the author A.H.L.F. worked with P. dumerilii for over three years handling in average three to five batches at different developmental stages per week, which enables the authors to recognize normally developing larvae.
Larvae were fixed in 4%PFA in PBS + 0.1% Tween-20 (PBT), for 50 min at room temperature, rinsed in PBT 2 × 20 min and stored in PBT at 4°C for up to 7 days. The larvae were Proteinase K-digested and post-fixed as described in Tessmar-Raible et al.[15]. Specimens and antibodies were blocked in 5% sheep serum in PBT and incubated over one to three nights shaking at 4°C in the primary antibodies mouse anti acetylated alpha-tubulin (Sigma T6793) and rabbit anti 5-HT (serotonin) (DIASORIN, #13002307) 1:500 dilution. Before incubating the larvae in the secondary antibody, the specimens were washed 3 × 10 min and 3 to 5 × 30 min in PTW and the larvae and antibodies were blocked 1 h in 5% sheep serum in PBT. The larvae were incubated 1-3 nights shaking at 4°C in anti mouse FITC (Jackson ImmunoResearch) 1:250, rhodamine phalloidin (Molecular Probes) 1:100, anti rabbit Cy5 (Jackson ImmunoResearch) 1:250 and DAPI (1 μg/μl final concentration). Following antibody incubations, the larvae were washed as described above and stored in 87% glycerol containing 2.5 mg/mL of anti-photobleaching reagent DABCO (Sigma, St. Louis, MO, USA) at 4°C. Incubation of the larvae in secondary antibodies without prior incubation in primary antibodies does not result in any staining (data not shown).
Microscopy
Fixed and living larvae were mounted between a slide and a cover slip, separated by two to five layers of adhesive tape.
All bright-field images were taken from living specimens, just after collecting them at 18°C ± 0.1°C. Bright-field images were taken on a Zeiss Axiophot microscope using DIC optics. Larvae from mid-trochophore stage onwards show muscle contractions. They were anesthetized in a 1:1 mixture of natural seawater and a 7.5% (w/v) MgCl2 solution (described in Ackermann et al.[20]) in order to take bright-field images. Stacks of bright-field images were merged into single images by the software Helicon focus and processed further with Photoshop to enhance contrast, rotate and crop the images.
Confocal images were taken on a Leica TCS SPE with a 40× oil immersion objective using appropriate laser lines. For each larva, 60-210 1 μm thick sections were taken and processed with Imaris, ImageJ and Photoshop.
Abbreviations list
1com:

first commissure
1to:

primary tooth
2com:

second commissure
2to:

secondary tooth
3com:

third commissure
48CS':

48th chaetigerous segment after cephalic metamorphosis
49CS':

49th chaetigerous segment after cephalic metamorphosis
4CS:

4th chaetigerous segment
5CS:

5th chaetigerous segment
4CS':

4th chaetigerous segment after cephalic metamorphosis
5CS':

5th chaetigerous segment after cephalic metamorphosis
6CS':

6th chaetigerous segment after cephalic metamorphosis
7CS':

7th chaetigerous segment after cephalic metamorphosis
ac:

anal cirrus
act:

akrotroch
adc:

anterior dorsal cirrus
ae:

adult eyes
an:

antennal nerve
ant:

antenna
antm:

antennal muscle
apt:

apical tuft
avc:

anterior ventral cirrus
cc:

cerebral commissure
ch:

chaetae
chs:

chaetal sac
com:

commissure
con:

connective
CLSM:

Confocal laser scanning microscopy
dbv:

dorsal blood vessel
dcpp:

dorsal cirrus of the parapodia
dlm:

dorsal longitudinal muscle
drcc:

dorsal root of the circumesophageal connectives
fp:

food particles
gz:

growth zone
hpf:

hours post fertilization
j:

jaw
ld:

lipid droplet
le:

larval eye
mg:

midgut
mm:

macromere
mt:

metatroch
mvlm:

median ventral longitudinal muscle
om:

oblique muscle
ooc:

oocyte
pat1:

first paratroch
pat2:

second paratroch
pdc:

posterior dorsal cirrus
pi:

pigment
pl:

palpus
pln:

palpus nerve
pp:

parapodia
ppm:

parapodial muscle
pro:

proctodeum
pt:

prototroch
ptrn:

prototroch ring nerve
pvc:

posterior ventral cirrus
RNAi:

RNA-interference
sf:

stomodeal field
sn:

segmental nerve
stm:

musculature around the stomodeum
sto:

stomodeum
str:

stomodeal rosette
th:

teeth
tt:

telotroch
ua:

unpaired dorsal axon
veg:

vegetal pole
vlm:

ventral longitudinal muscle
vrcc:

ventral root of the circumesophageal connectives
Declarations
Acknowledgements
We are particularly thankful to Prof. Dr. Albrecht Fischer, for discussion and valuable comments on the manuscript. We thank members of the Arendt lab for helpful comments and discussion on the project. We also want to thank Dr. Patrick Steinmetz (Vienna), Dr. Tomas Larsson, Dr. Mette Handberg-Thorsager and Maria Antonietta Tosches (Heidelberg) for critical reading of the manuscript. Dr. Heather Marlow improved the language flow. We are thankful to the anonymous reviewers for their advice. Part of this work has been supported by Zoonet (MRTN-CT-2004-005624).
Authors' Affiliations
(1)
Developmental Biology Unit, European Molecular Biology Laboratory, Heidelberg, Germany
(2)
International College, Osaka University, A217 School of Science Main Building 1-1, Machikaneyama-machi, Toyonaka, Japan
Copyright
© Fischer et al; licensee BioMed Central Ltd. 2010
This article is published under license to BioMed Central Ltd. This is an Open Access article distributed under the terms of the Creative Commons Attribution License (http://creativecommons.org/licenses/by/2.0), which permits unrestricted use, distribution, and reproduction in any medium, provided the original work is properly cited.