Of tests, trochs, shells, and spicules: Development of the basal mollusk Wirenia argentea (Solenogastres) and its bearing on the evolution of trochozoan larval key features
Frontiers in Zoology
2010
7:6
Received: 16 October 2009
Accepted: 26 January 2010
Published: 26 January 2010
Abstract
Background
The phylogenetic status of the aplacophoran mollusk taxon Solenogastres (Neomeniomorpha) is controversially discussed. Some authors propose the clade to represent the most basal branch within Mollusca, while others claim aplacophoran mollusks (Solenogastres and Caudofoveata) to be derived. Larval characters are central in these discussions, specifically the larval test (calymma, apical cap), the ontogeny of the epidermal scleritome, and the proposed absence of larval protonephridia. To date, developmental data are available for five solenogaster species, but most reports are incomplete and need confirmation.
Results
Wirenia argentea deposit small batches of uncleaved embryos that are tightly enclosed by a smooth and transparent egg hull. Cleavage is spiral and unequal. The ciliated larvae hatch about 45 hours after deposition and swim actively in the water column. Within 48-60 hours after hatching they become mushroom-shaped with a pronounced apical cap partly enclosing a posterior trunk. The cells covering the apical cap are large and cleavage arrested. On the apical cap there is a prominent prototrochal band of compound cilia and an apical ciliary tuft and the trunk bears a terminal ciliary band (telotroch). Obscured by the apical cap, a ciliary band originates in the stomodaeal pore and surrounds the trunk. As development is proceeding, the trunk elongates and becomes covered by cuticle with the exception of a ventral ciliary band, the future foot. The larvae have a pair of protonephridia. At 5 days after hatching they begin to settle and within the following 7-9 days the apical cap is gradually reduced. Scattered epidermal sclerites form under the cuticle. Wirenia argentea lack iterated groups of sclerites at any developmental stage. At 40 days after hatching, the postlarvae have a fully developed foregut, but the midgut and hindgut are not yet interconnected.
Conclusions
Solenogastres develop via a trochophore-like lecitotrophic larva with a preoral apical cap that at least partly represents an enlarged prototrochal area. Homology of this larval type (pericalymma larva) to test cell larvae of other spiralian clades is doubtful. The ontogeny of W. argentea does not provide any evidence for a derived status of Solenogastres within Mollusca.
Keywords
Seminal ReceptacleLarval BodyCiliary BandPolar LobeShell Plate
Background
The Solenogastres (Neomeniomorpha) supposedly constitute the most basal extant mollusk lineage [
1
–
3
]. Suggested plesiomorphic characters include a mantle covered with cuticle and calcareous sclerites (spicules), a simple radula without subradular membrane, the lack of a midgut gland, the general structure of the nervous system, and the presence of oblique musculature in the body wall [
4
–
6
]. Solenogastres are known to develop via a so-called test cell larva [(= pericalymma larva
sensu
Salvini-Plawen [
7
]; pericalymma Type 1
sensu
Nielsen [
8
]], a type of lecithotrophic larva first described for protobranch bivalves [
9
,
10
]. Characteristic for test cell larvae is a cap-like cover (larval test) of large ciliated cells enveloping at least part of the larval body (Fig.
1
). Cilia may be scattered, but more often they are arranged in distinct ciliary bands. Based on the presence of a comparable larval type in certain polychaetes and sipunculans, the pericalymma larva has been interpreted as the ancestral larval type of mollusks and even of all spiralians [
7
,
11
], a view strongly refuted by others [[
12
], for review].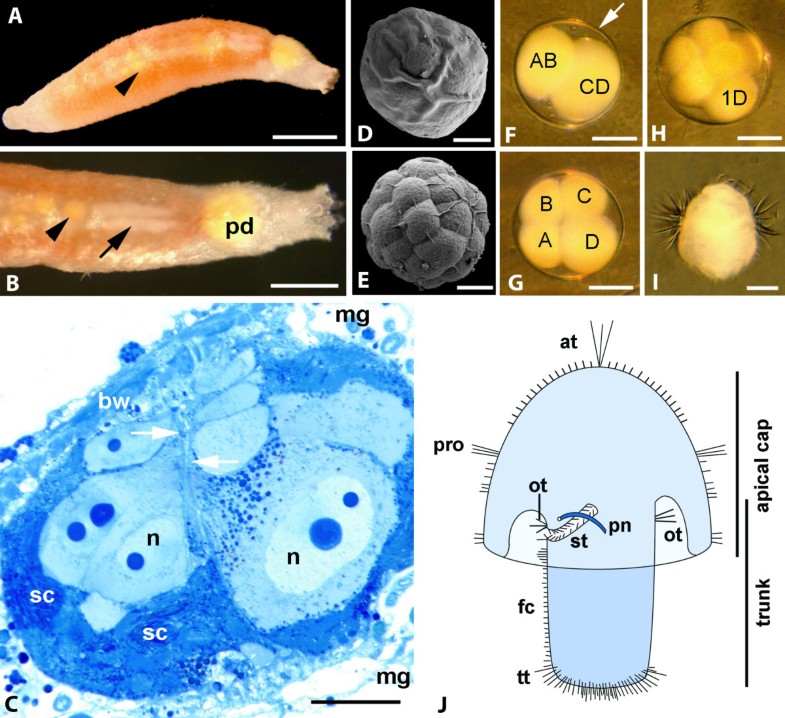 The ancestral status of Solenogastres within Mollusca is not undisputed [13–15], with some authors proposing that the body organization of aplacophoran mollusks, i.e. Solenogastres and their putative sister group, Caudofoveata (Chaetodermomorpha), is the result of simplification and character loss. Based on molecular data, this notion has recently been brought up again [16]. Some authors propose a shell-bearing chiton- (i.e., polyplacophoran)-like ancestor as basal for Mollusca, a hypothesis claimed to be supported by ontogenetic data showing a serial arrangement of dorsal epidermal sclerites in species of Solenogastres [17, 18] and Caudofoveata [19]. The larval/postlarval sclerite rows have been suggested to represent rudiments of spicule rows separating reduced serial dorsal shell fields [18]. Others [20, 21] interpreted the serially arranged sclerites as possible precursors of the seven shell plates found in recent postmetamorphic polyplacophorans. Seven dorsal rows of sclerites seem in fact to occur in larvae of the caudofoveate Chaetoderma sp. [19], but the observation of seven rows of large imbricating scales covering the dorsal surface of a solenogaster larva (Nematomenia banyulensis) was based on a single specimen [17] and thus requires reinvestigation. Two postmetamorphic specimens of an unidentified solenogaster species have been described, where the younger specimen showed six distinct sclerite-covered dorsal areas [18]. In larvae of Epimenia babai, by contrast, epidermal sclerites emerge scattered over the entire dorsal surface without showing any seriality [22, 23]. To evaluate these contradictory findings, data on additional solenogaster species are crucial.
We studied the ontogeny of Wirenia argentea, a solenogaster species classified within the Gymnomeniidae (Pholidoskepia), a clade supposedly representing an early branch within Solenogastres [5]. These animals are abundant on silt and mud in water depths of about 150-600 m in the northern European Atlantic and for the present study specimens were kept in the laboratory for several months. We describe behavioral aspects of oviposition and larval locomotion and focus on embryonic, larval and postlarval development, taking account of external morphology as well as of selected aspects of organogenesis. Our results shed new light on the ancestral organization of mollusk larvae and allow for a reevaluation of evolutionary relationships among spiralian test-cell larvae.
Conclusions
Solenogastres (Neomeniomorpha) develop via a trochophore-like lecitotrophic larva with a pronounced preoral apical cap covered by large, cleavage-arrested deciduous cells. These cells have previously been termed test cells and appear at least partly to represent an enlarged prototrochal area. The morphology of the solenogaster apical cap differs considerably from the morphology of the so-called larval test of other spiralian larvae, namely of protobranch bivalves and selected polychaetes and sipunculans, and thus a homology of test-cell larvae (pericalymma larvae) across spiralian clades appears unlikely. The presence of an oral troch encircling the larval body and covered by the apical cap as well as the dense ciliation of the non-functional stomodaeum in the W. argentea larva may point towards an earlier function in feeding and might indicate secondary lecithotrophy in solenogaster larvae. Characters linking the solenogaster larva to other spiralian trochophores are the presence of paired larval protonephridia and the ventral trunk ciliation that resembles a locomotory neurotroch in certain polychaete trochophores and later develops into the ventral creeping sole (non-muscular foot) typical for solenogasters. Differences to other spiralian trochophores include the long distance between the prototroch and the stomodaeal opening and the very late appearance of the mid- and hindgut in postlarval stages. The dorsal trunk cuticle with calcareous sclerites is an adult character that generally arises early in solenogaster development. In W. argentea, the sclerites are evenly distributed and no serially arranged calcareous structures comparable to those found in polyplacophoran larvae are present. Our results provide no evidence for promoting a chiton-like ancestor for recent mollusks, but rather support an ancestral position of Solenogastres.
Methods
Animal collection and cultures
About 300 specimens of adult Wirenia argentea Odhner, 1921, syn. Aestoherpia glandulosa Salvini Plawen, 1985, were collected using an environmental sledge (RP sledge) in Hauglandsosen (Bergen, Norway), at 180-220 m deep. The animals were extracted from the sediment samples immediately after collection and were kept in 50 ml plastic jars with 20-30 specimens per jar at 7°C in constant darkness; light exposure occurred only during handling. During the first week, 2/3 of the seawater was changed and embryos and larvae collected every day, after the first week every second day. Adults did not feed, even though we offered a number of potential prey organisms (diverse cnidarians). The animals started to deposit eggs several hours to days after capture and continued to do so for nearly 2 months. For timing of development, embryos were transferred to similar plastic dishes with filtered seawater directly after deposition. Timing is based on ca. 40 individuals. Additional larvae (ca. 200) were transferred to clean dishes at the earliest swimming stage. Postlarvae were kept to a maximum of 42 days after hatching. Larvae and postlarvae were relaxed by drop-wise addition of cold 7.14% MgCl2 and fixed appropriately (see below).
Scanning electron microscopy
Specimens were fixed 1.5 h on ice in 1% OsO4 in filtered sea water, dehydrated in a graded ethanol series, critical point dried, and sputter coated with gold-palladium. Digital images were acquired using a ZEISS Supra 55VP scanning electron microscope. About 40 specimens were studied.
Histology and transmission electron microscopy
Specimens were fixed for 12 hours at 7°C in 4% glutaraldehyde in 0.2 M sodium cacodylate buffer (0.1 M NaCl, 0.35 M sucrose at pH 7.3) and postfixed for 1.5 h on ice in 1% OsO4 in filtered sea water. The adult specimens were decalcified for 3 h at room temperature in a 3% solution of ascorbic acid in distilled water. All specimens were dehydrated in a graded ethanol series followed by 100% propylene oxide and embedded in Agar Low Viscosity Resin (Agar Scientific, UK). Semithin serial sections (1 or 2 μm) were produced on a Reichert Ultracut S microtome using a Diatome Histo Jumbo Knife [51] and stained with toluidine blue. Digital images were produced using a CCD microscope camera (Spot Insight, Diagnostic Instruments Inc., USA) on a Leica DMB-RBE microscope. Serial sections of six adult specimens and four larvae were produced. Ultrathin sections were cut using the same microtome, mounted on copper slot-grids, contrasted with uranyl acetate and lead citrate, and examined with a Morgagni 268 electron microscope. Digital images were produced with a Mega View III Soft Imaging System and edited using Adobe Photoshop CS2 9.0.2 and Adobe Illustrator CS11. Our results on internal ultrastructure are based on two larvae and two postlarvae of different stages.
Immunocytochemical labeling, nuclear staining, and confocal microscopy
Larvae were fixed in 4% paraformaldehyde (PFA) in 0.1 M phosphate buffered saline (PBS; pH 7.3) for 4-12 h on ice. After fixation, the samples were washed twice for 15 min in PBS and stored at 4°C in PBS with 0.1% NaN3 added. Specimens were permeabilized for 1 h in PBS containing 1% Triton X-100 (PTA) at room temperature. Blocking of unspecific binding sites was carried out using a solution of 6% normal goat serum (Jackson Immunoresearch, West Grove, Pennsylvania, USA) in PTA (block-PTA) for 3 h at room temperature. Antibodies raised in mouse against acetylated α-tubulin (Sigma, Steinheim, Germany) were used in a 1:500 dilution in block-PTA. The specimens were incubated for 20-24 h at room temperature, followed by four washes in block-PTA over 3 h at room temperature or overnight at 4°C. Subsequently, they were incubated in a 1:200 dilution of a FITC-conjugated goat anti-mouse secondary antibody (Sigma) in block-PTA for 20-24 h at room temperature, followed by four washes over 3-4 h in PBS at room temperature. Some specimens were consecutively labeled for 30 min with the Hoechst 33342 nuclear stain (Molecular Probes, Eugene, Oregon, USA). Specimens were mounted in Fluoromount G (Southern Biotech, Birmingham, Alabama, USA). Image acquisition was performed on a Leica DM IRBE microscope equipped with a Leica TCS SP 2 confocal laserscanning unit. Z-projections of whole-mount preparations were obtained. The confocal images herein represent projection images produced by merging stacks of optical sections.
Declarations
Acknowledgements
We thank Christoffer Schander and Egil Severin Erichsen for support with SEM work at University of Bergen and Natalie Bäumler, Bernhard Ruthensteiner, and Gerhard Haszprunar for cooperation on protonephridia ultrastructure at the Bavarian State Collection for Zoology and at the Ludwig-Maximilians-University, Munich (Germany). CT's stay in Munich in March/April 2009 was supported by a DAAD (German Academic Exchange Service) stipend (A/08/15187). This study was partly financed by an Open Researcher Initiated Grant, University of Bergen, (226270 Friforsk_09_Todt) to CT. Research in the lab of AW was supported by the EU-funded Marie Curie Network MOLMORPH under the 6th Framework Programme (contract grant number MEST-CT-2005-020542).
Authors' Affiliations
(1)
Department of Biology, University of Bergen, Bergen, Norway
(2)
Research group for Comparative Zoology, Department of Biology, University of Copenhagen, Copenhagen, Denmark
Copyright
© Todt and Wanninger; licensee BioMed Central Ltd. 2010
This article is published under license to BioMed Central Ltd. This is an Open Access article distributed under the terms of the Creative Commons Attribution License (http://creativecommons.org/licenses/by/2.0), which permits unrestricted use, distribution, and reproduction in any medium, provided the original work is properly cited.