The role of juvenile hormone in dominance behavior, reproduction and cuticular pheromone signaling in the caste-flexible epiponine wasp, Synoeca surinama
Frontiers in Zoology
2014
11:78
Received: 13 May 2014
Accepted: 15 October 2014
Published: 24 October 2014
Abstract
Background
The popular view on insect sociality is that of a harmonious division of labor among two morphologically distinct and functionally non-overlapping castes. But this is a highly derived state and not a prerequisite for a functional society. Rather, caste-flexibility is a central feature in many eusocial wasps, where adult females have the potential to become queens or workers, depending on the social environment. In non-swarming paper wasps (e.g., Polistes), prospective queens fight one another to assert their dominance, with losers becoming workers if they remain on the nest. This aggression is fueled by juvenile hormone (JH) and ecdysteroids, major factors involved in caste differentiation in most eusocial insects. We tested whether these hormones have conserved aggression-promoting functions in Synoeca surinama, a caste-flexible swarm-founding wasp (Epiponini) where reproductive competition is high and aggressive displays are common.
Results
We observed the behavioral interactions of S. surinama females in field nests before and after we had removed the egg-laying queen(s). We measured the ovarian reproductive status, hemolymph JH and ecdysteroid titers, ovarian ecdysteroid content, and analyzed the cuticular hydrocarbon (CHC) composition of females engaged in competitive interactions in both queenright and queenless contexts. These data, in combination with hormone manipulation experiments, revealed that neither JH nor ecdysteroids are necessary for the expression of dominance behaviors in S. surinama. Instead, we show that JH likely functions as a gonadotropin and directly modifies the cuticular hydrocarbon blend of young workers to match that of a reproductive. Hemolymph ecdysteroids, in contrast, are not different between queens and workers despite great differences in ovarian ecdysteroid content.
Conclusions
The endocrine profile of S. surinama shows surprising differences from those of other caste-flexible wasps, although a rise in JH titers in replacement queens is a common theme. Extensive remodeling of hormone functions is also evident in the highly eusocial bees, which has been attributed to the evolution of morphologically defined castes. Our results show that hormones which regulate caste-plasticity can lose these roles even while caste-plasticity is preserved.
Keywords
Cuticular hydrocarbonsEcdysteroidsEndocrineEpiponiniJuvenile hormoneSwarm foundingWasps
Background
Division of labor, which is the fundamental condition for the ecological success of social insects, reaches its apex with the evolution of morphologically specialized queens and workers. These distinct phenotypes separate the highly advanced eusocial species from the 'primitively eusocial' ones, such as Polistes paper wasps, where caste is not determined until the adult stage. Yet caste totipotency is not always lost as a consequence of increased social specialization. For example, many of the Neotropical swarm founding wasps (Epiponini) – which are permanently social and polygynous, i.e. have multiple queens in their nests – have retained extreme caste flexibility [1]-[3]. As has been shown in Metapolybia aztecoides and Synoeca surinama, the social context in which a young adult female finds herself is the overwhelming factor in determining her caste fate [1]-[3]. So long as there are queens present and the colony does not split (i.e. form a reproductive swarm), young females will almost certainly become workers, a fate assured by direct suppression by older workers [2]-[5]. If a colony becomes queenless, the youngest cohort of females on the nest – which would have otherwise become workers – become the next group of queens [3]. The high frequency of sporadic nest destruction (e.g., by army ants or birds) or abandonment has placed a premium on being able to expeditiously adjust the ratio of egg layers to workers to avoid colony extinction [1]-[3],[5],[6]. Thus, caste identity is provisional, since queens may transform into workers when worker numbers are low, and young workers (e.g. builders) can become queens if queens disappear [1]-[3].
The question of caste determination in wasps has been best studied in temperate climate paper wasps of the genus
Polistes
, but these are not continuously social, as nests are independently founded by overwintered gynes (young queens that do not yet head a colony). These may either found a nest individually or as a group of females. In the latter case, a dominance hierarchy is established primarily through direct acts of aggression and differential oophagy, which typically results in a monogynic society [
7
]-[
10
]. Queens of some caste totipotent epiponines maintain their position through ritualized displays of dominance [
11
], namely abdomen-bending (or "bending"), a lateral hinging at the waist which bears a resemblance to a stinging posture [
2
],[
3
] (Figure
1
A). Queens display aggressively toward one another, often on the margins of the nest, but bending is also elicited by the approach of workers who engage in a ritualized act of their own: the spasmodic `queen-dance', interpreted as an act of "arrested or inhibited aggression" [
1
] which, if released, can give way to attacks toward subordinate behaving queens [
1
]-[
3
]. Defeated queens, after passing through a period of idleness [
1
], may become workers until eventually only one queen remains (which has the effect of increasing relatedness within an otherwise polygynous society) [
1
],[
3
],[
12
]. Possible selective forces at work (e.g., mutualism, kin selection) in swarm-founding wasp societies have been discussed [
1
],[
3
],[
13
], but what remains to be investigated are the proximate mechanisms (i.e., behavioral and physiological modifiers) that underlie their extraordinary caste flexibility and performance.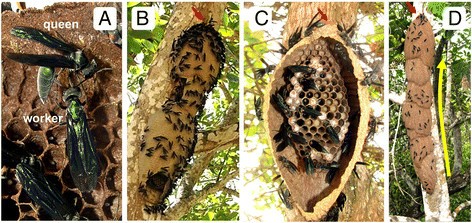 In insects, the most frequently employed factor for orchestrating differentially expressed phenotypes (i.e., polyphenisms) is juvenile hormone (JH) [14], a sesquiterpenoid. In addition to its widely conserved roles in pre-imaginal development [15],[16], JH is also a widespread gonadotropin [17],[18]. In Polistes wasps, caste determination and maintenance is modulated by context- and nutrition-dependent effects of JH [19]-[22]. Among competing foundresses, JH drives ovarian growth and aggression [23]-[25], its hemolymph titers remain high in queens [21],[26], and it is tightly linked to the production of chemical signatures of fertility in the cuticular hydrocarbon (CHC) profile [27]. Ecdysteroids, which in adult female insects are primarily produced by the ovaries and loaded into growing oocytes, may also be released into the hemolymph, as is the case in Polistes. They augment dominance in competing foundresses [24],[25],[28] but are not required to maintain dominance behaviors [29]. In Polistes females emerging in queenright conditions, methoprene (a stable JH mimic) treatments induced precocious worker behaviors, such as guarding or foraging [21],[30]. Yet if these otherwise worker-destined females are removed from their environment and fed ad libitum, methoprene treatments resulted in enhanced oocyte development [19], and indeed, queenless workers that fight their way up the dominance hierarchy have especially high amounts of JH [26].
Polistes and epiponine wasps share a common caste-based ancestor [31] which was also likely to be caste-totipotent in the adult stage [32], setting the expectation for conserved functions for JH and the ecdysteroids in both caste transition and the subsequent modulation of caste physiology and behavior. Yet aside from the evidence that methoprene accelerates the onset of worker behaviors in the epiponine wasp Polybia occidentalis[33], the JH and ecdysteroid profiles in another caste-flexible wasp, Polybia micans, were remarkably different from that of Polistes dominula[34]. In P. micans, both JH and ecdysteroid titers were low in competing queens while JH increased only after all direct competitors were eliminated. Neither hormone thus appears to be essential for maintaining basic queen physiology, be it ovarian growth or chemical signaling. Despite these differences, JH titers were increased in potential reproductives following queen removal in both P. micans[34] and P. dominula[26], suggesting that JH fuels competitive ability and/or increases reproductive potential in challenging, unstable conditions, analogous to testosterone function in vertebrates [35],[36].
The observed loss of hormone function with increasing level of sociality is paralleled in other lineages of Hymenoptera [14]. In the adults of primitively eusocial bumble bees, circulating JH and ecdysteroids are important for ovarian growth and reproductive behaviors [37]-[39]. Yet in swarm-founding, caste-dimorphic honey bees and stingless bees, these hormones have no obvious functions for reproduction or related behaviors [14],[40]. Significant modification of JH function in eusocial Hymenoptera does not always accompany the switch to a swarming lifestyle, as JH has also relinquished gonadotropic functions in some ants [14],[41]. The reason for convergent loss of hormone functions among these eusocial lineages remains a mystery, but the wasps are the best candidates for tracking the mechanisms of how these transitions occurred. Although there are no extant intermediate representatives between bumble bees and swarming-founding bees, there are many genera phylogenetically intermediate to Polistes and Polybia[31].
Synoeca surinama, whose social biology is very similar to the closely related Metapolybia[1], is a derived epiponine wasp, as is Polybia[31]. As opposed to P. micans, where queen selection involves, in part, an onslaught of physical attacks [34], in colonies of Synoeca queen succession is usually peaceful: even newly emerged females, which are relatively soft-bodied, can assume bending and gain acceptance as queens without a fight [1]. We show that the endocrinology of S. surinama is distinct from Polistes and Polybia, indicating that hormone functions in social wasps are liable to evolutionary change, even as caste-totipotency is conserved. In addition, the CHC components, including prospective queen signals, have diverged considerably between these two swarm founding wasps, possibly reflecting strong intragroup selection for the Epiponini as compared to some temperate wasps [42].
Discussion
To our knowledge, this is the first study to couple endogenous endocrine measurements and hormone manipulation experiments for a permanently eusocial wasp. For Synoeca surinama, we show that JH titers are consistently higher in incipient and actual queens than in workers, suppressed `hopeful reproductives' and newly emerged females (Figure 3 and Additional file 1: Figure S2). This pattern suggests that JH has conserved gonadotropic, behavioral and/or chemical signaling functions that these wasps share with their non-swarming primitively eusocial relatives (e.g., Polistes) [27],[48],[49]. Yet in further hormone assays combined with subsequent JH and methoprene application experiments for S. surinama, it became evident that JH is not required for the expression of aggressive displays and failed to influence the caste trajectory of females with uncertain fates. Instead, JH appears to both promote ovarian development and direct a shift in the CHC profile toward that of a replacement queen. This is in contrast to another caste-flexible epiponine wasp, Polybia micans, where high JH titers are not typically sustained in maturing reproductives [34]. One shared aspect in the endocrinology of S. surinama and P. micans is the apparent lack of ecdysteroid function in the hemolymph, which in Polistes is important for establishing dominance [25],[28],[29].
Methods
Wasps
All behavioral and physiological data were collected from Synoeca surinama [Hymenoptera: Vespidae: Epiponini] nests found on the campus of Universidade de Federal Sergipe (UFS), São Cristóvão, Sergipe, Brazil. All nests of S. surinama were studied in situ, anywhere from 1 to 12 meters off the ground. Although nests can grow quite large (Figure 1D), for queen removal colonies we focused on relatively small nests where all females could be marked according to their activity within a couple days. Voucher specimens are preserved at Universidade de São Paulo (USP), Ribeirão Preto.
Field studies
The paper nests of Synoeca consist of a vertical planar comb of cells and a brittle corrugated envelope (Figure 1). Envelopes were partially or completely removed to facilitate observations inside the nest [3],[71]. The destruction of the nest envelope unavoidably induces a drastic change in task allocation toward restoring the envelope (e.g., building and pulp foraging). Thus, on some nests, only small pieces of envelope were removed (Figure 1B). On most nests, all females were marked with oil-based Sharpie pens based on their behavior (e.g., bending, building, etc.) or day of emergence from the brood cell. Queens and workers are easily distinguished based on behavior [3]. Queens, in addition to rarely working, walk much more slowly than workers, spend most of their time huddled with other queens in the corners of the nest, exhibit bending behavior toward both workers and fellow queens and receive the `queen dance' from workers. In this study, all sampled females (N = 71) having this repertoire turned out to have large ovaries and opaque spermatheca, evidence of having mated. Young queenright adults, which are idle for several days following eclosion, also huddle in corners of the nest but do not exhibit bending behavior (except in rare cases as reported here), and after several days they transition to building in queenright colonies. Each colony was observed for at least 4 days to identify the general status of each female and the adult age of newly emerged ones. In colonies where all queens are removed, the above queen-repertoire is taken up by a subset of females that are referred to as "new benders". Queenless benders that have displayed for a full week are called "established benders", and their ascension to queenhood is considered complete when they begin laying eggs. When queen fecundity was assessed (colony 5), eggs were periodically removed from cells.
To avoid stress-related endocrine responses, no females were sacrificed until two days after the envelope was first removed. To limit the effect of possible circadian endocrine changes [72], all wasps were collected for processing from 13:00–17:00, placed in clean glass vials and buried in ice (0°C) within 15 s of removal. Collection almost always included multiple types of females, with the relevant pair determined by the objective of the assay (e.g., queens vs. workers).
Relative age of workers and queens was estimated by scoring (blind) the degree of apodeme and cuticular darkening on the 5th gastral sternite [6],[7],[73]. A pictorial representation of this feature and the scores assigned are shown in Additional file 9: Figure S1 and is referred to as `cuticular age'.
Collecting hemolymph for hormone measurements, cuticular hydrocarbon wash, and ovary measurements
Wasps were transferred on ice to the laboratory for processing; for details see [34]. All wasps were bled within 2 h since longer periods of cold anesthesia significantly affect JH titers in honeybees [74]. Two to 10 μl of hemolymph was withdrawn from between the anterior-most segments of the gaster with a microcapillary (Drummond Scientific Company, Broomall, PA, USA). Samples destined for JH measurement by radioimmunoassay (RIA) were transferred to 500 μl of acetonitrile. Samples destined for ecdysteroid measurement were preserved in 500 μl of methanol.
Subsequent to bleeding, cuticular hydrocarbons (CHCs) were extracted from females by placing them in 2 ml of hexane for 2–2.2 min. Hormone and CHC samples were kept at −20°C. The ovaries of these wasps were carefully removed in cold E & B Ringer solution (7.5 g NaCl and 0.35 g KCl/1 L distilled water) and photographed with a Leica EZ4D Microscope Camera. Ovaries were then placed in 500 μl of methanol for ecdysteroid measurement.
Queen ovaries were quantified by counting the number of oocytes >70% the length of a mature egg (LME). The two largest oocytes of females that were not queens were measured using ImageJ (NIH, Bethesda, MD, USA) and averaged. Oocyte length is given as a percentage of a LME, and oocytes <8% LME were considered filamentous.
Hemolymph juvenile hormone titer analysis by radioimmunoassay (RIA)
JH was extracted from the haemolymph sample in acetonitrile following a liquid-phase separation protocol developed for honeybees [75]. For the radioimmunoassay, we used [10-3H (N)]-JH III (spec. activity 19.4°Ci/nmol, Perkin Elmer Life Sciences, Waltham, MA, USA), JH-III (Fluka, Munich, Germany), and a JH-specific antiserum [76] as detailed by [77] and [34]. JH titers of the samples were calculated by non-linear four-parameter regression on standard curve values (ImmunoAssay Calculations spreadsheet, Bachem, Bubendorf. Switzerland) and are expressed as JH-III equivalents (pg/μl hemolymph).
Haemolymph titer and ovarian ecdysteroid content analysis by radioimmunoassay (RIA)
Haemolymph samples in 500 μl in methanol were cold centrifuged (4°C), and the supernatant transferred to RIA glass vials and dried by vacuum centrifugation. For the quantification of ovarian ecdysteroid content, interfering lipids were removed from the methanolic extract by reversed phase chromatography [38].
Ecdysteroids were quantified by RIA, as previously described [77],[78] using an antiserum prepared against a hemisuccinate derivative of ecdysone [79],[80] [23,24-3H (N)] ecdysone (Perkin Elmer) (NEN, spec. act. 102°Ci/mmol), and 20-hydroxyecdysone (20E; Sigma St. Louis, MO, USA). Details of this RIA protocol are in [77]. Results are expressed as 20E equivalents, calculated by the same regression analysis used for JH titers (see above), reported as pg/μl for the hemolymph samples, or as pg/ovary for the ovary samples.
Cuticular Hydrocarbon (CHC) analysis
After evaporation of the wash hexane, the extract was re-suspended in 50 μl of hexane and 1 μl was injected into a combined gas chromatography-mass spectrometer (GCMS) (model QP2010, Shimadzu, Kyoto, Japan). Separation was achieved on a DB-5MS column of 30 m, with a helium gas carrier at 1.0 ml min−1. Oven temperature was initially set to 150°C, and ramped up 3°C min−1 until it reached 280°C and held for 20 min. Analyses were performed in the splitless mode. The mass spectra were obtained by 70 eV ionization. The chromatographs were analyzed with GCMS solutions (Shimadzu). CHCs were identified using authentic standards (linear alkanes) and/or by their molecular diagnostics ion. The positions of unsaturations in alkenes were identified according to the dimethyl disulfide derivatization technique [81] and analyzed with the same GCMS system mentioned above.
Exogenous JH III and methoprene application
Females were treated with either JH III (Sigma) or methoprene (Zoecon, Palo Alto, CA). Both JH III and methoprene were dissolved in cyclohexane (HPLC grade, Sigma-Aldrich) at final concentrations of 10 μg/μl each and 1 μl was topically applied to the gaster of cold-anesthetized wasps. Control wasps received a solvent application, and in some cases, non-treated wasp controls were also included. To test for immediate behavioral responses, 10 μg of JH III was applied on three consecutive days to old (>3 weeks) queenless workers and, in another experiment, to 1–3 day old adult females who emerged as the colony was transitioning from being queenless to queenright. To assess JH effects on ovarian growth and chemical signaling, 10 μg of methoprene, which has longer-lasting effects than JH III [47], was applied to working wasps at 3 and 6 days following eclosion. All wasps were kept in isolation for 45–60 min before they were returned to the nest to reduce the spread of the topically applied hormone to nestmates. Unless otherwise noted, all nests containing treated females were observed for 1–2 hours each day before treatment or capture.
Statistical analyses
The range of JH titers for a given nest was not always the same, attributable to the fact that the samples were collected and analyzed over a two year period. Also, low sample size for certain female types precluded statistical tests within individual colonies. Therefore, we looked for differences in pooled data sets by performing a Mixed Model analysis, the Restricted Maximum Likelihood Method, on software SPSS 21 (IBM, Armonk, NY, USA) and JMP 10.0 (SAS Corporation, Cary, NC, USA). Fixed factors included Status and, in a grand analysis, Colony Condition (i.e., queenright vs. queenless nest). Colony was designated as a Random factor. To look for relationships between variables within a colony or from samples run on the same RIA, a Pearson's r (normal data) or Spearman's ρ (non-normal data) test implemented in JMP10.0 was used for significance. When comparing two groups, a two-tailed t-test (normal data) or a Kruskal-Wallis rank sums test (non-normal data) was used. In the case of multiple comparisons, the Steel-Dwass method for all pairs was employed using JMP 10.0. In cases where no relationship was found between two variables, a power analysis was employed and reported as Fisher s Refined Z (Zr) using JMP 10.0 and Statistica 12.0 (StatSoft, Tulsa, OK, USA).
Cuticular hydrocarbon data
Principal components analysis (PCA) was used to define the main components to be compared, such that compounds missing in most individuals of a group, as well as compounds contributing less than 5% to the first two factors in PCA were excluded from the statistical analysis. The relative concentrations of the compounds used in the discriminant analysis were readjusted to 100% and each peak was transformed according to [82]. Following this, a stepwise discriminant function analysis was done to see if combinations of variables could be useful in predicting group. Wilks' λ values were used to verify the individual contribution of each variable to the model. For details of the CHC profile analyses, see [34]. The statistical analyses were performed using the software Statistica 10.0.
Authors' contributions
HCK conceived the study, participated in its designed, performed the field work, collected the physiological samples, carried out the radioimmunoassays (RIAs), performed the hormone manipulation experiments, participated in the processing of the cuticular hydrocarbon (CHC) samples, quantified the CHC profiles, participated in the statistical analyses and drafted the manuscript. KH participated in the design of the experiments, oversaw and assisted with the RIAs, helped with statistical analyses and participated in the drafting of the manuscript. FSN participated in the processing of the CHC samples as well as the quantification and statistical analyses of the data. LMR oversaw the research and participated in the design of the study. All authors read and approved the final manuscript.
Abbreviations
CHC:

Cuticular hydrocarbons
DA:

Discriminate analysis
JH:

Juvenile hormone
LME:

Length of mature egg
Declarations
Acknowledgements
This work was made possible by the generosity of the Laboratório de Entomologia at the Universidade Federal de Sergipe (UFS). Biologists Leandro S. Souto, Yana T. Reis, Ana Paula Marques Costa, Bianca Ambrogi and others provided lab space, equipment and continuous support with the procurement of materials required for this research. Discussions with Mary Jane West-Eberhard provided the early inspiration for this work. Michel Precisão and Adriano Aquino from the UFS Laboratório de Análise de Compostos Orgânicos Poluentes supplied the solvents. For assistance in the field, we thank Eduardo Nascimento, Beryl Jones and Lucas Oliveira. Carlos Alberto dos Santos and Dr. Fernando Noll (São José do Rio Preto) showed us how to work with this aggressive wasp. We thank Dave Mellert and Natasha Mothapo for assistance with the statistical analyses. Finally, Danielle Caroline and Isabel Cristina Turatti helped with the processing of CHC samples at the Universidade de São Paulo.
Authors' Affiliations
(1)
Janelia Research Campus, Howard Hughes Medical Institute, Ashburn, USA
(2)
Faculdade de Medicina de Ribeirão Preto, Universidade de São Paulo, Universidade de São Paul, Ribeirão Preto, Brazil
(3)
Departamento de Biologia da Faculdade de Filosofia, Ciȇncias e Letras de Ribeirão Preto, Universidade de São Paulo, Ribeirão Preto, Brazil
(4)
Department of Botany and Zoology, Stellenbosch University, Matieland, South Africa
Copyright
© Kelstrup et al.; licensee BioMed Central Ltd. 2014
This article is published under license to BioMed Central Ltd. This is an Open Access article distributed under the terms of the Creative Commons Attribution License (http://creativecommons.org/licenses/by/4.0), which permits unrestricted use, distribution, and reproduction in any medium, provided the original work is properly credited. The Creative Commons Public Domain Dedication waiver (http://creativecommons.org/publicdomain/zero/1.0/) applies to the data made available in this article, unless otherwise stated.