Evolutionary history of Chaetognatha inferred from molecular and morphological data: a case study for body plan simplification
Frontiers in Zoology
2014
11:84
Received: 1 July 2014
Accepted: 30 October 2014
Published: 21 November 2014
Abstract
Background
Chaetognatha are a phylum of marine carnivorous animals which includes more than 130 extant species. The internal systematics of this group have been intensively debated since it was discovered in the 18th century. While they can be traced back to the earlier Cambrian, they are an extraordinarily homogeneous phylum at the morphological level - a fascinating characteristic that puzzled many a scientist who has tried to clarify their taxonomy. Recent studies which have attempted to reconstruct a phylogeny using molecular data have relied on single gene analyses and a somewhat restricted taxon sampling. Here, we present the first large scale phylogenetic study of Chaetognatha based on a combined analysis of nearly the complete ribosomal RNA (rRNA) genes. We use this analysis to infer the evolution of some morphological characters. This work includes 36 extant species, mainly obtained from Tara Oceans Expedition 2009/2012, that represent 16 genera and 6 of the 9 extant families.
Results
Cladistic and phenetic analysis of morphological characters, geometric morphometrics and molecular small subunit (SSU rRNA) and large subunit (LSU rRNA) ribosomal genes phylogenies provided new insights into the relationships and the evolutionary history of Chaetognatha. We propose the following clade structure for the phylum: (((Sagittidae, Krohnittidae), Spadellidae), (Eukrohniidae, Heterokrohniidae)), with the Pterosagittidae included in the Sagittidae. The clade (Sagittidae, Krohnittidae) constitutes the monophyletic order of Aphragmophora. Molecular analyses showed that the Phragmophora are paraphyletic. The Ctenodontina/Flabellodontina and Syngonata/Chorismogonata hypotheses are invalidated on the basis of both morphological and molecular data. This new phylogeny also includes resurrected and modified genera within Sagittidae.
Conclusions
The distribution of some morphological characters traditionally used in systematics and for species diagnosis suggests that the diversity in Chaetognatha was produced through a process of mosaic evolution. Moreover, chaetognaths have mostly evolved by simplification of their body plan and their history shows numerous convergent events of losses and reversions. The main morphological novelty observed is the acquisition of a second pair of lateral fins in Sagittidae, which represents an adaptation to the holoplanktonic niche.
Keywords
ChaetognathaPhylogeneticsSystematicsProcrustes surimpositionHomoplasyBody plan simplification
Background
Chaetognaths are small predators of major importance in the marine ecosystem [1],[2]. They are abundant in every sea worldwide and can be traced back to the Cambrian radiation [3]. Most of them are planktonic but a few are benthic. Chaetognaths are particularly renowned for their peculiar morphological and developmental features. These characters, as well as the affinities of the group within the metazoans, have been extensively debated by zoologists since the discovery of the phylum in the 18th century [4]. So far the most recent phylogenetic analyses have also proved problematic for inferring their sister-group relationships within metazoans, which makes their positioning one of the most difficult issues in animal phylogeny [5]. Numerous alternative phylogenetic hypotheses have been proposed over a long history of debate (for review [5],[6]). However, a recent hypothesis has emerged, based on morphological [7],[8] and phylogenomic analyses [9]-[13], where chaetognaths have been considered an early diverging member of Protostomia. The circumoral brain and the intraepithelial ventral cords have been recognized to be two of the key apomorphies of Protostomia [14],[15]. The nervous system in Chaetognatha is characterized by such a typical arrangement. However, even though the Chaetognatha partly share the Protostomia ground pattern, Perez et al. [5] concluded that their derived genome and morphology do not include any convincing synapomorphy that would suggest a sister-group relationship to another metazoan taxon.
As their relationships within metazoans, their internal systematics is still very much debated [
16
]-[
18
]. Here, we recall the main hypotheses previously proposed based on morphological and, more recently, molecular data. According to Ritter-Zahony [
19
] and Hyman [
20
], Chaetognatha was traditionally divided into six genera representing four families:
Sagitta
(Sagittidae),
Pterosagitta
(Pterosagittidae),
Spadella
,
Eukrohnia
and
Heterokrohnia
(Eukrohniidae) and
Krohnitta
(Krohnittidae). Later, Tokioka [
21
] re-evaluated the relationships between families by creating two new orders (Figure
1
A): the plesiomorphic Phragmophora (presence of a transverse musculature, namely the phragms, and various kinds of glandular structures on the body surface) composed of Spadellidae and Eukrohniidae; and the derived Aphragmophora (absence of phragms and few glandular structures). Tokioka [
21
] suggested creating two Aphragmophora suborders according to the shape of teeth and hooks and the number of teeth rows. The suborder Flabellodontina only contains the family Krohnittidae, while the Pterosagittidae and Sagittidae belonged to the Ctenodontina. In a following work, Tokioka [
22
] suggested the paraphyly of Aphragmophora (Figure
1
B), with the Ctenodontina were thought to be closer to the Phragmophora than to the Flabellodontina. Inspired by a previous suggestion of Alvario [
23
], Tokioka [
21
] considered that some of the structural differences between
Sagitta
species were of significant systematic importance. This author divided
Sagitta
into nine new genera and gathered them into the Sagittidae. After the discovery of several new deep benthoplanktonic chaetognaths, Casanova [
24
] slightly modified Tokiokas hypothesis (Figure
1
C). In his version, the members of the Phragmophora order were split into two new orders. First, the Biphragmophora (comprising the new Heterokrohniidae family, with transverse muscles in both trunk and tail) was included into the subclass Syngonata (with ducts between the genital glands). Second, the Monophragmophora (Spadellidae and Eukrohniidae, with transverse muscles in trunk only) was associated with the Aphragmophora into the subclass Chorismogonata (without such ducts). Using multivariate analyses based on body shape, Dallot and Ibanez [
25
] suggested the existence of three groups (
Sagitta
,
Eukrohnia
, and
Spadella
/
Bathyspadella
) and a close relationship between the planktonic species
Pterosagitta draco
and the benthic Spadellidae. They also questioned the inclusion of
Sagitta lyra
within the genus
Sagitta
. In another study, Salvini-Plawen [
26
] proposed the littoral-neritic
Pterosagitta draco
as the most plesiomorphic species and contradicted the ancestrality of phragms (Figure
1
D). He also omitted the Aphragmophora suborders Ctenodontina and Flabellodontina of Tokioka [
21
] and the Syngonata/Chorismogonata hypothesis of Casanova [
24
]. Finally, Bieri [
21
],[
22
] proposed the most recent revision of the chaetognaths classification. Following Alvario [
23
] and Tokioka [
21
],[
22
], he suggested new genera within Sagittidae. Several morphological criteria were taken into account: position and shape of the corona ciliata; position and shape of lateral fins and seminal vesicles; presence/absence and shape of the intestinal diverticula; trunk/tail length ratio; rayless-zones in the lateral fins; body aspect. This author also disregarded the Syngonata/Chorismogonata hypothesis.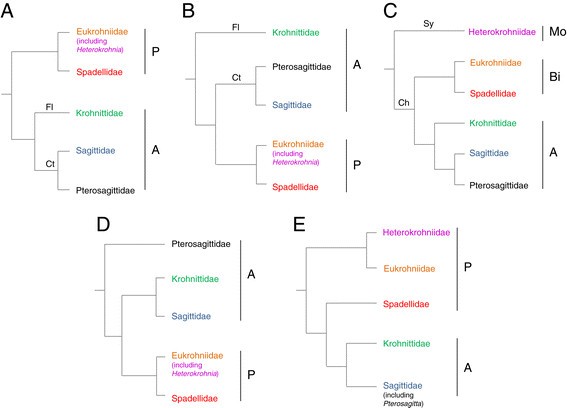 Thus, based on a consensus between Tokioka, Casanova and Bieris hypotheses, the extant Chaetognatha are represented by three orders (Biphragmophora, Monophragmophora, Aphragmophora) and nine families (Heterokrohniidae, Eukrohniidae, Pterokrohniidae, Spadellidae, Krohnittellidae, Krohnittidae, Pterosagittidae, Sagittidae, Bathybelosidae).
The first molecular study of chaetognaths systematics was conducted with a short portion of the large subunit ribosomal RNA 28S (LSU rRNA) gene [27]. These authors concluded that the LSU rRNA gene is duplicated in Chaetognatha, the division into Aphragmophora and Phragmophora is supported and several genera of the Sagittidae family described by Tokioka [21] and Bieri [16] are recovered. Papillon et al. [18] carried out a more extensive molecular study based on 26 sequences of the small subunit ribosomal RNA 18S (SSU rRNA) isolated from members of six extant families; they concluded that (1) similarly to LSU rRNA, a duplication of SSU rRNA gene occurred, suggesting that the whole ribosomal cluster is duplicated, (2) Tokiokas suborders Ctenodontina and Flabellodontina are not validated, (3) Casanovas hypotheses Syngonata/Chorismogonata and Monophragmophora/Biphragmophora are rejected, (4) the families Krohnittidae and Pterosagittidae are not supported, (5) three monophyletic groups are identified: Sagittidae/Krohnittidae, Spadellidae/Pterosagittidae and Eukrohniidae/Heterokrohniidae, (6) the order Aphragmophora without Pterosagitta draco is monophyletic. Since then, no molecular study has been made to further explore the systematics of this phylum. Finally, a recent barcoding analysis was highly successful at discriminating between the described species [28]. It notably revealed little geographical structure and showed that Eukrohnia bathypelagica and Eukrohnia hamata are probably young sister-species.
Thus, even after one century of heavy debates, it has not been possible to establish a stable and reliable hypothesis on the evolutionary history of Chaetognatha. In the present work, we have conducted an extensive molecular analysis based on LSU and SSU rRNA duplicated genes. We combined, for the first time, the molecular results with a morphological classification and geometric morphometrics. In the light of our results, we present a revised phylogeny and discuss the morphology-based character systems that have traditionally been used to classify this enigmatic phylum.
Conclusions
Molecular analyses have highlighted the homoplasy of several traditional characters and the influence of lifestyle on morphology, particularly for chaetognaths that adapted to a pelagic environment. We also propose that Chaetognatha evolved mostly through simplification of a pre-existing body plan, rather than through an increase in complexity. This constitutes a shift of paradigm in the traditional understanding of the groups evolution and prompts a re-appraisal of previous hypotheses concerning the morphological characters polarity and history. For example, it is reasonable to think that the loss of phragms and teeth could have occurred independently in different branches during chaetognath evolution. If the anterior and posterior rows of teeth are considered as homologous structures, the loss of one of these rows may be described as an event of parallel evolution. Another important traditional diagnostic character, the trunk/tail length ratio, can also be considered subject to homoplasy by reversion due to Bauplan limits (Pterosagitta draco versus Spadellidae) and convergence caused by an evolution in similar ecosystems (Sagittidae/Krohnittidae versus Eukrohniidae). Even the main Sagittidae synapomorphy represented by two pairs of lateral fins is homoplasic by reversion. Because of these numerous losses and homoplasic events, traditional morpho-anatomical traits may prove unhelpful with deciphering chaetognath relationships and morphological evolution with any certainty. Such a conclusion stresses the need for more data from molecular markers as well as from histo- and cytoarchitecture of the muscular apparatus [33] and the neurosensorial system [32],[54]. Because of the scarcity of novelties at the anatomical level, it becomes needed to explore their body plan variations from the tissue level to the cell level. Considering the pivotal phylogenetic position of Chaetognatha within bilaterians, it is of primary importance to reconstruct their ground pattern. Future studies need to focus on a set of new characters based on a broad range of taxa including specimens belonging to meso-bathypelagic and deep benthoplanktonic genera. The use of an expanded taxonomic dataset combined with appropriate observation (i.e., with transmission electron microscopy, immunohistochemistry combined with confocal laser scanning microscopy and Next Generation Sequencing) will be crucial in improving the understanding of Chaetognathas diversification processes.
Authors contributions
SG and YP identified the specimens. SG carried out the molecular experiments. YP and GN designed the geometric morphometrics study and drafted the corresponding part of the manuscript. SG, NP, AG and YP did the phenetic and cladistic analysis of morphological characters. SG, AG and YP did the molecular phylogenetic analyses. AG, YP and ST drafted the manuscript. YP conceived the study and its design. AG and YP supervised the study. All authors read, amended and approved the final manuscript.
Declarations
Acknowledgements
We are deeply grateful to the Tara schooner and crew for collecting plankton samples all over the World Oceans during three years. Our special thanks go to Gaby Gorsky and Christian Sardet who facilitated our integration in the Tara Oceans consortium. We are also keen to thank the following people for providing us with planktonic samples: Jean-Marc Pagano from the Institut de Recherche pour le Dveloppement (IRD), John Lamkin and Akihiro Shiroza from the Southeast Fisheries Science Centre (SEFSC), Cdric Guigand from the Rosentiel School of Marine and Atmospheric Science (RSMAS) and Fredrika Norrbin from the Department of Arctic and Marine Biology (The Arctic University of Norway). Our manuscript profited from stimulating discussion with Daniel Papillon who also provided English corrections. This article is the contribution no. 19 of the Tara Oceans Expedition 2009/2012.
Authors' Affiliations
(1)
Aix-Marseille Universit, CNRS, IRD, Avignon Universit, Marseille cedex 3, France
(2)
Universit de Tunis El Manar, Facult des Sciences de Tunis, UR11ES12 Biologie de la Reproduction et du Dveloppement animal, El Manar, Tunisie
Copyright
© Gasmi et al.; licensee BioMed Central Ltd. 2014
This article is published under license to BioMed Central Ltd. This is an Open Access article distributed under the terms of the Creative Commons Attribution License (http://creativecommons.org/licenses/by/4.0), which permits unrestricted use, distribution, and reproduction in any medium, provided the original work is properly credited. The Creative Commons Public Domain Dedication waiver (http://creativecommons.org/publicdomain/zero/1.0/) applies to the data made available in this article, unless otherwise stated.