iDNA from terrestrial haematophagous leeches as a wildlife surveying and monitoring tool – prospects, pitfalls and avenues to be developed
Frontiers in Zoology
2015
12:24
Received: 7 May 2015
Accepted: 5 September 2015
Published: 1 October 2015
Abstract
Invertebrate-derived DNA (iDNA) from terrestrial haematophagous leeches has recently been proposed as a powerful non-invasive tool with which to detect vertebrate species and thus to survey their populations. However, to date little attention has been given to whether and how this, or indeed any other iDNA-derived data, can be combined with state-of-the-art analytical tools to estimate wildlife abundances, population dynamics and distributions. In this review, we discuss the challenges that face the application of existing analytical methods such as site-occupancy and spatial capture-recapture (SCR) models to terrestrial leech iDNA, in particular, possible violations of key assumptions arising from factors intrinsic to invertebrate parasite biology. Specifically, we review the advantages and disadvantages of terrestrial leeches as a source of iDNA and summarize the utility of leeches for presence, occupancy, and spatial capture-recapture models. The main source of uncertainty that attends species detections derived from leech gut contents is attributable to uncertainty about the spatio-temporal sampling frame, since leeches retain host-blood for months and can move after feeding. Subsequently, we briefly address how the analytical challenges associated with leeches may apply to other sources of iDNA. Our review highlights that despite the considerable potential of leech (and indeed any) iDNA as a new survey tool, further pilot studies are needed to assess how analytical methods can overcome or not the potential biases and assumption violations of the new field of iDNA. Specifically we argue that studies to compare iDNA sampling with standard survey methods such as camera trapping, and those to improve our knowledge on leech (and other invertebrate parasite) physiology, taxonomy, and ecology will be of immense future value.
Keywords
Target Species
Blood Meal
eDNA
Vertebrate Species
Camera Trap
Introduction
Gathering knowledge on the abundance, dynamics and distributions of species is one of the fundamental challenges for conservation biologists who aim to apply and assess the impacts of management interventions. At the root of this challenge lies the need to monitor species over space and time. Currently, a number of different survey and monitoring methods are being applied to terrestrial vertebrates, ranging from physical immobilization with possible invasive sampling (e.g. capture for telemetry, biopsies, etc.) [1] to non-invasive and often indirect sampling (e.g. scat, hair, sound or sign surveys and camera-trapping) [2–5]. Non-invasive methods are often preferred for ethical and practical reasons.
In recent years, interest has grown in the application of environmental DNA (eDNA) as a non-invasive tool with which to obtain biodiversity information (e.g. [6–10]). eDNA refers to DNA that can be extracted from environmental samples (e.g., air, water, soil) without needing the target organisms themselves. When subjected to metabarcoding, identification of multiple species from a single bulk sample is possible [11]. Within the general discipline of eDNA lies iDNA, "invertebrate-derived DNA", where vertebrate genetic material is extracted from invertebrates. The invertebrates that have been used in iDNA studies are diverse, including mosquitoes [12, 13], carrion and blow flies [14, 15], midges [16], ticks [17], and terrestrial leeches [18]. Similarly diverse are their habitats, behaviours and diets, which range from flesh-eating and haematophagous (blood-sucking) to coprophagous (feces-eating) and saprophagous (eating dead/decaying organic matter) [19]. Preliminary studies have demonstrated that iDNA can recover information about vertebrates across a broad range of taxa with different sizes and ecologies, with detection sensitivity largely representing only a single meal per leech (I.B. Schnell unpublished data and [14, 19]), indicating iDNA has potential to survey and monitor vertebrates.
Among the potential sources of iDNA, haematophagous terrestrial leeches (Fig.
1
) have received considerable recent interest from the conservation biology sector. Relevant species belong to the family Haemadipsidae, within the suborder Hirudiniformes [
20
–
22
], and members of this family occupy large parts of Asia, Australasia, and Madagascar [
20
,
23
] - areas that are known for their extensive tropical rainforests, rich biodiversity and number of endemic or threatened vertebrate species [
24
–
26
]. Given that monitoring efforts are often severely hampered by the limited economic support available, one of the most attractive benefits of using leech-derived iDNA as a tool is that collection is cheap, rapid, and requires no special skills or equipment, allowing easy recruitment of personnel from local people. The leech collector simply offers his/herself up for bait. Valuable equipment is not at risk of being damaged or stolen - unlike camera traps - and there is no need for batteries or CO
2
- unlike mosquito traps. Furthermore, in addition to their ease of sampling, their generally high abundance allows collection of large sample sizes. In tropical forests during the wet season, it is not unusual for single collectors to collect hundreds of leeches per day. Given that such leeches feed on vertebrate taxa spanning a broad range of sizes and ecologies (I.B. Schnell unpublished data), bulk processing of leeches through simply digesting the entire leech, purifying the total DNA then subjecting it to metabarcoding PCRs [
18
] combined with high-throughput sequencing, provides an efficient means to assess vertebrate species richness. The number of leeches collected over any survey area is also a direct measure of sampling effort, making it easy to quantify and compare effort across sites and visits. Lastly, relatively high detection success of vertebrate iDNA has been reported for terrestrial leeches. In contrast to invertebrates with high metabolism and short inter-meal intervals such as flies and mosquitoes, terrestrial leeches (and ticks) only feed a few times annually and to some extent possess the ability to retard the rate of DNA degradation [
18
,
27
]. Preliminary observations indicate very high detection rates of well-preserved DNA in leeches [
18
], suggesting that identification of sex or discrimination between individuals may be possible.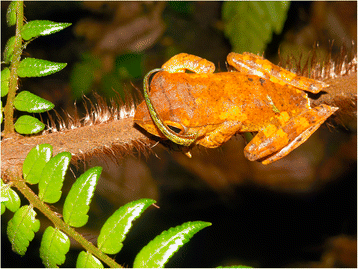 The steep increase of camera-trapping studies since the 1990s, when camera-traps were first used systematically to study wildlife, highlights the demand for reliable, non-invasive vertebrate survey techniques. The advantages of haematophagous terrestrial leeches as a source of iDNA raises the hope that they could complement, or in some instances even outperform camera-trapping. As such, they could become an important component of studying tropical rainforest biodiversity, for example in the context of evaluating the biodiversity co-benefits of sustainable forest certifications such as FSC and carbon storage payments such as REDD+.
Despite these apparent benefits and the burgeoning interest in their application, and although the recovery of DNA derived from invertebrate blood meals has been used in the biomedical context for a number of years - for example to reveal whether various haematophagous invertebrates act as vectors of infectious diseases [27] – the application of iDNA in general, and leech iDNA specifically to vertebrate species surveying and monitoring remains relatively undeveloped. In particular, how iDNA data might be combined with state-of-the-art analytical tools such as site-occupancy and spatial capture-recapture (SCR) models to estimate wildlife abundance, population dynamics and distributions has not been addressed. The frameworks of capture-recapture (CR) and occupancy modelling were developed to address our imperfect ability to count the individuals in a population (CR; e.g. [28, 29]) and to detect a species' presence at a sampling location in the first place (occupancy; e.g. [30, 31]). However, the correct use of these modelling frameworks relies on key assumptions being met by the data. These assumptions centre on temporal and geographic closure (referring to "static-ness" of the measure of interest, for example abundance), the independence of records, and, usually, the absence of false-positive detections. Thus, although the potential power of iDNA has led to considerable excitement in the applied ecology and conservation community, the roles that the innate biology of the invertebrates (in particular their behaviour and life-cycle) and the biases in the data generation methods (including PCR amplification, sequencing, and data processing) play with regards to whether iDNA data can be analysed using the existing methods, remain unexplored.
In this review, we discuss the challenges that face the application of existing analytical methods/models to iDNA, in particular possible violations of key assumptions. Although the issues discussed relate to all sources of iDNA, we focus on the concrete example of terrestrial haematophagous leeches to illustrate the advantages and disadvantages of iDNA. We then review the implications of leech biology for occupancy and capture-recapture models, and outline developments that are needed to determine if leech iDNA can meet the assumptions of those methods. Finally, we address how the analytical challenges associated with leeches may apply to other sources of iDNA.
Conclusions
Terrestrial haematophagous leeches hold considerable potential as a tool upon which to base vertebrate surveys and monitoring programs. Nevertheless, before their potential can be fully exploited, considerable effort is required to improve our understanding of leech taxonomy, biology and behaviour. With this information secured, the fundamental assumptions upon which the state-of-the-art analytical methods rest can be re-assessed, and decisions can be made about the true potential and limits of the leech system. Naturally the challenges facing leech iDNA are not unique to leeches, and in many cases can be directly extrapolated to other invertebrate sources of iDNA (Tables 4 and 5). Until these challenges are resolved, it will, however, be critical to continue pilot studies - only application in the field will reveal the amount of data (species and individual level detections) that can realistically be collected using appropriate and logistically feasibly sampling protocols (sufficient sampling sites and repeat visits within a reasonable time frame). In particular, we advocate the need for in situ comparisons of leech (or indeed, any) iDNA tools with other standard survey methods, including camera trapping, other sources of eDNA and human surveys. With this information in hand, researchers will be able to assess the relative strengths and weaknesses of iDNA versus such methods, and in doing so apply combinations of existing tools so as to maximize the data generated in biodiversity assessment and monitoring studies.
Abbreviations
CR:

Capture-recapture
eDNA:

Environmental DNA
iDNA:

Invertebrate-derived DNA
SCR:

Spatial capture-recapture
Declarations
Acknowledgements
The authors thank the Danish National Research Foundation (DNRF94), the Natural History Museum of Denmark, Federal Ministry of Education and Research (BMBF FKZ: 01LN1301A), IZW, Yunnan Province (20080A001), CAS (0902281081, KSCX2-YW-Z-1027), NSFC (31170498), MOST (2012FY110800), UEA, and the State Key Laboratory of Genetic Resources and Evolution at the KIZ for funding their research, and Mads Frost Bertelsen (Copenhagen Zoo), Kristine Bohmann (Natural History Museum of Denmark), Bill Robichaud (Saola Working Group), and Beth Gardner (North Caroline State University) for support and fruitful discussion.
Open AccessThis article is distributed under the terms of the Creative Commons Attribution 4.0 International License (http://creativecommons.org/licenses/by/4.0/), which permits unrestricted use, distribution, and reproduction in any medium, provided you give appropriate credit to the original author(s) and the source, provide a link to the Creative Commons license, and indicate if changes were made. The Creative Commons Public Domain Dedication waiver (http://creativecommons.org/publicdomain/zero/1.0/) applies to the data made available in this article, unless otherwise stated.
Authors' Affiliations
(1)
Centre for GeoGenetics, Natural History Museum of Denmark, University of Copenhagen, Copenhagen, Denmark
(2)
Center for Zoo and Wild Animal Health, Copenhagen Zoo, Frederiksberg, Denmark
(3)
Leibniz Institute for Zoo and Wildlife Research, Berlin, Germany
(4)
Department of Forestry and Environmental Resources, North Carolina State University, North Carolina, USA
(5)
Epidemiology of highly pathogenic microorganisms, Robert Koch Institute, Berlin, Germany
(6)
Sackler Institute of Comparative Genomics and Division of Invertebrate Zoology, American Museum of Natural History, New York, USA
(7)
School of Biological Sciences, University of East Anglia, Norwich, UK
(8)
State Key Laboratory of Genetic Resources and Evolution, Kunming Institute of Zoology, Chinese Academy of Sciences, Kunming, China
(9)
Trace and Environmental DNA Laboratory, Department of Environment and Agriculture, Curtin University, Perth, Australia
(10)
Present address: US Forest Service, Pacific Southwest 17 Research Station, Davis, USA