Out-of-the tropics or trans-tropical dispersal? The origins of the disjunct distribution of the gooseneck barnacle Pollicipes elegans
Frontiers in Zoology
2015
12:39
Received: 20 August 2015
Accepted: 15 December 2015
Published: 30 December 2015
Abstract
Background
Studying species with disjunct distributions allows biogeographers to evaluate factors controlling species ranges, limits on gene flow, and allopatric speciation. Here, we use phylogeographic and population genetic studies of the barnacle Pollicipes elegans to discriminate between two primary hypotheses about the origin of disjunct distributions of extra-tropical populations: trans-tropical stepping-stone colonization versus an out-of-the tropics origin.
Results
Nucleotide diversity peaked in the centre of the species' range in samples from El Salvador and was lower in samples from higher latitudes at Mexico and Peru. Haplotypes from El Salvador samples also had a deeper coalescent, or an older time to a most recent common ancestor. A deep phylogeographical break exists between Mexico and all samples taken to the south (El Salvador and Peru). Isolation-with-migration analyses showed no significant gene flow between any of the three regions indicating that the difference in genetic differentiation among all three regions is explained primarily by differences in population separation times. Approximate Bayesian Computation model testing found strong support for an out-of-the tropics origin of extra-tropical populations in P. elegans.
Conclusions
We found little evidence consistent with a stepping-stone history of trans-tropical colonization, but instead found strong evidence for a tropical origin model for the largely disjunct distribution of P. elegans. Sea surface temperature and habitat suitability are likely mechanisms driving decline of populations in tropical regions, causing the disjunct distribution.
Keywords
ABCClimateCoalescentDemographic historyDiversityMarineOut-of-the tropicsPhylogeographySea surface temperature
Background
Species with disjunct or geographically discontinuous ranges are important systems for understanding the factors controlling species' distributions, population connectivity, and the process of allopatric speciation [1–10]. The two main biogeographic mechanisms that have been proposed to explain range disjunctions are dispersal across an uninhabitable region; or vicariance, the fragmentation of a species' ancestral range through the formation of an unsuitable or impassable region. In both cases, allopatric speciation can take place if the gap in a species' range sufficiently limits gene flow [11]. Although vicariance and dispersal may not be mutually exclusive processes [12–14], distinguishing their roles remains central to the overall goal of biogeography [12–18], to characterize the primary mechanisms that create spatial and temporal patterns of biodiversity [19].
Because dispersal and vicariance may be discriminated when the ages of both the barrier and the population separations are known [20], understanding the timing of divergence events is often key to understanding how disjunct distributions arise [21]. However, biogeographic tests based on the timing of population separation or speciation relative to known geological events rely fundamentally on estimates of mutation rates, which are often only known from related taxa and may depend on additional untestable assumptions. Furthermore, for many marine taxa, temporal inferences are further complicated by the fact that the formation of many barriers to dispersal in the sea are likely climate-driven and geologically short-lived, with limited information about their exact location and duration [22, 23]. However, genetic data can be used to test biogeographic hypotheses using other approaches that do not rely on molecular clock assumptions [24–26], but instead attempt to detect biogeographic processes that leave behind distinct neutral genetic diversity signatures. The potential pitfall of this alternative approach is that it cannot be used to reconstruct ancient biogeographic events [24] because the telltale population genetic signatures that they leave behind will be gradually erased by the evolutionary forces of mutation, gene flow, genetic drift, and natural selection [23, 27].
The fragmented geographic distribution of the gooseneck barnacle,
Pollicipes elegans
[
28
], provides a potentially useful model to investigate the origin of a disjunct distribution in the tropical eastern Pacific (TEP). Extra-tropical populations of this single nominal species are abundant in north and central Mexico (MEX) and northern Peru (PER), areas that lie outside the Intertropical Convergence Zone (ITCZ), the warmest waters of the eastern Pacific. In contrast, records are rare in the ITCZ, between central MEX and northern PER (Fig.
1
). Within the ITCZ (located predominantly to the north of the equator [
29
]),
P. elegans
is only known from El Salvador (SAL) and Costa Rica (CR) (Fig.
1
), but few observations of the species are known from the two intervening areas to the north and south of SAL and CR [
30
–
33
]. Although the unusual distribution of
P. elegans
in the TEP has been referred to as antitropical [
31
,
33
] or absent from the tropics, our more recent surveys of the region and the literature (Fig.
1
) indicate that the fragmented distribution of
P. elegans
is best described as parantitropical [
2
], a trans-tropical distribution in which a species is more abundant towards the periphery than the center of its latitudinal range [
30
,
32
].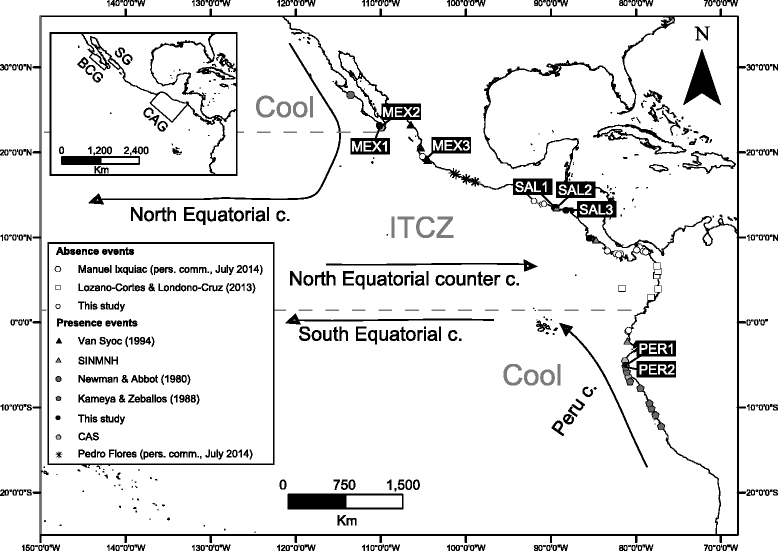 The disjunctions in the geographic range of P. elegans could have been formed by either dispersal or vicariance. In a dispersal scenario, populations of P. elegans crossed the tropics in a stepping-stone fashion, from one hemisphere to the other, likely during periods of cooler climate [1, 2, 5, 34]. Alternatively, populations of P. elegans at the center of the species' range could be relicts of a larger, continuous ancestral distribution. Under this scenario, the disjunct distribution arose primarily from decline of populations in tropical regions (presumably during warm interglacial climates) and the persistence of extra-tropical populations at the edge of the distribution.
Although P. elegans has high dispersal potential because their larvae spend 25–35 days in the plankton (S. Crickenberger, personal communication), mtDNA sequences (cytochrome oxidase I) gathered from extra-tropical populations (MEX and PER) showed a large sequence divergence (1.2 %) and near-reciprocal monophyly [33], suggesting limited or no genetic exchange across the TEP. Prior to the discovery of populations in El Salvador, Van Syoc [33] proposed that temperature was the primary factor limiting the colonization and persistence of populations in the warmest water of the TEP, and therefore gene flow across the TEP. Consistent with this idea, Walther et al. [35] found that larval thermal tolerance (measured by LT50, swimming performance, and respiration) of extra-tropical populations of P. elegans is lower than for larvae from tropical populations, and suggested a potential physiological barrier to gene flow into the tropics. In addition to temperature, habitat availability may also be an important factor influencing the distribution of P. elegans, given that the species only lives on rocky intertidal substrate with moderate to extreme wave action [30, 31]. The lack of such habitat over large stretches of the TEP coastline is well known [36–40]. The Sinaloan Gap (SG), the Central American gap (CAG), and the mainland Mexican coast of the Baja California GAP (BCG) (Fig. 1), are all areas dominated by sandy beaches and estuaries interrupted by only short stretches of rocky coastline [41, 42]. However, suitable habitat can be found north of the equator (in Ecuador, Colombia, and Panama), a region where P. elegans is absent, suggesting the disjunct distribution of P. elegans may be driven largely by temperature or potentially by a combination of factors in different regions (Fig. 1).
To build on Van Syoc's [33] characterization of genetic diversity between extra-tropical populations in P. elegans, we used new (and larger) samples from all three regions of the species' range (including previously unsampled SAL) and a statistical phylogeographic framework to evaluate models for the origins of the disjunct distribution of P. elegans. First, we gathered mtDNA sequence data that included tropical populations at the centre of the species' distribution to describe the range-wide population structure of this species. Then, using a combination of phylogenetic analyses, coalescent population genetic methods, and Approximate Bayesian Computation (ABC) we compared alternative biogeographical histories that varied in population separation order, relative isolation time, and ancestral Ne, based on expectations of either trans-tropical dispersal or out-of-the tropics origin of extra-tropical populations models. If the disjunct distribution is a consequence of recent trans-tropical, stepping-stone dispersal, we expect an overall genetic signature of declining genetic diversity (e.g. [43]) from one hemisphere to the other and a match between summary statistics from the empirical data and those from simulations of stepping stone dispersal across the tropics. Alternatively, if the fragmented population is primarily a consequence of the loss of some tropical populations, we expect that genetic diversity should be either uniform across all regions or greatest in the tropics, and that summary statistics generated with out-of-the tropics origin simulations should match those observed in P. elegans. Although the biogeographical history of P. elegans may include both aspects of vicariance and dispersal, we show that genetic data can be used to distinguish an out-of-the tropics origin from a trans-tropical history of colonization.
Discussion
Spatial patterns of genetic variation in Pollicipes elegans did not support a scenario of recent trans-tropical colonization but instead were most consistent with a tropical origin hypothesis. First, a peak in nucleotide diversity in SAL (tropical region) is not consistent with recent dispersal across the tropics: in a trans-tropical dispersal scenario, sequential colonization events should leave behind a signature of declining genetic diversity from north to south or from south to north, similar to what has been observed in many other taxa that have recently expanded their geographical range in one direction over time (e.g. [48, 49]). Although haplotype diversity did not peak in the tropics, high haplotype diversity in MEX appears to be the result of a demographic expansion, not a consequence of a origin from a tropical ancestor. Viewed from the perspective of the coalescent, Bayesian skyride plots showed that haplotypes in tropical populations had a consistently deeper history compared to haplotypes in all other populations to the north or south, a pattern recovered in other coastal and terrestrial tropical species, often associated with distribution changes as consequence of Quaternary glaciations, indicating either a relatively larger historical Ne or older population ages in the tropical region [50].
Although the overall patterns of genetic diversity found in P. elegans supports a scenario involving a more diverse and possibly older and/or larger SAL populations, we used ABC model comparison to investigate which history fits best to the observed data. Our ABC comparisons found that a tropical origin model was a better fit for the data than a trans-tropical dispersal model. Under the best-fitting tropical origin scenario, P. elegans was abundant and widely distributed throughout the tropics, but through the loss of most populations in the tropical region (perhaps coupled with colonization at higher latitudes), the species' range was sequentially divided into three isolated populations. Differences in estimates of historical Ne across regions and over time detected with ABC also revealed a complex history of changes in population size with respect to population separations. For example, instead of reflecting recent colonization of PER from SAL, the relatively low mtDNA diversity in PER when compared to MEX and SAL, reflects the relatively small current population size of PER and the relatively long period of time that the ancestral population (Anc0 from t1 to t0) spent at a relatively small population size, potentially reflecting the predominance of cold glacial periods over the last 400 ka. In contrast, the high mtDNA diversity of the SAL populations can be attributed to the relatively recent large increase in population size that happened after the separation of PER at t0, a result that is not evident from the mismatch or skyride analyses. However, skyride plots also showed no evidence of recent variation in Ne over time in PER, also consistent with an extinction model rather than a history punctuated by a recent colonization events (See Additional file 1i-p).
Even though our model comparison using ABC strongly favored a tropical origin model over a trans-equatorial stepping-stone model, we recognize that our inferences are based on summary statistics from a single mtDNA gene. Deep phylogeographic incongruences between mtDNA and multilocus nuclear data are rare [51], but some of the unexpected details that emerged from our mtDNA study warrant acquisition of additional data (i.e., more loci). For example, although IM methods showed little evidence of any gene flow among the three disjunct regions of Mexico, El Salvador, and Peru, these methods also failed to find much evidence of gene flow within regions on smaller spatial scales. Because some crustacean larvae, including barnacles, are able to regulate depth and may be locally retained or returned to coastal habitats after initial transport offshore [52–55], we cannot ignore the potential for nearshore larval retention in P. elegans. At the same time, however, we realize that although mtDNA is likely to retain information about major biogeographic events, estimates of gene flow could be downwardly biased by the exclusive use of mtDNA, which may rapidly lose information about gene flow given the smaller effective population size of mtDNA relative to nuclear loci. The use of additional independent nuclear markers in the future may validate our inferences about the demographic history of P. elegans.
Modern and historical factors shaping the distribution of Pollicipes elegans
Several historical and contemporary factors can potentially explain the formation of the disjunct distribution and the persistence of apparently relict tropical populations in the warmest region of the TEP. First, the current range disjunction and restricted connectivity between tropical and extra-tropical populations could be influenced by the geographical distribution of suitable adult habitat. The tropical population at the center of the range of P. elegans lies in the Central American Gap or CAG [36, 41], a transition zone between the Mexican and Panamanian Zoogeographic Provinces [31, 56] that is dominated by sandy or muddy coastline interspersed with mangrove-lined lagoons [36–40]. Although our data cannot directly address this ecological issue, the absence of suitable habitats for P. elegans across large stretches of this region may substantially limit the distribution of P. elegans, especially along the northern CAG coastline between existing SAL and MEX populations, where rocky shores are far apart from each other and may provide a total barrier to gene flow (Fig. 1). However, rocky shore habitat is common south of the CAG where P. elegans is absent over 2,000 km of shore from SAL to northern Ecuador (Fig. 1), suggesting that other factors may prevent the colonization and persistence of P. elegans in that region.
A second explanation for the formation and maintenance of the disjunct distribution of P. elegans could be explained by the presence of a physical and/or physiological barrier to larval dispersal. The clockwise rotation of the north Pacific subtropical gyre and the counterclockwise rotation of the south Pacific gyre create a convergence of surface waters in the warmest area of the TEP (Fig. 1; for a review see [29]). This circulation pattern pushes water away from the coast at the northern and southern margins of the ITCZ (Fig. 1), which could limit larval dispersal both in and out of the ITCZ. Larvae from extra-tropical regions could potentially move all the way across the tropical Pacific in the northern and southern equatorial currents (Fig. 1) and then be returned back to the TEP via the northern equatorial counter current [5], but Walther et al. [35] showed that the high temperatures in the ITCZ likely present a significant physiological barrier to dispersal of larvae from cooler regions. Although temperature effects on larvae may explain why there is little (if any) gene flow into the ITCZ, it does not, however, explain why gene flow out of the ITCZ appears to be similarly restricted in P. elegans. Recruitment in the CAG could be limited by juvenile and adult survival; adult temperature tolerances have yet to be investigated in this species. Comparable patterns of geographical differentiation have been found in the barnacle Chathamalus [57] and the sand crab Emerita analoga [58], with divergence of northern and southern clades similar to the one found in P. elegans, around 400 ka and 250 ka respectively. Other marine species with genetic structuring within the ITCZ include oysters, seahorses, and corals [59–61].
Although modern environmental factors (e.g. sea surface temperature and habitat availability) may currently regulate the distribution of P. elegans, historical environmental changes may have caused the initial range disruption. Large fluctuations in sea level, patterns of ocean circulation, and sea surface temperature have been invoked as important factors contributing to diversification of marine species in the TEP [62, 63], but see [64]. At the outset of our study, we expected that if a tropical origin scenario best explained the disjunct distribution of P. elegans, population separation times should correspond to relatively warm interglacial climates when the majority of tropical populations were extinct. However, acknowledging the uncertainty in mutation rates [65–67], the use of a single genetic marker, and that parameter estimates based on summary statistics may be sensitive to the choice of summary statistics used in ABC [68–70], both the IM and ABC methods indicated the unexpected pattern that isolation of both extra-tropical populations may have occurred during cold glacial periods, suggesting that MEX and PER populations became extra-tropical isolates when the main range of the species likely contracted towards the tropics. Strong advection of cold water from the Peruvian Current system during glacial cycles may have also generated a latitudinal shift of the Intertropical Convergence Zone northward, disrupting gene flow in the equatorial region by sudden contraction of populations north of the equator [71]. The intensification of upwelling in the eastern equatorial ocean during the mid-Pleistocene climate transition, followed by an increase in temperature in the equatorial Pacific Ocean, might also have strongly affected connectivity across the TEP [72–74].
The effects of decadal variation in temperature on connectivity and persistence of modern marine populations may also have left an imprint on population structure and regional patterns of genetic diversity in P. elegans. El Niño Southern Oscillation (ENSO) and acute seasonal variation have profoundly impacted population and community dynamics through repeated regional mortality events and extra-tropical colonization events, especially in South America [75]. For example, during the El Niño event of 1997–1998, high sea surface temperature and run-off of terrestrial guano during intense rainfall seasons caused mass mortalities of P. elegans in Lobos de Afuera island, a location 200 km away from the PER2 site of this study [76]; during the 1982–1983 El Niño, P. elegans colonized rocky shores of central Peru, establishing a local short-lived local fishery [77, 78]. Our data show that Ne among PER populations has been considerably smaller than either SAL or MEX (See Additional file 5), which, in addition to having been derived from a relatively small ancestral population, may also reflect repeated bottleneck events caused by extinction and colonization in Peru during strong ENSO years, rather than consistently small Ne.
Evolutionarily significant units within Pollicipes elegans
Speciation in marine taxa like P. elegans with high dispersal potential remains incompletely understood [6, 79–81]. The very strong phylogeographic break (i.e., near reciprocal monophyly of mtDNA) between MEX and SAL/PER haplogroups suggest that MEX populations could be on an independent evolutionary trajectory with respect to all populations to the south of the CAG. The strong phylogeographical differentiation that has persisted across the last two glacial-interglacial cycles (150–300 ka) indicates that two evolutionarily significant units may exist within P. elegans, which explain the differential demographic responses of Mexican populations as compared to all others to the south. Incomplete lineage sorting of mtDNA haplotypes (with little detectable gene flow) between PER and SAL populations suggest that PER populations could provide an earlier snapshot in the process of speciation between tropical and extra-tropical populations. With near reciprocal monophyly, a future study with multi-locus species delimitation methods would be appropriate to address the presence of cryptic species within P. elegans.
Conclusion
Although taxa with disjunct distributions have been the subject of intensive biogeographic research [82–85], comparisons of alternative hypotheses of historical divergence based on modeling of demographic history are still rare. Using a combination of coalescent population genetic analyses and ABC modeling from data collected from a single mtDNA gene, our study found very little support for a history of trans-tropical dispersal in the gooseneck barnacle P. elegans. Instead, our results support the idea that the extra-tropical populations of P. elegans likely developed through a process of population separations that was not dominated by dispersal across uninhabitable regions, but instead best described by a tropical origin model. Further, our data and analyses indicate that for P. elegans, the separation of extra-tropical populations from central populations in the warmest tropical water was achieved in two temporally distinct steps: the isolation of MEX populations followed by a more recent isolation of PER populations, both potentially during cold interglacial climates.
The formation of ephemeral dispersal barriers that arose during sea level fluctuations in the Pleistocene [62, 86, 87] combined with cycles of local extinction and recolonization, have been proposed as opportunities for rapid speciation of marine species in the tropics [6, 88]. Using frequency-based statistics, coalescent methods, and ABC modeling, our results consistently supported a tropical origin likely driven by vicariance, rather than dispersal across unsuitable habitat, as the main mechanism that produced the largely antitropical distribution of P. elegans in the eastern Pacific. Drivers of the modern disjunct geographical distribution and isolation of populations of P. elegans are likely explained by habitat availability, ocean circulation, and physiological response to thermal stress. Future studies can address if the distinct evolutionary significant units found in MEX and Southern MEX correspond to a novel example of cryptic speciation along a steep latitudinal thermal gradient and validate our inferences about the demographic history of P. elegans using additional independent nuclear markers.
Declarations
Acknowledgements
This work was supported by Clemson University's Department of Biological Sciences and by the National Science Foundation (OCE-0961996 to PBM and ALM). We thank Carmen Yamashiro from the Marine Invertebrates Research unit of IMARPE in Peru and Enrique Barraza from the Natural Resources and Environmental Department in El Salvador for providing collection permits and logistical support. Computational resources and assistance was obtained through the Palmetto cluster high performance computing (HPC) at Clemson University. We also thank Sandra Emme for providing logistical and technical support in the laboratory, Yvonne Chan for assistance with ABC model construction and the anonymous referees for helpful comments on the manuscript.
Open AccessThis article is distributed under the terms of the Creative Commons Attribution 4.0 International License (http://creativecommons.org/licenses/by/4.0/), which permits unrestricted use, distribution, and reproduction in any medium, provided you give appropriate credit to the original author(s) and the source, provide a link to the Creative Commons license, and indicate if changes were made. The Creative Commons Public Domain Dedication waiver (http://creativecommons.org/publicdomain/zero/1.0/) applies to the data made available in this article, unless otherwise stated.
Authors' Affiliations
(1)
Department of Biological Sciences, Clemson University, Clemson, USA
(2)
Department of Biology, University of Hawai'i at Mānoa, Honolulu, USA