How animals distribute themselves in space: variable energy landscapes
Frontiers in Zoology
2017
14:33
Received: 4 April 2017
Accepted: 28 June 2017
Published: 5 July 2017
Abstract
Background
Foraging efficiency determines whether animals will be able to raise healthy broods, maintain their own condition, avoid predators and ultimately increase their fitness. Using accelerometers and GPS loggers, features of the habitat and the way animals deal with variable conditions can be translated into energetic costs of movement, which, in turn, can be translated to energy landscapes.We investigated energy landscapes in Gentoo Penguins Pygoscelis papua from two colonies at New Island, Falkland/Malvinas Islands.
Results
In our study, the marine areas used by the penguins, parameters of dive depth and the proportion of pelagic and benthic dives varied both between years and colonies. As a consequence, the energy landscapes also varied between the years, and we discuss how this was related to differences in food availability, which were also reflected in differences in carbon and nitrogen stable isotope values and isotopic niche metrics. In the second year, the energy landscape was characterized by lower foraging costs per energy gain, and breeding success was also higher in this year. Additionally, an area around three South American Fur Seal Arctocephalus australis colonies was never used.
Conclusions
These results confirm that energy landscapes vary in time and that the seabirds forage in areas of the energy landscapes that result in minimized energetic costs. Thus, our results support the view of energy landscapes and fear of predation as mechanisms underlying animal foraging behaviour. Furthermore, we show that energy landscapes are useful in linking energy gain and variable energy costs of foraging to breeding success.
Keywords
Energetic costsEnergy landscapeForaging effortForaging strategyLandscape of fearEcological mechanismMovement ecologyNon-lethal effects of predationTri-axial accelerationVariable costs of foraging
Background
Animals do not distribute themselves randomly. An extensive literature on wild animal movements and habitat use shows that some locations are highly used, while other nearby locations are avoided [1–6]. Understanding the behavioural decisions that makes a place a foraging 'hot-spot' as compared to a corridor or even a no-go area will be crucial for securing safe spaces for wild animals facing expanding human influence [7] and climate change [8]. Optimal foraging theory [9, 10] predicts that animals will select patches abundant in resources where the gain per unit cost is high. Any unnecessarily extensive movements might increase the risk of predation, and thus, predator avoidance also influences the movements of many animals [5, 11, 12].
In addition to the description of the movement of organisms (e.g. [13]), it is important to consider movements in the context of ecological factors [5, 14–16]. Foraging costs have usually been investigated in terms of time, energy gained or energy consumed [17–19]. However, even minor landscape features may directly affect animal movements by imposing considerable energy barriers on travel [7]. Likewise, the degree of variation in the landscape will account for variable energy cost of movements [20], which can be translated into an energy landscape for animals foraging in it [21, 22]. Consequently, in landscapes where resources are not distributed in a way that resembles the energy landscape, animals will forage in areas of the energy landscape that result in minimized costs and maximised net energetic gain [21]. This prediction has been supported by studies that investigated foraging movements through energy landscapes using animal-attached devices to derive the energetic costs of foraging [7, 21–24]. In marine environments or "seascapes", oceanographic conditions and currents vary over time related to oceanographic cycles and climate change [25–30], resulting in changes in food availability and distribution and thus, in energy landscapes. Such temporal changes of energy landscapes (between or within years) and their consequences on animal behaviour have not been investigated to date. Filling such a gap in our knowledge is particularly relevant in the context of climate change.
Seabirds have evolved a multitude of foraging strategies in order to successfully prey on marine food, such as species-specific preferences of prey or the use of open-ocean versus coastal habitats [16, 31, 32]. During the breeding season, seabirds are central-place foragers, exploiting resources within a given range around their colonies or nests [18, 33, 34]. In a previous study, we investigated simultaneous ecological segregation among species and colonies of a diving seabird assemblage, sharing a sector of the south-western Atlantic Ocean during the breeding season [5]. In that study, we deployed GPS-temperature-depth (GPS-TD) loggers on Gentoo, Rockhopper, and Magellanic penguins (Pygoscelis papua, Eudyptes chrysocome, Spheniscus magellanicus), and Imperial Shags (Phalacrocorax atriceps) breeding at New Island, Falkland / Malvinas Islands, during the breeding season. Because the studied seabird colonies at New Island were much closer to each other (2–7 km) than the average foraging range of the species (9–27 km), we expected large overlaps among the foraging areas. However, we found little, if any, overlap due to strong spatial and temporal segregation [5]. Particularly striking, we observed strong differences in foraging areas, diving depth, time of foraging and prey choice among birds of the same species, breeding in different colonies at the same island [5]. We concluded that the observed differences were most likely caused by optimal foraging of individuals in relation to habitat differences on a local scale, leading to a complex pattern of interactions with environmental covariates, combined with avoidance of predation [5]. Such a flexible foraging strategy was also observed in Gentoo Penguins from Antarctica, where differences were found among years [29, 35]. Flexible foraging habits would provide a buffer against changes in prey availability [29].
In the present study, we investigated the mechanisms behind the flexible foraging strategies in Gentoo Penguins. During two different years, using two colonies of Gentoo Penguins that previously showed strong spatial and temporal segregation [5], and GPS and tri-axial acceleration data for the calculation of energetic costs of movement [21], we aim to show that 1) energy landscapes vary in time (e.g. between breeding seasons) resembling the interaction between foraging effort and prey availability, 2) the seabirds will forage in areas of the energy landscapes that result in minimized energetic costs, 3) as central-place foragers are constraint in the area where they can forage, temporal changes in the energy landscape and associated changes in energy costs of foraging will affect the breeding success.
Results
The marine areas used by Gentoo Penguins varied among years, and so did the degree of spatial segregation between colonies (Fig.
2
). This was most evident when kernel densities were considered (Fig.
3
). In 2013, birds from the South End colony performed the longest trips, which took them furthest away from the colonies and which were more extended in time (Table
1
). However, most trip parameters did not differ significantly between colonies or between years due to large inter-individual variability (Table
1
).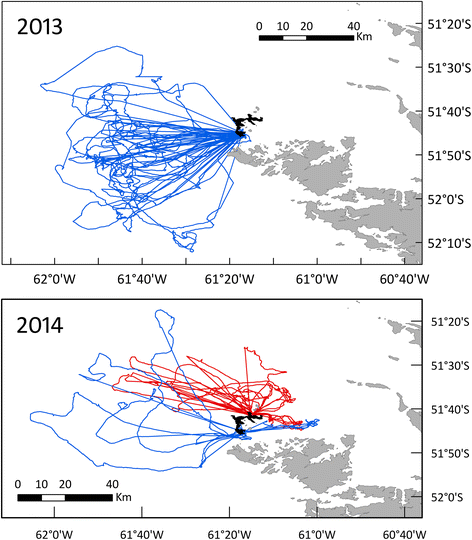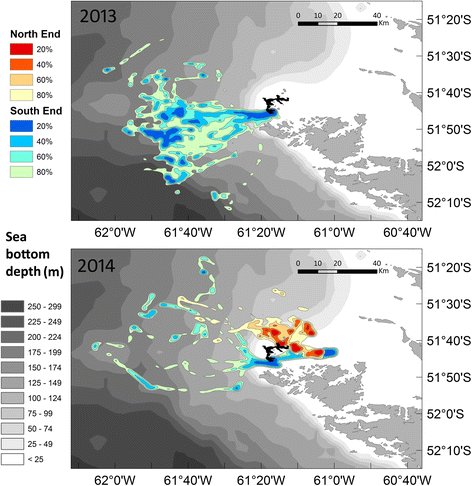 The mean number of dives per foraging trip was similar for both colonies and years (Table 2). Birds from the South End colony carried out more pelagic dives in 2013, while the proportion of pelagic and benthic dives was almost equal for both colonies in 2014 (Table 2). The maximum dive depth was achieved by a bird from the South End colony in 2013 (Table 2). However, the median of the event maximum depth was largest in 2014 and showed no differences between colonies (Table 2). The deepest pelagic dives corresponded to birds from the North End colony (Table 2).
Gentoo Penguins preferentially used the areas of the energy landscape that resulted in lower foraging costs per bottom time gain, mostly below 225 J kg
−1
s
−1
in 2013 and below 175 J kg
−1
s
−1
in 2014 (Fig.
4
). There was no evident relationship between the foraging areas used by the Gentoo Penguins and depth or distance to the colony (Fig.
3
). The selection of the foraging areas varied noticeably in space (Figs.
2
and
3
) and water depth (Fig.
3
, Additional file
1
: Figure S1), but in all cases implied minimal power requirements compared with other parts of the landscape accessible to the penguins around the colony (Fig.
4
).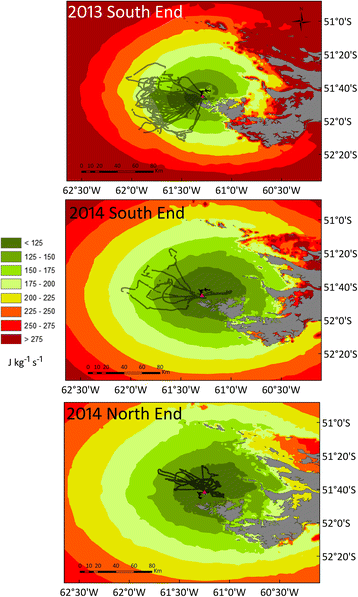 The energy landscapes varied strongly in time (i.e. between the 2 years), but no obvious differences were observed between the energy landscapes calculated for the two colonies in 2014 (Fig.
4
). We compared the foraging costs per bottom time gain extracted from the energy landscapes and corresponding to the locations where actual dive events were carried out (distribution pattern shown in Fig.
5
). When comparing the means for each deployed penguin, the highest mean foraging costs per bottom time gain was observed for the South End colony in 2013 (mean ± SD, 2013: 163.7 ± 9.7, 2014: 107.8 ± 22.2, J kg
−1
s
−1
;
t
= 7.790, d.f. = 17,
P
< 0.001). No differences in foraging costs per bottom time gain were observed between the colonies in 2014 (South End: 107.8 ± 22.2, North End: 106.7 ± 13.8, J kg
−1
s
−1
;
t
= 0.109, d.f. = 11,
P
= 0.915).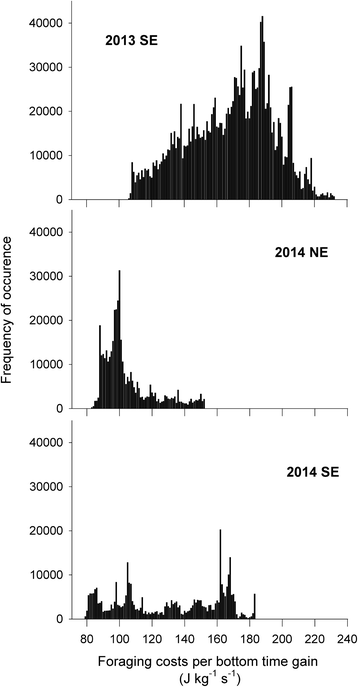 At the beginning of the fieldwork (December, i.e. late incubation and early chick-feeding), we counted all active nests at the colonies. The North End colony consisted of 2378 nests in 2013 and 2073 nests in 2014. The South End colony contained 2044 nests in 2013 and 2072 nests in 2014. During the crèche period (mid-January), the colonies were revisited to count the number of chicks as a measure of breeding success. The North End colony contained 1352 chicks in 2013 and 3172 in 2014. In the South End colony we counted 2458 chicks in 2013 and 2171 chicks in 2014. However, the South End colony was affected by an outbreak of avian pox in January 2015, which affected the numbers corresponding to the second season of this study (December 2014 to February 2015). Despite this disease, the overall breeding success was higher in 2014 (1.29 chick per nest) than in 2013 (0.86 chicks per nest).
Stable isotope niche analysis
The SIBER analyses corresponding to Gentoo Penguin chick feathers revealed differences between the years (Fig.
6
, Table
3
). In 2014, we measured lower δ
13
C (GLM, effect of site:
F
= 5.66,
P
= 0.020, effect of year:
F
= 26.68,
P
< 0.001) and higher δ
15
N isotope values (GLM, effect of site:
F
= 0.37,
P
= 0.544, effect of year:
F
= 14.92,
P
< 0.001). All niche metrics (Table
3
) were larger in 2013 than in 2014, indicating a higher variability in the feeding ecology among individuals. Furthermore, the South End colony (which was represented by the birds carrying data loggers) had the highest niche metrics among all four groups (Table
3
).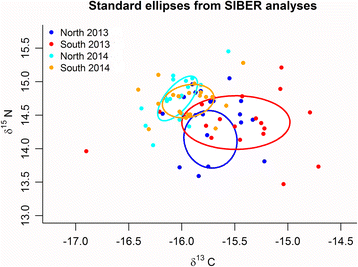 Table 3
Isotopic niche metrics of Gentoo Penguins Pygoscelis papua. Parameters are based on carbon (δ13C) and nitrogen (δ15N) stable isotopes of chick feather samples as a marker of breeding season foraging ecology from two colonies at New Island and two breeding seasons calculated with the SIAR package. SE South End colony, NE North End colony
Symbol

Explanation

NE, 2013

SE, 2013

NE, 2014

SE, 2014

n = 20

n = 20

n = 18

n = 20

LOC

Location of centroid (mean δ13C, mean δ15N)

−15.73, 14.45

−15.49, 14.39

−16.04, 14.75

−15.94, 14.71

SEA

Area of the standard ellipse (isotope niche width)

0.34

0.63

0.15

0.19

SEAc

as above, corrected for sample size

0.36

0.67

0.16

0.20

NR

trophic length (range in δ15N)

1.46

1.74

1.40

0.99

CR

diversity of basal resources (range in δ13C)

0.96

2.19

0.82

0.99

CD

niche width 2 (Mean distance to centroid)

0.43

0.52

0.31

0.29

NND

mean Nearest Neighbour Distance

0.16

0.26

0.13

0.15
Discussion
The costs associated to movements are frequently determined by the landscapes through which animals move [7, 12, 21]. Hence, the energy landscape approach to movement ecology predicts that individuals will modulate different foraging parameters in order to maximize net energy gain during foraging avoiding costly areas [21, 22, 24].
As in previous studies of animal movement, Gentoo penguins in our study consistently foraged in areas of the energy landscape that resulted in lower foraging costs. However, the results of the present study show that, in line with our prediction, the energy landscape changed temporally, namely between the two seasons. During the first season, in December 2013, Gentoo penguins experienced an energy landscape with increased foraging costs around New Island when compared to the second season, in December 2014. Despite these higher costs, Gentoo Penguins in 2013 travelled further (albeit not statistically significantly), and foraged most of the time in more costly areas of the energy landscape than in 2014 (Fig. 5). The breeding success data were in line with this: in a situation of higher energy expenditure (2013), the breeding success was low (0.86 chicks/nest), compared to a situation of lower energy expenditure (2014: 1.29 chicks/nest).
Variation in energy landscapes over time may be due to changes in the landscapes that make the movements of the animal more challenging [21]. In marine environments or "seascapes", the energy landscapes may vary in time following changing oceanographic conditions or as a consequence of fluctuating food availability. In the Falkland Islands, the total catches of rock cod and Patagonian longfin squid, the two main items in the diet of Gentoo Penguin during guard [40], were lower in 2013 (32,436 and 40,168 t respectively) than in 2014 (56,686 and 48,702 t respectively) [71]. The Falkland Islands fisheries statistics thus suggested lower food availability during 2013 compared with 2014 [71], which was reflected in the more expensive energy landscape. This is also in agreement with the lower chlorophyll a concentrations observed in the area southwest of the Falkland Islands in 2013 (see Additional file 1: Figure S17, A) with respect to 2014 (see Additional file 1: Figure S17, B; Giovanni Ocean Color Time-Series, National Aeronautics and Space Administration, USA). Also during 2013, we observed a predominance of lobster krill remains in the scats of Gentoo Penguins breeding on New Island. Previous studies showed that lobster krill is a less preferred item in the diet of Gentoo Penguins at the Falkland Islands both during guard and crèche formation [39, 40]. The reduced availability of preferred prey and the generally lower ocean productivity may have forced the Gentoo Penguins from New Island to prey on a less preferred prey in 2013. Additionally, δ15N was lower in 2013, suggesting lower trophic level prey (e.g. lobster krill), and all δ13C and δ15N niche metrics were larger in 2013 than in 2014 (Table 3), suggesting a higher variability in the feeding ecology among individuals.
A high degree of plasticity in foraging behaviour and diet was also reported for Gentoo Penguins both from Antarctica and Sub-Antarctic islands as a buffer against changes in prey availability [29, 35, 72]. Similarly, in our study of Imperial Shags at New Island, we also observed such plasticity in the diet, diving, and foraging behaviour over time [16]. In the case of Imperial Shags, pelagic dives dominated in poorer years in terms of breeding success. In our present study, Gentoo Penguins performed a significantly higher proportion of pelagic dives during 2013 (Table 2), probably preying on the pelagic phase of lobster krill [73]. This switch to a predominantly pelagic foraging strategy in 2013 could be interpreted as a strategy to overcome a more expensive energy landscape. In years when food availability makes benthic foraging altogether too costly, birds could switch to a more cost-effective pelagic strategy.
The balance between energy gain and variable energy costs of foraging will directly affect the survival and reproduction of individuals in a particular landscape [22, 24]. It follows that in the context of natural selection individuals that move efficiently to areas of the best energy gain per energy expenditure will increase their fitness, leading to the evolution of a variety of energy-saving mechanisms [22]. However, this could be a too simplistic approach, as movement can also depend on other factors in addition to the availability of prey, like the probability of being predated [11, 12, 21, 74].
Gentoo Penguins from New Island did not forage in all areas of the energy landscape with lower foraging costs. An area with the lowest foraging costs i.e. < 125 J kg−1 s−1 located to the north-west of New Island was avoided in both years of this study and also during a previous study (Figs. 2, 3 and 4) [5]. This area surrounds three South American Fur Seal Arctocephalus australis colonies (Fig. 1). According to the landscape of fear approach to movement ecology [12, 75], the spatial and temporal use of the landscapes would be driven by the fear of being killed (risk of predation). Our results are also in line with the landscape of fear approach, adding to a number of studies showing the importance of non-lethal effects of predation on seabird foraging behaviour (e.g. [11]). Moreover, the foraging movements observed during this study provide further support to the complementarity of the energy and fear landscape paradigms proposed by Gallagher et al. [12], as a way of better understanding the mechanistic basis of movement ecology.
Conclusions
This study clearly illustrates that in order to adequately understand the mechanistic basis of movement ecology it is necessary to consider a variety of factors and complementary approaches. A complementary approach looking at the energy gain and variable energy costs of foraging (energy landscapes) and the non-lethal effects of predation (landscape of fear) that also considers the fluctuations in food availability and/or the spatial and temporal changes of the landscapes will certainly help us understanding the complex decisions made by wild animals during foraging. Energy landscapes are also useful in linking energy gain and variable energy costs of foraging to breeding success. Thus, long term studies of the energy landscapes experienced by populations of wild animals could also help understanding demographic changes and their consequences for conservation. Moreover, investigating energy landscapes over time may become a useful tool for the identification of key areas for conservation spatial planning.
Abbreviations
Axy:

Micro tri-axial accelerometer
BBT:

Benthic bottom time
CD:

Distance to centroid
CF-IRMS:

Continuous-flow isotope ratio mass spectrometry
CR:

Carbon range
CT:

Cost of travelling
DD:

Dive duration
GAM:

Generalized additive models
GLM:

General linear model
GPS-TD logger:

General position system-temperature-depth logger
IDW:

Inverse distance weighted
LOC:

Location of centroid
mBBT:

Minimum benthic bottom times
MND:

Mean number of dives per foraging trip
MP:

Mass-specific power
NND:

Nearest-neighbour distance
NR:

Nitrogen range
ODBA:

Overall dynamic body acceleration
pBD:

Proportion of benthic dives
PBT:

Pelagic bottom times
pPD:

Proportion of pelagic dives
SEA:

Standard ellipse area
SIBER:

Stable isotope bayesian ellipses
TBT:

Total bottom time
TCF:

Total cost of foraging
TRC:

Total relative cost
TT:

Travel time
Declarations
Acknowledgments
We are grateful to the New Island Conservation Trust for permission to work on the island and for providing logistic support. Martin Wikelski (Max Planck Institute for Ornithology, Radolfzell, Germany) provided the GPS data loggers. We would like to thank Ian, Maria and Georgina Strange, Melanie Marx, Cristoph Kaula, Jessica Winter, Richard Phillips and Pauline Sackett (British Antarctic Survey, UK), Sylvia Kuhn (Max Planck Institute for Ornithology), Paul Brickle (South Atlantic Environmental Research Institute, Stanley, Falkland Islands), Mikako Saito, Leiv Poncet, and Tatiana de Mendonça Pinto Alves, for their contributions to the fieldwork, lab work, and logistics.
Funding
The study and JFM received financial support from the German Research Foundation (Deutsche Forschungsgemeinschaft, DFG, grant MA2574/5–1).
Availability of data and materials
The rough movement data are stored in the animal movement database "Movebank" <http://www.movebank.org>. Additional information supporting the conclusions of this article is included within the article and the Additional file 1.
Authors' contributions
JFM and PQ conceived and designed the study. JFM generated the field data. AK and TM developed purpose-written software and script. TM and JS contributed to the calculation of dive and acceleration parameters respectively. JFM and PQ analysed and interpreted the tracking, acceleration and dive data. JFM drafted the manuscript. All authors revised, and approved the final version of the manuscript for publication.
Ethics approval and consent to participate
The study involved free-ranging individuals and was approved by the Falkland Islands Government (Environmental Planning Office) through the Research Licence R06/ 2011.
Consent for publication
Not applicable.
Competing interests
The authors declare that they have no competing interests.
Publisher's Note
Springer Nature remains neutral with regard to jurisdictional claims in published maps and institutional affiliations.
Open AccessThis article is distributed under the terms of the Creative Commons Attribution 4.0 International License (http://creativecommons.org/licenses/by/4.0/), which permits unrestricted use, distribution, and reproduction in any medium, provided you give appropriate credit to the original author(s) and the source, provide a link to the Creative Commons license, and indicate if changes were made. The Creative Commons Public Domain Dedication waiver (http://creativecommons.org/publicdomain/zero/1.0/) applies to the data made available in this article, unless otherwise stated.
Authors' Affiliations
(1)
Department of Animal Ecology & Systematics, Justus Liebig University Giessen, Giessen, Germany
(2)
Centre d'Etudes Biologiques de Chizé, UMR7372 CNRS-Université La Rochelle, Villiers en Bois, France