Unveiling the factors shaping the distribution of widely distributed alpine vertebrates, using multi-scale ecological niche modelling of the bat Plecotus macrobullaris
Frontiers in Zoology
2014
11:77
Received: 5 March 2014
Accepted: 7 October 2014
Published: 29 October 2014
Abstract
Several alpine vertebrates share a distribution pattern that extends across the South-western Palearctic but is limited to the main mountain massifs. Although they are usually regarded as cold-adapted species, the range of many alpine vertebrates also includes relatively warm areas, suggesting that factors beyond climatic conditions may be driving their distribution. In this work we first recognize the species belonging to the mentioned biogeographic group and, based on the environmental niche analysis of Plecotus macrobullaris, we identify and characterize the environmental factors constraining their ranges. Distribution overlap analysis of 504 European vertebrates was done using the Sorensen Similarity Index, and we identified four birds and one mammal that share the distribution with P. macrobullaris. We generated 135 environmental niche models including different variable combinations and regularization values for P. macrobullaris at two different scales and resolutions. After selecting the best models, we observed that topographic variables outperformed climatic predictors, and the abruptness of the landscape showed better predictive ability than elevation. The best explanatory climatic variable was mean summer temperature, which showed that P. macrobullaris is able to cope with mean temperature ranges spanning up to 16C. The models showed that the distribution of P. macrobullaris is mainly shaped by topographic factors that provide rock-abundant and open-space habitats rather than climatic determinants, and that the species is not a cold-adapted, but rather a cold-tolerant eurithermic organism. P. macrobullaris shares its distribution pattern as well as several ecological features with five other alpine vertebrates, suggesting that the conclusions obtained from this study might be extensible to them. We concluded that rock-dwelling and open-space foraging vertebrates with broad temperature tolerance are the best candidates to show wide alpine distribution in the Western Palearctic.
Keywords
Alpine distributionAlpine long-eared batBiogeographyChiropteraDistributionModellingMountain long-eared batZoogeography
Introduction
Studying the causes shaping distribution patterns is one of the major tasks in biogeography [1]. Many organisms exhibit similar distributions that despite their current ranges could be the result of different historical, ecological and physiological processes. Identifying the common factors constraining their range is key to understanding these geographic analogies. The joint characteristic attribute of alpine species is the geographic restriction to high mountain environments, which were covered with ice-sheets during long periods in the Pleistocene [2]. The study of the biogeographic patterns of Eurasian alpine species has mainly targeted plants and invertebrates [3]-[6] that due to either low or no mobility [7],[8] are largely conditioned by edaphic and climatic factors [9]. Most vertebrates, however, are unique in their higher mobility, and due to their distinct ecological and evolutionary traits, the biogeographic patterns of vertebrates are likely to differ from those of plants and invertebrates.
The distribution patterns of high mountain vertebrates in the Western Palearctic vary considerably. Endemics restricted to one or few mountain systems are common mainly among vertebrates with low mobility [10],[11]. Most volant species however show wider distributions. Many of them are ubiquitous and can be commonly found in other habitats in addition to alpine environments [12], and few arctic-alpine species show broad boreal distributions with isolated relict populations in alpine areas at lower latitudes [13]. Finally, there is a group of species sharing a broad geographic distribution restricted to Southern Palearctic mountain systems, hereafter referred to as palealpine species, whose distribution pattern has so far received little attention. The distribution of a single bat species, the alpine long-eared bat (Plecotus macrobullaris) is also known to fit this biogeographic pattern [14]. P. macrobullaris is a recently described species [15]-[17] known to forage in alpine meadows [18] and roost mainly in rock crevices and talus slopes [19]. Unlike other bat species in the Western Palearctic [20], this species has breeding populations in the subalpine and alpine belts of mountain systems in the South-western Palearctic [14].
The factors explaining why palealpine vertebrates like P. macrobullaris are restricted to mountain environments, yet absent from the rest of the region, have so far not been addressed. Although species inhabiting alpine environments are commonly regarded as cold-adapted species [21], this relationship is not always accurate. Whilst species with arctic-alpine distributions are physiologically restricted to cold conditions and remain active in the alpine belt during the winter [13], this is not necessarily the case for all alpine species [22]. In fact, the current distribution of many palealpine species also includes relatively warm areas in South-eastern Europe and the Middle East [23], suggesting that factors beyond climatic conditions likely dictate the distribution of these species.
Identifying the factors constraining geographic ranges requires using the correct resolution and extent [24] because the distribution of species is shaped by processes acting at different scales [25]-[27]. Climatic factors mainly drive the continental scale distribution due to the physiological limits of species [28]. Ecological features, instead, usually act more locally and require finer resolution [29],[30]. Additionally, the effect of topographic factors such as slope or aspect also depends on scale [31]. Hence, a multiple resolution and extent approach allows the input of variables in the correct scale in which they act, providing more representative outputs of the environmental factors limiting the distribution of species [32].
In this study we test whether climatic variables or habitat and topographic factors are the main drivers of the distribution of palealpine vertebrates, so that the main factors constraining their distribution are identified. First, we identify the vertebrate species that exhibit palealpine distribution analysing range similarities. And secondly, in order to understand why palealpine species are closely linked to mountain environments, we apply our modelling approach at two spatial scales using P. macrobullaris as model species. At the broad-scale, across the Western Palearctic, we use coarse-grain presence records of the species for continental-level modelling, while at the fine-scale, around the Pyrenees, we use precise roosting records and finer spatial resolution to understand the factors shaping the local distribution.
Results
The Srensen Similarity Index (SSI) value between the distribution area we generated based on updated distribution information of
P. macrobullaris
[
14
] and the area available at IUCN Red List was 0.66. Thus, that was the error-factor we used for calculating the corrected SSI (cSSI) values of the other species, since we consider it more adjusted to the actual distribution similarity between species (Figure
1
). The distribution overlap analysis showed that four birds and a single mammal share the geographic distribution with
P. macrobullaris
, namely the birds
Montifringilla nivalis
,
Pyrrhocorax graculus
,
Tichodroma muraria
,
Prunella collaris
and the vole
Chionomys nivalis
(Figure
1
). All these species showed cSSI values above 0.6, while the average cSSI values for birds and mammals were 0.150.15 and 0.120.14 respectively. The average cSSI value for bats was 0.180.12.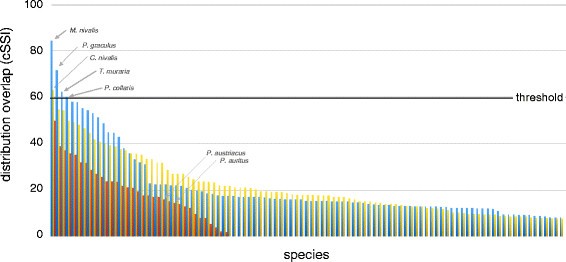 Broad-scale distribution modelling
Analysed evaluators showed that the model with the best predictive ability was the one including one topographic (ABR), five climatic (B4, B10, B12, B15 and B17) and one habitat-related (LAND) variables, generated with a regularization multiplayer of β=1 (Table
1
, Additional file
1
: Table S1). The predictive value of abruptness out-performed elevation in all the analysed cases. The Spearman correlation values (ρ) between elevation and mean summer temperature were −0.97 in the regional scale and −0.43 in the continental scale.
Table 1
Composition, evaluation scores (AUCtest, AICc and MPA) and variable contribution ranks of the best models
Broad-scale modelling

Type

Model

β

AUCtest

AICc

MPA

Variable contribution rank

Climatic

B8, B10, B12, B17

1

0.881

2688.1285

0.3383

B10 (45.3) > B12 > B8 > B17

B4, B10, B12, B15, B17

1

0.880

2619.7250

0.2972

B10 (43.7) > B12 > B17 > B15 > B4

Topographic

ABR, ELEV

1

0.873

2434.7099

0.365

ABR (84.4) > ELEV

ABR, ELEV

2

0.866

2478.7364

0.343

ABR (86.1) > ELEV

Climatic + Topographic

B4, B8, B10, B12, B15, B17, ELEV, ABR

1

0.905

2542.8793

0.201

ABR (71.7) > ELEV > B10 > B17 > B12 > B15 > B4 > B8

B4, B8, B10, B12, B15, B17, ABR

2

0.911

2409.3266

0.237

ABR (79.9) > B10 > B12 > B15 > B17 > B4 > B8

Climatic + Habitat

B4, B8, B10, B12, B15, B17, LAND

1

0.899

2426.4305

0.271

B10 (32.7) > B12 > LAND > B8 > B17 > B15 > B4

B4, B10, B12, B15, B17, LAND

1

0.889

2472.1983

0.237

B10 (37.0) > B12 > LAND > B17 > B15 > B4

Topographic + Habitat

ELEV, ABR, LAND

1

0.873

2333.0673

0.321

ABR (86.7) > ELEV > LAND

ABR, LAND

2

0.876

2379.0112

0.321

ABR (96.6) > LAND

Climatic + Topographic + Habitat

B4, B8, B10, B12, B15, B17, ABR, LAND

1

0.903

2334.3659

0.178

ABR (70.6) > B10 > B17 > LAND > B15 > B12 > B8 > B4

B4, B10, B12, B15, B17, ABR, LAND

1

0.912

2330.3513

0.208

ABR (75.1) > B10 > BIO12 > B17 > B15 > LAND > B4

Fine-scale modelling

Type

Model

β

AUC test

AICc

MPA

Variable contribution rank

Topographic

ELEV, SLOP, ORI

1

0.9294

1087.2041

0.1381

ELEV (56.3) > SLO > ORI

ELEV, SLOP

1

0.9298

1108.6065

0.1574

ELEV (54.9) > SLO

Habitat

DIS-URBAN, DIS-FOREST, DIS-ROCK

1

0.8968

1161.1387

0.2449

dis-rock (74.3) > dis-urban > dis-forest

DIS-URBAN, DIS-ROCK

1

0.8943

1321.0146

0.2471

dis-rock (89.3) > dis-urban

Topographic + Habitat

ELEV, SLOP, ORI, DIS-URBAN, DIS-FOREST, DIS-ROCK

1

0.9429

1289.9253

0.0871

dis-rock (32.0) > SLO > ELEV > dis-urban > dis-forest > ORI

ELEV, SLOP, DIS-URBAN, DIS-ROCK

1

0.9560

1199.8611

0.1026

dis-rock (34.4) > SLO > ELEV > dis-urban
Areas with suitability values below 0.2886 (max SSS) were considered unsuitable, and 89.4% of the total known distribution records were located in suitable cells. The best model showed suitable areas in the main mountain ranges of the Southern Palearctic, as well as some areas of Northern Europe (Figure
2
). All metrics indicated that abruptness was the variable with the best explanatory power (Table
2
, Additional file
2
: Figure S2). The second most important variable, based on all analysed metrics, was the mean temperature of the warmest quarter (B10), and the remaining climatic and habitat-related variables obtained lower values in all the evaluated metrics. The response curve of the best explanatory variable showed that suitability increased with abruptness, starting with zero probability of presence in flat regions (Figure
3
A). The most suitable mean temperature of the warmest quarter was 14C, but suitable values ranged from 6 to 22C (Figure
3
B).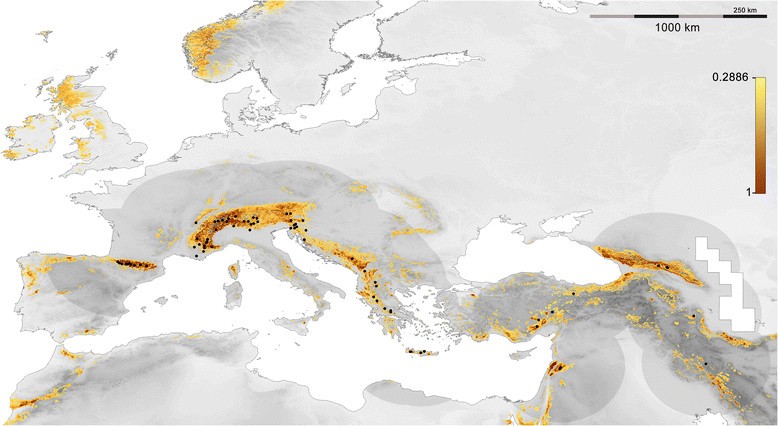 Table 2
Different metrics on the contribution of variables to the best models
Variable

Relative contribution

Permutation importance

Jackknife training gain with only variable

Jackknife training gain without this variable

Broad-scale modeling

ABR

75.10

45.45

1.05

1.05

B10

9.01

28.17

0.64

1.25

B12

3.86

7.34

0.59

1.34

B17

4.63

6.45

0.41

1.34

B15

2.34

2.28

0.09

1.34

LAND

3.70

1.57

0.20

1.33

B4

1.33

8.71

0.11

1.34

Fine-scale modeling

DIS-ROCK

34.36

42.86

0.97

1.71

SLOPE

31.68

14.36

1.16

1.53

ELEV

25.50

28.49

1.02

1.68

DIS-URBAN

8.44

14.27

0.30

1.73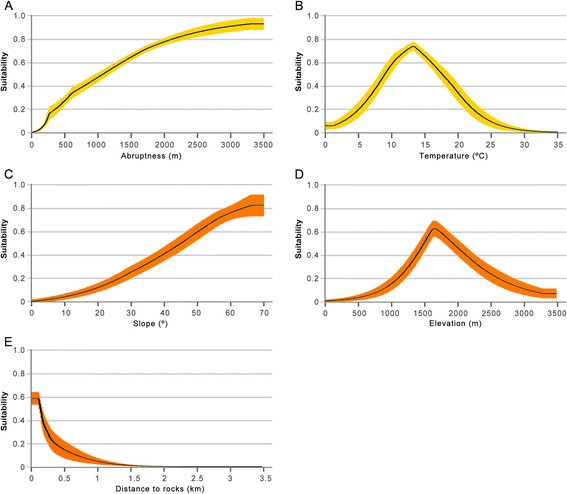 Fine-scale roosting habitat suitability modelling
The best model was built using two habitat (distance to rocky and urban areas) and two topographic variables (elevation and slope) (Table1, Additional file 1: Table S2). The ENM showed good predictive ability (AUC =0.956). The three main factors shaping roosting habitat suitability for P. macrobullaris were the distance to rock areas (DIS-ROCK), slope and elevation. DIS-ROCK was the variable with the highest relative contribution to the best model, and Jackknife tests stressed the importance of slope and elevation (Table2, Additional file 2: Figure S3). The closer the rocks and higher the slope the greater the probability of finding suitable roosting sites (Figure3C and E). The response curve for elevation showed suitable areas for roosting in an elevation range from 1300 to 2400m, with maximum values between 1500 and 2000m (Figure3D).
Discussion
The distribution overlap analysis showed that
P. macrobullaris
shares its distribution pattern with five other vertebrates: the birds
Montifringilla nivalis
,
Pyrrhocorax graculus
,
Tichodroma muraria
and
Prunella collaris
, as well as the rodent
Chionomys nivalis
. Despite slight differences can be observed between the ranges of the mentioned species, they are all widely distributed but restricted to mountain environments (Figure
4
). Therefore, the conclusions obtained from the ENM of
P. macrobullaris
are probably extensible to all of them. Additionally, as it is discussed below, all species exhibit similar ecological features. A handful of other birds, such as
Anthus spinoletta
(cSSI =0.58),
Pyrrhocorax pyrrhocorax
(0.57) or
Turdus torquatus
(0.53) were also linked to mountain environments, although their geographical distribution extends beyond the main mountain chains. The distribution range of the rest of analysed vertebrates showed lower resemblance with palealpine species (Figure
1
).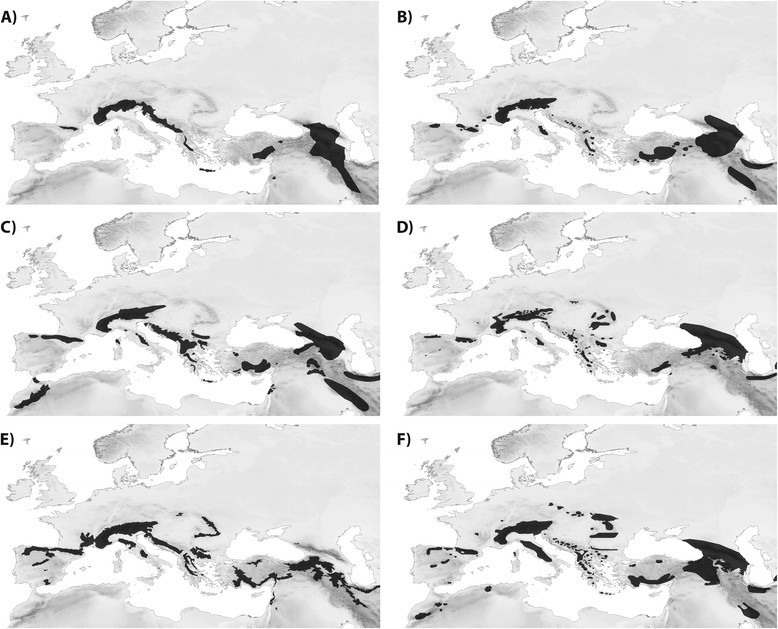 The generated broad-scale model predicted that suitable areas for P. macrobullaris are found in almost all mountain ranges in the Western Palearctic, including some ranges where the species has not being hitherto reported. The species might be present in the Atlas Mts. in Morocco as well as in several mountain chains in the Iberian and Italian Peninsulas, as occurs with some other palealpine species (Figure4). Two of the palealpine birds inhabit the Atlas while the Cantabrian Mts. and the Apennines host all the mentioned species. On the other hand, the presence of the species in the suitable mountain ranges of Scotland and Scandinavia seems implausible. Both ranges were covered by ice caps during Pleistocene glaciations [33], and the large unsuitable flatland separating them from the southern mountain ranges could have prevented their postglacial colonisation by palealpine species. Additionally, harder climatic conditions in winter than in Southern Europe might be another reason that hampers colonisation. This view is supported by the distribution of other palealpine species, which are absent from both Scotland and Scandinavia despite the relatively high mobility of most of them (Figure4).
Our results differ from the previously published ecological niche model of P. macrobullaris in Switzerland [34], which predicted a distribution restricted to lower elevations than what our model did for the Alps. Nevertheless, both research are hardly comparable as they only used localities of colonies detected in buildings at valley bottoms for generating their ENM, which might led to a biased model of the distribution of P. macrobullaris, since the species also uses natural roosting resources [19], and it has been also reported above the treeline in the Alps [14].
Conclusions
The use of multi-scale modelling allowed us to identify features shaping the biogeographic pattern shared by alpine vertebrates with wide geographic distribution, which could pave the way for future studies and help fine-tune conservation measures for this group of animals. The wide temperature tolerance identified in this study suggests that rather than physiological limitations relating to warmer conditions, ecological factors, such as changes in treeline elevation and the incursion of lowland species, may be the main challenges palealpine species will have to cope with under future conditions resulting from climate change [67]. Palealpine species are found in high-mountain environments not because they are constrained by cold temperatures, but because these cold-tolerant species find in alpine environments their preferred foraging and sheltering habitats, characterized by abundant open-space and rocky areas.
Authors contributions
AA, JA and IG designed the study. All authors participated in the fieldwork. AA performed the analyses. All authors drafted the manuscript. All authors have read and approved the final manuscript.
Declarations
Acknowledgements
We wish to thank Orly Razgour for her insightful comments on the manuscript and for proofreading the text. The Basque Government (research projects IT385-07, IT301-10 and IT754-13, and predoctoral grants BFI-2010-190 and BFI-2009-252) and the University of the Basque Country UPV/EHU supported this work.
Authors' Affiliations
(1)
Department of Zoology and Animal Cell Biology, Faculty of Science and Technology, University of The Basque Country UPV/EHU, Leioa, The Basque Country
Copyright
© Alberdi et al.; licensee BioMed Central Ltd. 2014
This article is published under license to BioMed Central Ltd. This is an Open Access article distributed under the terms of the Creative Commons Attribution License (http://creativecommons.org/licenses/by/4.0), which permits unrestricted use, distribution, and reproduction in any medium, provided the original work is properly credited. The Creative Commons Public Domain Dedication waiver (http://creativecommons.org/publicdomain/zero/1.0/) applies to the data made available in this article, unless otherwise stated.