Odonata (dragonflies and damselflies) as a bridge between ecology and evolutionary genomics
Frontiers in Zoology
2016
13:46
Received: 2 March 2016
Accepted: 16 September 2016
Published: 10 October 2016
Abstract
Odonata (dragonflies and damselflies) present an unparalleled insect model to integrate evolutionary genomics with ecology for the study of insect evolution. Key features of Odonata include their ancient phylogenetic position, extensive phenotypic and ecological diversity, several unique evolutionary innovations, ease of study in the wild and usefulness as bioindicators for freshwater ecosystems worldwide. In this review, we synthesize studies on the evolution, ecology and physiology of odonates, highlighting those areas where the integration of ecology with genomics would yield significant insights into the evolutionary processes that would not be gained easily by working on other animal groups. We argue that the unique features of this group combined with their complex life cycle, flight behaviour, diversity in ecological niches and their sensitivity to anthropogenic change make odonates a promising and fruitful taxon for genomics focused research. Future areas of research that deserve increased attention are also briefly outlined.
Keywords
NGS
Ancient insects
Complex life cycle
Naiad
Climate change
Polymorphism
Flight
Ecological Genomics
Background
With more than 1,000,000 species described and an estimated 5,000,000 extant species, insects represent the most diverse animal taxon on Earth [1, 2]. They inhabit key roles as herbivores, pollinators, seed dispersers, predators, detritivores and vectors, thereby contributing to the core biological foundation of all terrestrial ecosystems [3, 4]. Insects are also of exceptional economic importance as providers of essential ecosystem services (e.g. global economic value of US$153 billion of insect pollination in 2005, [5]), pests in agricultural landscapes (e.g. annual control of the diamondback moth Plutella xylostella costs US$4–5 billion, [6]) and as vectors of diseases affecting humans (e.g. malaria control costs ~ US$12 billion annually, Centre for Disease Control).
Dragonflies and damselflies (Insecta: Odonata) represent a species rich, yet tractable (~6000 described species, [
7
]) insect order, which encompasses two main suborders, Anisoptera (dragonflies) and Zygoptera (damselflies). The former are generally larger and alight with their wings held out to the sides, while damselflies have slender bodies, and generally hold their wings over the abdomen when at rest. Here we will use the term odonate as the inclusive terms when referring to both suborders. Several characteristics make odonates an attractive group to combine ecology with evolutionary genomics. First, they are direct descendants of one of the most ancient winged insect groups and, along with Ephemeroptera (mayflies), are sister to all other neopteran insects [
8
]. Second, odonates incorporate rich phenotypic and ecological diversity in one single insect order and therefore constitute excellent candidates for ecological and evolutionary studies [
9
]. As such, they have been used extensively as model species in many areas of ecology and evolution, such as sexual selection, behaviour, evolution of flight and life history theory [
9
]. Third, the group shows several evolutionary innovations, particularly with regard to flight (e.g. direct flight musculature), vision (e.g. complex colour vision,) sexual behaviour (e.g. secondary genitalia), and life history (e.g. complex life cycle). Fourth, the large interspecific variation in habitat specificity and complex aquatic/terrestrial life cycles makes odonates prominent surrogates for evaluating all types of freshwater ecosystems worldwide [
10
]. Lastly, dragonflies and damselflies are comparatively large insects, both as adults and late-instar larvae, and as such their behaviours can be studied readily in the wild. Thus, the phylogenetic position of odonates, combined with their numerous evolutionary innovations make them an attractive model to bridge ecology with contemporary evolutionary genomics and can provide fundamental insights into the origin of these traits. Despite the attractiveness of this group for evolutionary genomics studies, efforts have been lagging behind other insect orders (see Table
1
for a summary of current genomic resources for Odonata).
Table 1
Genomic resources currently available for Odonata (as from 1st of May 2016)
Type of resource

Suborder

Family

Species

Reference/s

Genomes

Anisoptera

Libellulidae

Ladona (Libellula) fulva

Available in GenBank,

Bioproject PRJNA194433

ESTs

Zygoptera

Coenagrionidae

Ischnura elegans

[213]

Transcriptomes

Anisoptera

Libellulidae

Libellula vibrans

Available in GenBank,

Bioproject PRJNA258192

Libellula fulva

Available in GenBank,

Bioproject PRJNA275663

Pantala flavescens

Available in GenBank,

Bioproject PRJNA239794

Sympetrum frequens

[141]

Orthetrum albistylum

[141]

Cordulegastridae

Cordulegaster boltonii

[8]

Anotogaster sieboldii

[141]

Corduliidae

Somatochlora uchidai

[141]

Macromiidae

Macromia amphigena

[141]

Petaluridae

Tanypteryx pryeri

[141]

Gomphidae

Asiagomphus melaenops

[141]

Aeshnidae

Anax parthenope

[141]

Anisozygoptera

Epiophlebiidae

Epiophlebia superstes

[141]

Zygoptera

Coenagrionidae

Enallagma hagenii

[214]

Coenagrion puella

[59]

Ischnura elegans

[162]

Ischnura asiatica

[141]

Ischnura ramburii

Available in GenBank, Bioproject PRJNA270761, [215]

Telebasis salva

Available in GenBank, Bioproject PRJNA270761, [215]

Calopterygidae

Calopteryx splendens

[8]

Mnais costalis

[141]

Lestidae

Indolestes peregrinus

[141]

Mitogenomes

Anisoptera

Libellulidae

Orthetrum triangulare melania

[216]

Hydrobasileus croceus

[217]

Brachythemis contaminata

[218]

Corduliidae

Cordulia aenea

[219]

Gomphidae

Davidius lunatus

[220]

Ictinogomphus sp.

[217]

Anisozygoptera

Epiophlebiidae

Epiophlebia superstes

[221]

Zygoptera

Coenagrionidae

Ischnura pumilio

[222]

Euphaeidae

Euphaea formosa

[70]

Pseudolestidae

Pseudolestes mirabilis

Available in GenBank, (FJ606784)

Calopterygidae

Vestalis melania

[223]

Atrocalopteryx atrata

Available in GenBank, (KP233805)

Mnais costalis

[224]

Platycnemidae

Platycnemis foliacea

Available in GenBank, (KP233804)
At present, most genomic resources for arthropods are available for dipteran flies [e.g. the many Drosophila species, http://flybase.org/static_pages/species/sequenced_species.html], lepidopterans (e.g. moths and butterflies, [11]) and hymenopterans (e.g. wasps and bees, [12]). To some extent, this taxonomic bias is caused by the large economic and/or medical importance of these groups and in some cases because they serve as key laboratory models [13]. However, while it is true that model species provide numerous insights into key molecular and evolutionary processes, they do not necessarily capture essential parts of the biology and ecology of their relatives, especially in the case of those species that are more distantly related. By casting a small net for insect genomic resources, only a partial picture of insect adaptation is formed. Moreover, a focus on a few model organisms could promote a confirmation bias - a "tendency to see what we expect to see" [14]. Conversely, research into diverse taxa will contribute new knowledge to the current "omics" (e.g. genomics and transcriptomics) era. Such an approach offers insights into molecular adaptive processes that occur at contemporary and phylogenetic timescales and are of relevance to ecosystem functioning and stability [15–17].
Recent advances in high-throughput sequencing technologies make it possible to generate large amounts of sequence data from virtually any organism, at a rapid rate and at relatively low cost [18]. Thus, it is now possible to bridge the gap between ecology and genomics and to connect the often unique and well-studied evolutionary ecology of Odonata with a genomic perspective. This advancement will not only increase our ability to understand evolutionary processes within the group, but also add fundamental insights across insects. In this review, we outline the central research importance of Odonata by presenting some of the key features that make this group an unparalleled model system to integrate genomics with ecology and evolution. We synthesize the work conducted on the evolution, ecology and physiology of odonates, as well as the contemporary research showing that they are amenable study species to quantify responses to anthropogenic change, to inform conservation efforts. We focus specifically on those areas where the integration of genomics with ecology and evolution would yield significant insights into evolutionary dynamics that would not be easily gained by working on other animal groups. Finally, we outline future areas of research that deserve increased attention.
Taxonomy and phylogenetic position
Dragonflies and damselflies (Fig.
1a
, [
8
]) are extant representatives of the first ancient winged insects. Their phylogenetic position makes this group of central importance to comparative studies on the evolution of genomic innovations involved in the origins of physiological processes (e.g. flight, colour vision, and metabolism) and life history strategies (e.g. predation, mating, dispersal, and complex life cycles). Thus, a tractable and large-scale phylogeny would provide a rigorous framework to quantify evolutionary changes in genome architecture and provide insight on the origin of evolutionary innovations in odonates and insects in general.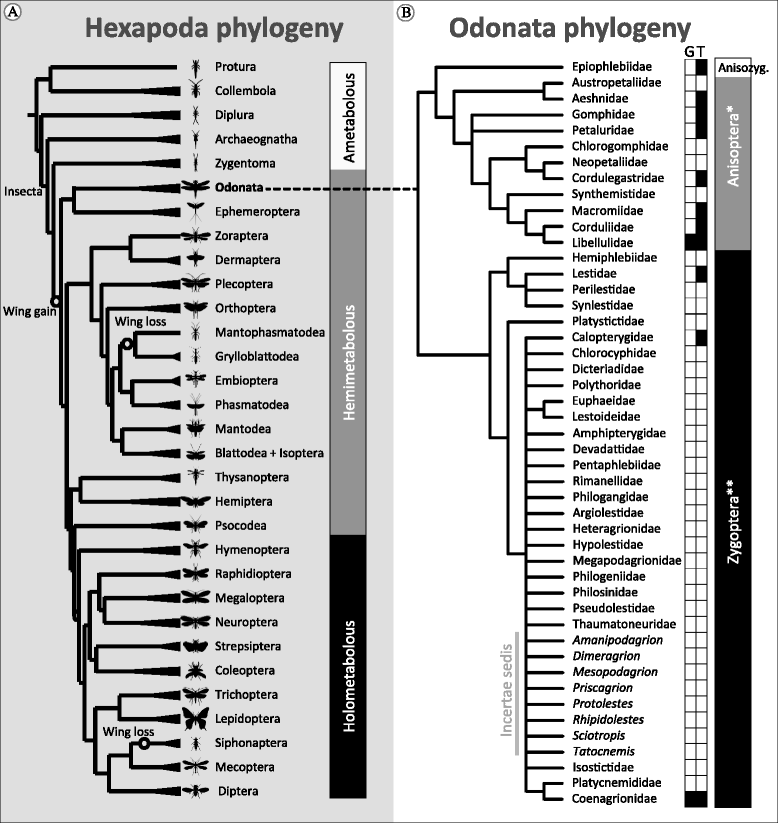 Over the past 20 years, much progress towards reconstructing the phylogeny of Odonata has been made [8, 19–23]. Noteworthy, efforts to construct a detailed classification scheme based on the solid phylogenetic support of suborders and families, albeit some branches still show low support and conflict among families [19, 20, 24–26]. A key limitation of these studies is their reliance on a small set of loci for phylogenetic reconstruction [25, 27]. More robust results are likely to be found with genomic approaches for phylogenetic estimation [28, 29], but before these tools can be properly designed and utilized to quantify phylogenetic relationships within Odonata, genome-level data are necessary. One goal of the 1KITE project [8] is to produce transcriptomes of 107 odonate species (representing roughly half of the family-level diversity), which will provide the first "big data" estimates of the phylogeny of the group and address some higher-level problems of classification (e.g. relationships between the anisopteran families and corduliid monophyly). These data will provide important information to both systematists and ecologists and evolutionary biologists in general by providing a much-needed perspective to address general questions in odonate biology in a phylogenetic context. Future efforts to resolve the phylogeny by obtaining transcriptomic or genomic data for other odonate species will further help to broaden our perspective on this group and provide greater insight into their evolutionary biology.
With approximately 6000 species currently described [30], the taxonomy of the Odonata has been largely considered as well established, and it has been estimated that 95 % of all extant species will be described by 2030 [7]. However, less explored regions, like the Neotropics and the African continent, are likely to harbour a high number of species not yet known for science (e.g. see [31] for the recent description of 60 new dragonfly species). Taxonomy is a very important scientific field, and a correct identification of organisms constitutes an essential infrastructure for other research areas [7]. The numerous high-throughput technologies currently available allow for the characterization of the genome, transcriptome, proteome and even the morphology of an organism (e.g. CT scans, [32]). The application of such technologies to taxonomic research in dragonflies and damselflies would improve the quality and quantity of data that can be applied, not only to the description of new species, but also to provide new perspectives for the correct identification of specimens [33].
Fossil record
Odonates have one of the most complete and well-preserved fossil records among insects (Fig.
2
). The Protodonata represent a fossil crown group to the extant Odonata and first appeared in the Namurian of the Carboniferous around 319,000,000 years ago). Protodonate fossils show evidence of many important traits that are still exhibited by extant odonates, such as an aquatic immature stage, a complex life cycle [
34
], and the complex mating system that typifies this group (i.e. males use secondary genitalia to transfer sperm, see also section 2E, [
35
]). The earliest fossils that are recognized as "modern" odonates date to ~268 Mya from the Upper Permian (
Saxonagrion minutus
, [
36
]) soon after which several stem group fossils for each of the modern suborders appeared, representing many of the families and even some modern genera. The extensive fossil record for several contemporary odonate groups, in combination with information of their relative ages from genomic data, offers the prospect of a thorough integration between the fossil record and contemporary studies of evolutionary biology that will help to shed significant light on many evolutionary questions. For example, insect flight is particularly intriguing as it likely evolved only once [
37
], and the anatomical regions from which wings evolved among the early insects are as yet unknown. A combination of genomic resources, fossils and evolutionary development approaches may help to identify the genetic toolkit responsible for insect flight, as well as the loci associated with key innovations during the evolution of wing morphology as different odonate species diversified and colonised new habitats.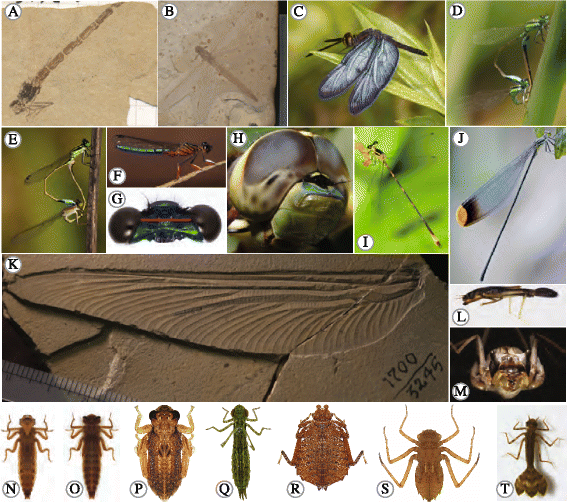 Genome size
The so-called "C-value enigma" refers to the observation that the genome size among many eukaryotes can vary widely, and this variation does not have to correlate with the number of genes or the organismal complexity (e.g. some unicellular organisms have genomes much larger than humans). Understanding how and why genomes show such pronounced size variation has become a timely research topic, especially in the current post-genomics era [38].
Much has been discovered about the patterns and consequences of variation in genome size, with most of these discoveries coming from studies on vertebrates and plants (e.g. [39, 40]), and comparatively little from insects. The first comprehensive study of genomic variation in odonates quantified genome variation in 100 North American species, and revealed a nearly ten-fold difference in genome size between species (from 0.41 pg (Miathyria marcella) to 2.36 pg (Somatochlora elongata), [41]). Genome size correlations with voltinism and larval habitat were not found, but a significant relationship between genome size and body size (positive in dragonflies and negative in damselflies), and flight ability was found (with small genomes being associated with percher species, that is those that only fly intermittently in between periods of perching, and large genomes with fliers, that is those that fly continuously). Finally, genome size was also positively correlated with a species' chromosome number [41]. Future work using a combination of genomic and transcriptomic data could be used to elucidate putative mechanisms responsible for the variation in genome size across odonate species; such as gene duplication, DNA loss, variation in intron size or transposable elements.
Evolutionary ecology
Modern odonates have an exceptionally well-documented behaviour and natural history [9]. The Holarctic regions have the best described odonate faunas, while the greatest species diversity and most understudied faunas are found in tropical areas. Keys and field guides for adult odonates are available for most areas of the world [42–45], and the techniques to observe and capture individuals can be learned with relative ease, making odonates one of the few insect groups with large and comprehensive insect collections (e.g. Florida State Collection of Arthropods, Naturalis Biodiversity Center in Leiden, The Netherlands). Characteristics such as their relatively large body size and conspicuous behaviour make them an ideal insect group to study components of adult fitness in natural populations [46–49]. Below we highlight the distinct ecological traits of odonates that make them a remarkable study system for connecting field ecology with general questions in biology, including the evolution of complex life cycles, fitness consequences of divergent reproductive modes and behaviours, response to climate change, and the evolution of flight.
Sexual selection
Odonates are key players in the understanding of sexual selection theory and have been traditionally used as models in studies of sexual conflict [
99
], character displacement [
100
,
101
] and sexual selection in relation to colour polymorphism and sperm competition [
102
]. Their fidelity to reproductive areas (particularly males), diverse reproductive behaviour and amenability to phenotypic manipulation make them exemplary systems for field studies (Fig.
3
), behavioural observations, and laboratory experiments [
103
]. Indeed, few animal groups can rival Odonata for the combination of these traits (perhaps only water striders [
104
]).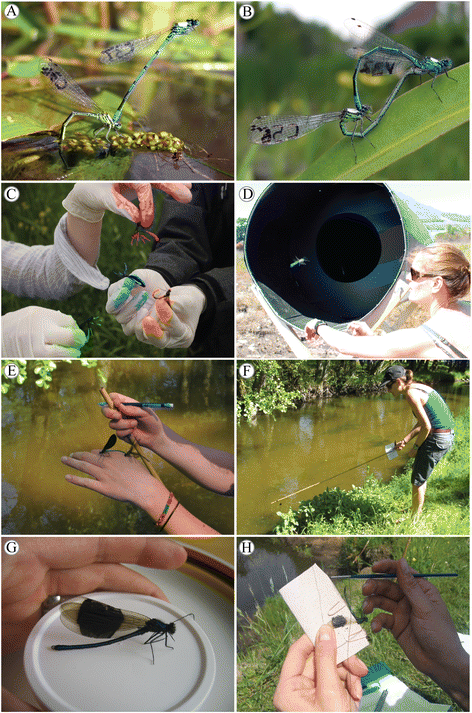 Below, we highlight how genomic tools can be used to increase our understanding of the underlying evolutionary processes of sexual selection. Specifically, we focus on 1) evolution and origin of a unique reproductive mode, 2) genetics of mating behaviour and 3) how odonates are models for studying sexual dimorphism and sex-limited polymorphisms.
Reproductive mode and behaviour
Insects are incredibly diverse in their reproductive behaviour and genetic tools are beginning to shed light on how the different reproductive modes have originated. To date, our knowledge of the genetics of insect reproductive behaviour comes mainly from studies of laboratory model species like Drosophila (e.g. [105]) and eusocial insects (e.g. [106]). Dragonflies and damselflies have a unique mode of reproduction whereby the male grasps the female by the head (dragonflies) or the prothorax (damseflies) and then the female raises the tip of her abdomen forward to receive sperm from the male secondary genitalia; forming a characteristic 'mating wheel' (Fig. 3b in [107]). Elucidating the genes involved in courtship and mating among odonates will help to clarify the evolutionary origin of their unique reproductive mode. Additionally, because modern odonates represent some of the most ancient insects, by identifying the genes involved in mating in this group, we can make evolutionary comparisons of the origins of reproductive behaviours in other well-studied insect groups.
Odonates are also a model system for studying sperm precedence. Males engage in various strategies to ensure reproductive success by removing or displacing rivals' sperm from the female storage organs before transferring their own sperm [108]. Further studies of these behaviours using genomic tools can give us insight on the evolutionary origins of these diverse reproductive mechanisms and the large variation in female and male mating rate that promoted their evolution. In Drosophila, selection for increased mating rate led to major genetic changes (up to a 21 % of the entire genome) which pleiotropically selected for key functions related to neurogenesis, metabolism, development and general cellular processes [109]. In Odonata, genomic studies could address whether such disparate mating behaviours have also selected for other key biological functions, which may explain the extensive variation in ecologies (e.g. adaptation to tropical and non-tropical environments) observed in many closely-related species. To this extent, ischnuran damselflies may give unique insight because they occupy a variety of extreme environments and exhibit also a vast variation in mating strategies, ranging from polyandry to parthenogenesis. The latter is particularly interesting, because in contrast to other known insect groups in which asexual reproduction is frequently found, only one case of obligate parthenogenesis is known within the Odonata (the only-female populations of the American species Ischnura hastata on the Azores islands [110]). Ongoing comparative transcriptomic studies on sexual and parthenogenetic lineages of this species will help to better understand which genes are related to asexual reproduction and why it has evolved in this but not other species of this group.
With regards to the intra- and interspecies variation in sperm displacement mechanisms, nothing is yet known about the genetic underpinnings. Genomic studies that reveal these underpinnings can provide answers to several questions. Firstly, is sexual selection on genitalic function involved in population divergence and speciation [111]? Candidate genes for addressing this question are available from genetic work on male genitalic structures [112, 113] and female sperm storage organs in Drosophila [109] and eusocial insects. In particular, odonates exhibit extensive intra- [114] and inter-specific [115] variation in the morphology of female sperm storage organs. Secondly, do females gain indirect (genetic) benefits from mating multiple times [116] (e.g., through the production of more genetically variable offspring)? And thirdly, how can sperm remain viable once stored in the female sperm storage organs? For example, Ischnura aurora mate soon after emergence and then disperse, which implies female adaptations to keep sperm viable even when the animal is not sexually mature [117].
Dragonflies and damselflies also exhibit diverse pre-mating behaviours related to male-male competition. For example, distinct behavioural differences exist between territorial and non-territorial males, both within and among species [118]. Although ultimate effectors and fitness trade-offs of male mating tactics are reasonably well-known [119], knowledge of both the underlying genomic basis and hormonal influences are lacking [120]. There is potential for strong pleiotropic effects in some species, as seen in Japanese Mnais damselflies, where male mating tactics are linked to a male-limited colour polymorphism [121]. In this case we know that the expression of territorial behaviour is correlated with levels of juvenile hormone [122, 123], lipid content [124], muscular activity [125], infection level, and flight muscle protein expression [126]. Studies indicate that these pathways are highly conserved likely due to purifying selection [127], signifying that the widespread variation in male odonate sexual behaviour may be driven by mutations in gene expression profiles rather than changes in protein coding sequences.
Odonata has also been an exemplary group for studies on female preference. Several damselfly species appear to exhibit learned mate behaviours and plastic mate preferences [128], and populations commonly show pronounced preferences even across small spatial scales. The extent to which population divergence is related to mating preference is relatively unexplored, but it is likely that the combined action of learning, plasticity and microevolutionary processes are involved in most cases. For example, it is known that naïve female Calopteryx splendens can rapidly learn to distinguish between con- and heterospecific males based on their wing phenotype [129, 130], and it appears that learning of heterospecific phenotypes may also be involved in sexual isolation between the European Calopteryx species [92]. In the latter study, it was shown that C. virgo males have lost part of their mate recognition ability and that this loss increased heterospecific mating attempts [92]. While association learning is probably partly involved in the increased heterospecific mating rates in allopatry, loss of mate discrimination alleles as a result of selection (e.g. reinforcement) or genetic drift in this case also likely have played a role. By combining behavioural field data with genomic data, we could determine to what extent mating preferences and species recognition are fixed at emergence, and to what degree populations with divergent sexual preferences differ in their genomic signatures. A combination of gene expression studies and mating trials would provide yet another way to gain deeper insights into the involvement of microevolutionary processes in sexual divergence in this group.
Physiology
There is a paucity of understanding of how genome sequence variation affects physiological mechanisms responsible for trait variation and evolution in odonates. In part, this reflects the non-trivial nature (e.g. rearing time and laboratory infrastructure investment) of maintaining larvae and adults in the laboratory, and of developing appropriate molecular tools (e.g. antibodies, PCR primers) that are needed to examine mechanistic features of trait expression at a physiological level. The availability of genomic resources for odonates would lower some of these technical thresholds and create opportunities to enhance the molecular-level understanding of well-studied traits, as well as ignite interest in novel fundamental and comparative physiological research on this insect group. Below we highlight several key physiological research themes for which the availability of genomic resources would significantly facilitate mechanistic understanding.
Conclusions
Further development of genomic resources for Odonata could strongly improve research on microevolution driven by anthropogenic environmental changes. Integrating genomic data with the extensive field ecology knowledge of many species could be a major leap forward in the field of eco-evolutionary dynamics [207]. Phenotypic change can come about by adaptation, plasticity or an interaction of the two [207]. Disentangling contributions from these effects is important, as they are expected to be associated with different patterns, rates, limits and costs [207]. Moreover, population genomics could allow the prediction of hybridisation rates and improve the precision of demographic inferences by using dragonflies and damselflies as bioindicator species. This would allow us to plan conservation efforts best suited for Odonata itself, other co-occurring species and their environment. Transcriptomic analyses would allow the identification of genes and molecular processes likely to respond to selection due to climate change and habitat loss (which can be studied across a complex life cycle in Odonata), as recently done by Lancaster et al. [182]. Additionally, reduced representation sequencing approaches for genotyping (e.g. RAD, ddRAD, GBS) make it possible to develop and sequence many markers in non-model species [208], e.g. by sequencing large pools of individuals [209], and hence allow for the detection of outlier loci under selection. Such transcriptomic and genomic studies would benefit from the availability of reference transcriptomes and genomes so that annotation of differentially expressed genes and outlier loci is possible.
Summary points
(1)

Odonates constitute an exceptional group to bridge the gap between evolutionary ecology and genomics due to their phylogenetic position, extensive phenotypic and ecological diversity, complex life cycle, ease of study in the wild and usefulness as bioindicators of pollution and climate change.

(2)

These qualities have made them brilliant study subjects in evolution, ecology and physiology. However, despite the extensive scientific literature, there remains a gap between the availability of genomic tools for Odonata compared to other insect groups (i.e. Holometabola), which prevents the research community from filling the holes in our understanding of insect evolution specifically and arthropod evolution more generally. Closing this gap will lead to insights into some of the most ancient and successful animals on the planet, the insects.

(3)

Here, we have reviewed and discussed in detail those areas of research where dragonflies and damselflies have provided unsurpassed models to address biologically challenging questions. We have presented a path forward in terms of research and resources needed to connect genomics and evolutionary ecology of this insect group.
Future prospects
(1)

Development of key high throughput resources for Odonata, including high-quality genome assemblies and species transcriptomes for both sexes, different tissues and varied ontogenetic life stages.

(2)

Applying the genomic insights gained from odonates to insects in general, to help elucidate the genomic origins of several evolutionary innovations (e.g. flight).

(3)

Combining the large ecological dataset available for many species with these resources to analyse macroevolutionary patterns. For example, such a genomics-informed approach would allow us to investigate the widespread colour polymorphisms across the many damselfly species to dissect the genomic basis of colour genes, as well as connect these to the ecological contexts driving colour evolution.
Box 1. Platform for bioinformatics and genomic resources
Genomic research on dragonflies is lagging behind other taxa. By creating a platform where genomic and/or transcriptomic data can be brought together and shared, the available information could be used to its maximum in studies within and across species in this group; allowing us to better understand the evolutionary history of this fascinating and ancient lineage, as well as providing resources for studies of other species across the diversity of insects.

The generation of such a platform for dragonflies would facilitate macroevolutionary comparisons of the genome across related species to understand the evolution of genome structure and the phylogenetic relationships of species. Moreover, transcriptomic analyses will be crucial to identify genes and molecular processes involved in adaptation and selection, and in conjunction with genomic data, they could be used to investigate the evolution of gene expression, duplication and function. High-throughput sequencing data may also help to better understand epigenetic changes and genotype-by-environment interactions [18] as well as microevolutionary perturbations (as described in the main text). Furthermore, such data would allow researchers to investigate the large differences in genome size and relate them to biologically meaningful adaptations.

Despite the recent advance of high-throughput sequencing technologies the number of these omics resources for dragonflies is yet very limited and scarce. As for May 2016, out of the 261 insect complete genomes available in the NCBI genome database (http://0-www.ncbi.nlm.nih.gov.brum.beds.ac.uk/genome), only one corresponds to the draft genome assembly of a dragonfly, Ladona fulva (BioProject PRJNA194433, Table 1), obtained under the umbrella of the i5k project (http://arthropodgenomes.org/wiki/i5k). Within this same project, two other odonate species are included as "nominated" to have their genomes sequenced: Libellula depressa and Ischnura elegans. The I. elegans draft genome currently has a N50 contig and N50 scaffold size of 4 kb and 39 kb (without gaps), respectively, and a 20 kb library is planned to be added to improve the scaffolding in the near future (Wellenreuther et al. in preparation).

The first exploration of the transcriptome in an odonate was done by Simon et al. (2009) who generated 4217 Expressed Sequence Tags (ESTs) for I. elegans. The advent of high-throughput sequencing technologies (mainly 454 pyrosequencing and Illumina) has allowed scientists to obtain a large amount of RNA-seq data and to assemble complete transcriptomes for many organisms, but still there is a major contrast in the number of datasets available for odonates when compared to other insects. As of May 2016, a search in the NCBI SRA database (http://0-www.ncbi.nlm.nih.gov.brum.beds.ac.uk/sra), filtered by RNA data, returned a total of 17,956 datasets for insects, and only 80 corresponded to species within the Odonata. These datasets represent a total of 22 species (Table 1). Additionally, RNA-seq data have been reported for an additional 10 species (e.g. [210, 211]), although these data are not yet publicly available in the NCBI databases. Last, loci for further phylogenomic reconstruction will be extracted from 108 odonate species and these data are expected to be available at the end of 2016 (Karen Meusemann, personal communication).

Mitochondrial genomes constitute, to date, the majority of the available complete genomic resources for Odonata, with a total of 14 species, belonging to 9 families; for which complete mitochondrial genomes are currently available (Table 1). Whole mitochondrial genome sequencing allows the study of comparative and evolutionary genomic questions, such as the frequency and type of gene rearrangements and the evolution of genome size, and the integration of nuclear and mitochondrial genome datasets will also help to improve the resolution of future phylogenomic studies [212].
Abbreviations
CLC:

Complex life cycle
Mya:

Million years ago
N/Kg:

Newton/Kilogram
PCR:

Polymerase chain reaction
SNP:

Single-nucleotide polymorphism
SSD:

Sexual size dimorphism
Declarations
Acknowledgements
We would like to thank the National Evolutionary Synthesis Center (NESCent) for funding the catalysis meeting group 'Odonate Genomics' in 2014 (organisers SMB, PW and MW). MW and BH would like to acknowledge the support of the Linnaeus centre CAnMove at Lund University. SMB would like to acknowledge support from the US National Science Foundation Division of Environmental Biology (DEB- 1265714). R. Schilder would like to acknowledge NSF IOS 1457237. ACA had financial support from a PAPIIT grant (UNAM-DGAPA) No. IN203115 RS was supported by research grants from FWO and the KULeuven Excellence Center Financing PF/2010/07. MOL-C was supported by the EU through a Marie Curie Intra-European Fellowship (PIEF-GA-203-626504). MCD was supported by a US National Science Foundation Postdoctoral Fellowship in Biology (DBI-1401862). MW was funded by a grant from the Swedish research Council (Dnr 2012–3996).
Funding
All funding has been declared during the submission process and within the acknowledgments. No funding body had any role in designing the study, collection, analysis or interpretation of the results presented in the manuscript. No funding body participated in writing any portion of this manuscript.
Availability of data and materials
Data sharing not applicable to this article as no datasets were generated or analysed during the current study.
Authors' contributions
All authors conceived and drafted this manuscript together over a period of 18 months. All authors contributed to figures and tables as well. SMB, PCW and MW oversaw the project with extensive input from all other authors. No analyses were performed or novel data presented within the review. All authors read and approved the final manuscript.
Competing interests
We acknowledge that none of the authors on this manuscript have any non-financial or financial competing interests in this manuscript.
Consent for publication
We have received consent in the form of email (adequate consent for Brigham Young University) for all images included in our manuscript that are not from the co-authors.
Ethics approval and consent to participate
Not applicable.
Open AccessThis article is distributed under the terms of the Creative Commons Attribution 4.0 International License (http://creativecommons.org/licenses/by/4.0/), which permits unrestricted use, distribution, and reproduction in any medium, provided you give appropriate credit to the original author(s) and the source, provide a link to the Creative Commons license, and indicate if changes were made. The Creative Commons Public Domain Dedication waiver (http://creativecommons.org/publicdomain/zero/1.0/) applies to the data made available in this article, unless otherwise stated.
Authors' Affiliations
(1)
Brigham Young University, Provo, USA
(2)
Departmento de Ecología Evolutiva, Instituto de Ecología, Universidad Nacional Autónoma de México, Mexico City, Mexico
(3)
Evolutionary Ecology Unit, Department of Biology, Lund University, Lund, Sweden
(4)
Bioproduction Research Institute, National Institute of Advanced Industrial Science and Technology, Tsukuba, Japan
(5)
Institute of Integrative Biology, Biosciences Building, University of Liverpool, Liverpool, UK
(6)
Departments of Entomology and Biology, Pennsylvania State University, University Park, USA
(7)
Laboratory of Aquatic Ecology, Evolution and Conservation, Department of Biology, University of Leuven, Leuven, Belgium
(8)
Department of Biology, Brigham Young University, Provo, USA
(9)
Division of Ecology and Evolutionary Biology, Graduate School of Life Sciences, Tohoku University, Sendai, Japan
(10)
Department of Ecology, University of Oulu, Oulu, Finland
(11)
Plant and Food Research Limited, Nelson, New Zealand