Feeding ecology in sea spiders (Arthropoda: Pycnogonida): what do we know?
Frontiers in Zoology
2018
15:7
Received: 23 November 2017
Accepted: 24 January 2018
Published: 15 March 2018
Abstract
Sea spiders (Pycnogonida) are a widespread and phylogenetically important group of marine arthropods. However, their biology remains understudied, and detailed information about their feeding ecology is difficult to find. Observations on pycnogonid feeding are scattered in the literature, often in older sources written in various languages, and have never been comprehensively summarized. Here we provide an overview of all information on feeding in pycnogonids that we have been able to find and review what is known on feeding specializations and preferences in the various pycnogonid taxa. We deduce general findings where possible and outline future steps necessary to gain a better understanding of the feeding ecology of one of the world's most bizarre animal taxa.
Keywords
PantopodaMarine arthropodsFood chainBenthosCommunity ecology
Background
Sea spiders (Pycnogonida) are a phylogenetically distinct group of marine arthropods with about 1500 species. General reviews of their biology were provided by King [1] and Arnaud & Bamber [2]. Almost all species have a holobenthic lifestyle. They are particularly abundant and species-rich in the polar regions, where genetic studies have identified several cases of unrecognized diversity [3, 4].
Although pycnogonids are widespread in all oceans and have been known to science for over 250 years, the feeding habits of most taxa remain poorly studied and a detailed review on the feeding ecology of pycnogonids has, to our knowledge, never been published. Observations on this topic are generally scattered throughout the literature, and especially publications written in languages other than English are often difficult to find. General textbooks usually only state that pycnogonids feed mostly on sessile prey, such as coelenterates, sponges and bryozoans (e.g., [5]).
In the present paper, we review all available observations published in the last two centuries including both detailed studies and preliminary notes, thus providing a state of the art summary of known food preferences for this bizarre and highly understudied group of exclusively marine arthropods. Additionally, we discuss morphological correlates of different feeding preferences and the occurrence of generalism vs. specialization in various pycnogonid taxa.
Morphological features for food uptake
A pycnogonid that features all appendages used for feeding (
Nymphon gracile
) is pictured in Fig.
1c
. As the main organ for food uptake, pycnogonids have a unique triradially symmetric proboscis with a terminal mouth surrounded by three movable lips and gland openings probably secreting saliva [
6
]. The proboscis musculature allows suction and pumping of food, mostly in liquid form. Moreover, the proximal part of the proboscis contains the pharyngeal filter, also termed "oyster basket" or "Reusenapparat" (in old literature in German, e.g. [
7
]), which is composed of densely packed bristles that are used to filter out or grind ingested solid particles. Recently Wagner et al. [
8
] have compared pharynx inner surfaces of various pycnogonids using scanning electron microscopy and showed taxon-specific features of the filter bristles and other pharynx armatures, e.g. denticle arrays. However, as differences in feeding ecology between pycnogonid taxa are so far poorly known, no definite conclusions on correlation with feeding modes could be made. The morphology of the mouth opening also differs, as the lips are often fringed with microtrichia of various numbers and lengths (Fig.
2
). In some cases, these are reduced or lost, and the lips are either fringed with papillae (some ammotheids) or not armed at all, as in
Anoplodactylus
. Pycnogonid taxa also differ in whether the mouth is surrounded by setae, as in
Endeis
(Fig.
2a
), or not, as e.g. in
Ammothella
(Fig.
2f
). In
Endeis
, which lacks palps, the setae have a tactile function [
1
]. This indicates that different pycnogonid taxa have different "toolboxes" for handling food, though in a superficial inspection the general morphology of their feeding apparatus looks quite uniform. Ammotheids and ascorhynchids, most of which lack functional chelifores and feed on hydroids, often have a more mobile proboscis than nymphonids and other taxa with chelifores [
1
]. However, this does not apply to taxa without chelifores that are parasitic on much larger animals (Pycnogonidae) or detritivorous (
Endeis
).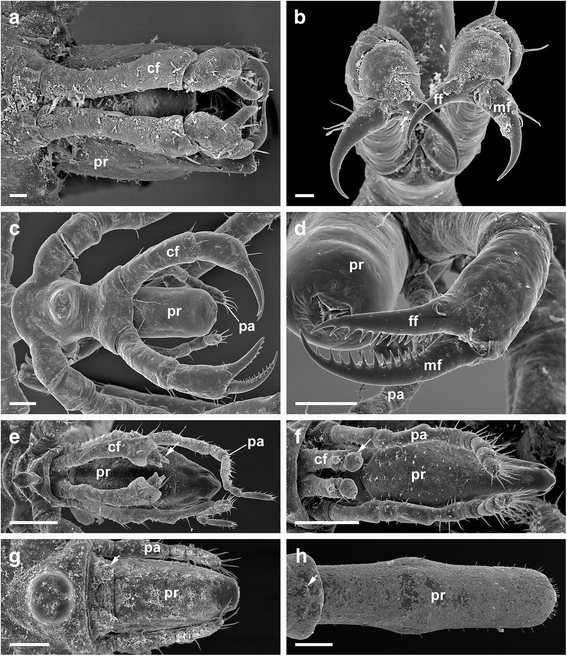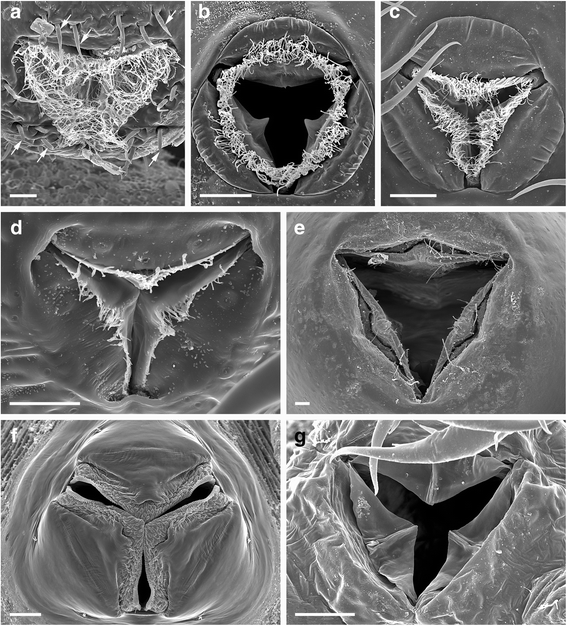 Other organs important for feeding in pycnogonids are the chelifores and palps, which are homologous to the arachnid chelicerae and pedipalps, respectively [9]. The chelifores consist of a scape and a chela with a movable and an immovable finger and are used for cutting off and macerating pieces of the prey organism and leading them to the proboscis (Fig. 1). The chelifores can be placed dorsally (e.g. in the Phoxichilidiidae, Fig. 1a,b) or laterally (e.g. in Nymphon, Fig. 1c,d) of the proboscis. According to Wyer & King [10], only species with laterally positioned chelifores use them to macerate prey, as they are more mobile than dorsally placed ones. For this purpose, when the chelifores are laterally positioned, they often have serrated chelae (Fig. 1d). In the adults of some taxa, the chelifores are highly reduced (many Ammotheidae, Fig. 1e-g) or lost (Austrodecidae, Colossendeidae, Rhynchothoracidae, Pycnogonidae, Endeidae, Fig. 1h). The palps are, besides their tactile function, also used to hold the prey items or guide the proboscis. Palps differ between taxa in the degree of robustness and supination as well as in their length relative to the proboscis and the number and proportion of articles (Fig. 1e-g). In some taxa they are reduced or lost (Pycnogonidae, Callipallenidae, Pallenopsidae, Phoxichilidiidae, Endeidae, Fig. 1a,h). The walking legs, of which there are four (rarely five or six) pairs, can also be used to hold prey, and the morphology of their distal parts also differs between taxa. The prey is held between the claw and the propodus, which often has spines on its ventral surface. In some pycnogonids, such as Nymphon brevirostre and members of the Phoxichilidiidae, the tarsus is extremely short and the propodus is curved, apparently as an adaptation for climbing among hydroids, on which they feed [11].
The digestive system of pycnogonids was described by Fahrenbach & Arango [6]. It is divided into a foregut within the proboscis, where food processing and filtering take place as described above, a midgut where the food is digested and absorbed, and a hindgut covered by cuticle in the reduced abdomen. The midgut is remarkable in that it has diverticula extending into the walking legs and chelifores, which in most, but not all species reach almost to the tips of these appendages. The mechanism of digestion was described by Richards & Fry [12]. Intracellular digestion occurs exclusively by pinocytosis, i.e. only liquid material is taken up.
What do sea spiders eat?
Pycnogonids are usually described as predatory or parasitic. The difference between these terms is that, while predators kill their prey and often consume all or most of the organism, parasites usually do not directly kill their host [
13
]. Under this definition, most pycnogonids can be described as parasitic. Parasitism in pycnogonids was reviewed by Staples [
14
], who also treated feeding on hydroids and other colonial organisms as parasitism, not as predation. While infestations occasionally lead to the death of the host (e.g. [
15
]), this also occurs in other parasite-host relationships. However, there are some cases of predation by pycnogonids, in which entire animals (e.g. annelids; [
16
,
17
]) were consumed. In almost all cases, parasitism by adult pycnogonids can be categorized as ectoparasitism, although some instances of endoparasitism in the pallial cavity of molluscs and in actinians are known. Other pycnogonids can be described as herbivorous [
10
] or detritivorous (e.g. [
17
]). Pycnogonid larvae are either obligate parasites or lecithotrophic and can be either ecto- or endoparasitic (see overview in [
18
]). Chelifores, palps and ovigera are already present in the earliest larval stages and are used for attachment to the host (Fig.
3d
-
f
).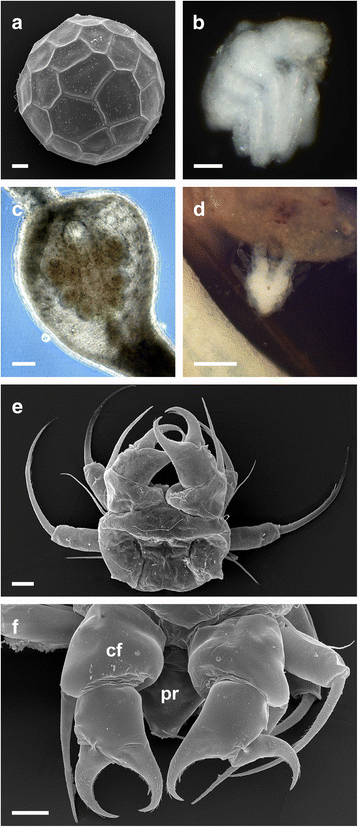 Feeding specializations
In the following section, published records of feeding by pycnogonids on different types of prey are summarized (see also Table
1
) and possible specializations of various taxa are discussed.
Table 1
Summary of known food sources for pycnogonid family-level taxa
| | Algae | Sponges | Hydroids | Actinians | Corals | Medusae | Bryozoans | Mollusks | Annelids | Crustaceans | Echinoderms | Detritus |
| --- | --- | --- | --- | --- | --- | --- | --- | --- | --- | --- | --- | --- |
| Austrodecidae | | | + | | | | + | | | | | |
| Colossendeidae | | ? | + | + | + | + | | + | + | | | + |
| Rhynchothoracidae | | | + | | | | + | | | | | |
| Pycnogonidae | | | | + | | + | + | | | | + | + |
| Ascorhynchidae | | + | | | ? | | | + | | | | |
| Nymphonidae | ? | | + | + | ? | | + | + | + | + | | + |
| Callipallenidae | | | + | | | | + | | + | | | |
| Pallenopsidae | | | ? | | + | + | | | | | | + |
| Phoxichilidiidae | | + | + | | | + | + | + | + | + | + | |
| Endeidae | | | + | + | + | | | | | | | + |
| Ammotheidae | + | + | + | + | + | + | + | + | + | + | + | + |
| Incertae sedis | | | | + | | | | | + | | | |
General findings
Our review documented observations of feeding for only approximately 100 of the about 1500 species (Table 1, Additional file 1). Thus, the most important finding is that for most pycnogonid species, the feeding mode and preferred food still remains unknown. This is especially true of deep-sea forms as well as those of the Antarctic, which include about 20% of the known pycnogonid species [115]. Therefore, taxonomic groups which are typical of these regions, such as the Colossendeidae and Pallenopsidae, are also underrepresented here.
However, for those species where details about feeding items are known, the data reviewed here confirm the generally accepted view that pycnogonids feed mostly on sessile organisms such as hydroids, actinians and bryozoans. King [1] stated that littoral pycnogonids feed on hydroids, bryozoans and sponges "in about that order of frequency". The data reviewed here show that hydroids are indeed the most common food source, being eaten by members of almost all pycnogonid families. It is also confirmed that the second most common food source is bryozoans, which are also consumed by a wide variety of pycnogonid species. However, there are only very few records of littoral pycnogonids feeding on sponges (e.g. [21]), which suggests that they are not among the preferred prey. Sponges might be a more common food source for deep-sea forms [1], although, so far, the data are insufficient. Other types of prey are used less commonly, often by specialist feeders (e.g. Pycnogonidae as actinian specialists). Sediment feeding appears to be especially common in deep-sea forms, about whose behavior little is known, and may be an important but underestimated part of pycnogonid feeding ecology, as already suggested by King [1]. Food sources of juvenile and adult pycnogonids should be distinguished, as there are several species (mostly ammotheids and ascorhynchids) which are parasitic even as late-stage juveniles but free-living as adults, such as the bivalve parasite Nymphonella tapetis.
Food specialization as a rule?
Many pycnogonids appear to be specialized for feeding on a single taxonomic group such as thecate or athecate hydroids, actinians, or bryozoans (Additional file 1). Individuals of these species may even be unable to survive the absence of their preferred food [16]. Like other specialized feeders, these pycnogonids may be vulnerable to environmental change if the frequency of their prey item is reduced.
However, the claim [1] that no pycnogonids are dependent on a single host species (rather than a larger taxonomic group) appears to be correct. Hydroid feeders seem to be the most common group in temperate shallow seas, and feeding on hydroids is therefore particularly intensively studied. The feeding mechanisms of actinian specialists (Pycnogonidae) and detritivores (some Endeis species) have also been well studied. Other pycnogonids, especially members of the Phoxichilidiidae such as Phoxichilidium and Anoplodactylus, appear to be generalist feeders able to live on a wide variety of prey. Prell [39] already noted that Phoxichilidium femoratum is a voracious predator ("ein arges Raubtier") of many different animals, and the observations of Lotz [16] and others on Anoplodactylus agree with this. It is notable that, even within a genus, the feeding preferences may vary widely. Examples are Anoplodactylus, which contains generalists as well as obligatory echinoderm commensals, Endeis, which includes detritivores and coral feeders, and Austrodecus, which includes bryozoan and hydroid feeders. Helfer & Schlottke [116] stated that pycnogonids, due to being incapable of making fast movements, are only able to feed on slow-moving or sessile prey. While this appears to be generally true, there are exceptions. Several pycnogonid species were observed to capture and eat errant polychaetes, and Anoplodactylus also consumes free-swimming crustaceans (see above).
Differences in feeding preference often correspond to differences in morphology. There are variations, especially in the morphology of the proboscis and chelifores, which can be assumed to correlate with feeding preferences, such as extremely thin proboscides in bryozoan-feeding austrodecids and Stylopallene, or the very robust chelifores of Pseudopallene and related genera used to crush bryozoan zooids. In Anoplodactylus, the lips appear to be specialized for cutting tissue, which would be useful for its generalist predatory lifestyle. The chelifores are well developed in most hydroid feeders, which use them to grasp stems or hydrothecae and lead them to the mouth. In animals living parasitically on much larger hosts, such as Pycnogonidae on actinians, and in detritivores such as Endeis they are reduced. The proboscis is much more mobile in ammotheids and ascorhynchids than in most other forms, which fits with the fact that these animals seem to be mostly hydroid feeders that cannot hold their prey in their small chelifores. However, these correlations may not be perfect. As an example, a preference for bryozoans has been shown for only one Antarctic austrodecid species [26], while the Australian Austrodecus frigorifugum feeds on hydroids [27]. For most taxa, the correlation between morphology and feeding has yet to be investigated. This is especially true of internal anatomy, where Wagner et al. [8] have found significant differences between taxa in the proboscis, and the detailed anatomy of the digestive system has been studied only for very few taxa.
Cryptic species and food specialization
Morphological correlates of different feeding habits thus exist, but the question arises what those differences actually are. In other words, there is a considerable gap in the current knowledge of pycnogonid feeding ecology that needs to be closed. This is of particular interest since in the past decade molecular and morphological studies, especially in the Southern Ocean, have shown that pycnogonids are a useful model taxon for analyses of speciation and phylogeography of holobenthic marine organisms [3, 4]. However, these studies have focused exclusively on genetic drift as speciation motor, while selection (with food preferences as a major cue) has hardly been considered so far. Besides, differences in food preference between closely related species are little known. To deepen knowledge of pycnogonid feeding ecology would, therefore, be an important contribution to marine evolutionary biology, especially of high-latitude environments.
New methods provide new insights
While most observations and experiments were conducted using classical setups, mostly by direct observation of feeding, only a few studies have been undertaken using novel techniques such as fatty acid analyses [17, 101] or stable isotopes [108, 109, 117]. Molecular content analyses of pycnogonid gut content have to our knowledge never been published. A metabarcoding approach, in which standard barcoding markers are amplified from bulk samples and sequenced with next-generation methods, has been successfully used for identifying gut contents in several taxa (e.g. [118]), and could also be useful in pycnogonids. However, as the cellular material is already processed and filtered in the pycnogonid proboscis, it does not enter the midgut [6]. Therefore, a metabarcoding approach might be less successful than in animals where cellular prey tissue is found in the gut. When genomic or transcriptomic data of pycnogonids become available (several transcriptomes already exist in unpublished form), they should be checked carefully for the presence of non-pycnogonid DNA, which could be an important source of new data on pycnogonid feeding. Preliminary results by J. Dömel and T. Macher (in prep.) for two Antarctic pycnogonid species have already confirmed the presence of several taxonomic groups known to be pycnogonid prey.
Outlook
Despite the fact that pycnogonids have been observed for almost two centuries, information about the feeding habits of more than 90% of the species is missing. Hence, one of the tasks for future studies will be to keep going the "naturalist path", i.e. observation of pycnogonids in their habitats in order to record their actual food preferences. Moreover, previous analyses of morphological adaptations of the organs of food assimilation (chelifores, palps, proboscis lips, proboscis inner structures) to the type of nourishment proved fruitful and therefore should be made for many more species. Apart from analyses of these structure-function relationships, there are three approaches using modern techniques that have been neglected until now, i.e. fatty acid and stable isotope analyses as well as DNA sequencing of gut contents. However, these results are needed to analyse the relative contribution of selection for pycnogonid speciation processes next to the typically discussed allopatric scenarios fuelled by genetic drift and lineage sorting.
Conclusions
1.

Pycnogonids feed on a wide variety of prey, mostly on sessile animals, but also detritus and other food sources.

2.

Hydroids appear to be the most common food source of pycnogonids, followed by bryozoans and actinians. Other food sources are less common.

3.

Many pycnogonids are generalist feeders, but a number of taxa are specialized in a particular food source, e.g. actinians for members of the Pycnogonidae.

4.

Pycnogonid taxa often show clear adaptations to their preferred food, especially in the morphology of the proboscis and chelifores.

5.

For most pycnogonids, especially deep-sea forms, the preferred food source is still unknown. More research on pycnogonid feeding ecology could reveal mechanisms of differentiation between closely related species and therefore of evolutionary radiations.
Box 1 First reports were often erroneous
The first records of pycnogonid feeding were erroneous. To our best knowledge, Linnaeus [120] was the first who mentioned a pycnogonid, identified as Phoxichilidium femoratum by Calman [121], feeding by drilling holes with its proboscis into the shells of mussels (Mytilus spp.). However, this way of feeding appears to be physically impossible, as the tissue of the proboscis lips is certainly not hard enough to drill into a molluscan shell. Similarly erroneous was the claim by Lamarck [122] and others that Pycnogonum is parasitic on whales, which was based on confusion with cyamid amphipods [123]. The first reliable observations on pycnogonid feeding were given by Zenker [19], who reported on food being found in the dissected proboscis of Nymphon gracile. Parasitism on hydroids by pycnogonid larvae was first documented by Allman [124]. Adult pycnogonids have often been found on hydroids and other sessile organisms (e.g. [7]), but the first documented observation of feeding was published by Cole [36] for Anoplodactylus lentus. Further detailed observations on the feeding mode of several pycnogonid species belonging to different families were recorded by Prell [39]. Later, some authors also performed experiments in which the food preference of different pycnogonid species, mostly from the North Sea [16, 25], but also from the Southern Ocean [26] was tested.
A synopsis of pycnogonid-host associations was given by Helfer & Schlottke [116], however, not in all cases the pycnogonid can be assumed to be feeding on the organism on which it was found (Fig. 4 shows some associations of pycnogonids with other organisms, and it is unclear whether any of these are used as a food source). Some entries in their table are also erroneous, with the original sources actually describing epibionts or predation on pycnogonids. King [1] updated this synopsis, distinguishing between associations of larval and adult pycnogonids with their hosts and cases where the pycnogonids were actually observed feeding. A further short review of pycnogonid feeding was provided by Arnaud & Bamber [2] as part of their general review of pycnogonid biology.
Declarations
Acknowledgements
We thank Kaitlin McConnell and Roland Meyer for contributing underwater photographs. Scanning EM pictures of Achelia echinata protonymphons were made by Miriam Barnerssoi. We also thank Andrew Mahon for contributing the transcriptomes that were used to obtain the preliminary data referred to in the section "New methods provide new insights", and Till-Hendrik Macher for doing the analyses on them. The manuscript was improved by comments from Anna Soler-Membrives and an anonymous reviewer.
Funding
This work was supported by the Deutsche Forschungsgemeinschaft (DFG) in the framework of the priority programme "Antarctic Research with comparative investigations in Arctic ice areas" by grants to LD (DI 2228/1–1), FL (LE 2323/3–1) and RRM (ME 2683/8–1). Underwater photography was supported by Sea Life Center Munich with RRM's project "Biodiversity of the Chilean fjords".
Availability of data and materials
The data presented here are extracted from the published literature.
Authors' contributions
LD collected a majority of the data and wrote most of the text. TL and RRM contributed the figs. FL, JSD and RRM discussed the data with LD and contributed to the structuring of the manuscript and presentation of the data. All authors read and approved the final manuscript.
Ethics approval and consent to participate
Not applicable.
Consent for publication
Not applicable.
Competing interests
The authors declare that they have no competing interests.
Publisher's Note
Springer Nature remains neutral with regard to jurisdictional claims in published maps and institutional affiliations.
Open AccessThis article is distributed under the terms of the Creative Commons Attribution 4.0 International License (http://creativecommons.org/licenses/by/4.0/), which permits unrestricted use, distribution, and reproduction in any medium, provided you give appropriate credit to the original author(s) and the source, provide a link to the Creative Commons license, and indicate if changes were made. The Creative Commons Public Domain Dedication waiver (http://creativecommons.org/publicdomain/zero/1.0/) applies to the data made available in this article, unless otherwise stated.
Authors' Affiliations
(1)
Zoological Research Museum Alexander Koenig, Statistical Phylogenetics and Phylogenomics, Bonn, Germany
(2)
Faculty of Mathematics and Natural Sciences, University of Bonn, Bonn, Germany
(3)
Aquatic Ecosystem Research, Faculty of Biology, University Duisburg-Essen, Essen, Germany
(4)
Bavarian State Collection of Zoology – SNSB, Münchhausenstraße 21, Munich, Germany
(5)
Department Biologie II, Ludwig-Maximilians-Universität München, Planegg-Martinsried, Germany
(6)
GeoBioCenter LMU, Munich, Germany