Comparative analysis of septic injury-inducible genes in phylogenetically distant model organisms of regeneration and stem cell research, the planarian Schmidtea mediterranea and the cnidarian Hydra vulgaris
Frontiers in Zoology
2008
5:6
Received: 01 April 2008
Accepted: 27 April 2008
Published: 27 April 2008
Abstract
Background
The planarian Schmidtea mediterranea and the cnidarian Hydra vulgaris have emerged as valuable model organisms in regeneration and stem cell research because of their prominent ability to regenerate a complete organism from any small body fragment. Under natural conditions wounding may result from predator attacks. These injuries open their innermost to a wide array of microbes present in the environment. Therefore, we established the hypothesis that regeneration processes may be linked to or at least accompanied by innate immune responses. In order to screen for septic wounding inducible genes we dissected individuals using a scalpel in the presence of a crude bacterial lipopolysaccharide preparation that is commonly used to elicit innate immune responses in animals and applied the suppression subtractive hybridization technique that selectively amplifies cDNAs of differentially expressed genes.
Results
This analysis revealed the induced expression of 27 genes in immune challenged Schmidtea and 35 genes in immune challenged Hydra. Identified genes from both animals encode proteins that share sequence similarities with potential homologues from other organisms known to be involved in signaling (e.g. calreticulin in Schmidtea and major vault protein in Hydra), stress responses (e.g. Hsp20 in Schmidtea and a PRP19/PSO4 DNA repair protein in Hydra), or to represent potential antimicrobial effectors (e.g. perforin-like protein in Schmidtea and PR-1-like protein and neutrophil cytosolic factor 1 in Hydra). As expected, septic wounding also induces expression of genes in Schmidtea and Hydra potentially involved in tissue remodeling associated with regeneration processes (e.g. matrix metalloproteinase in Schmidtea and a potential von Willebrand factor in Hydra).
Conclusion
We identified numerous immune-inducible genes in Hydra and Schmidtea that show a similar distribution corresponding to their physiological roles, although lineages of both animals split from their common ancestor for more than five hundred millions of years. The present study is the first analysis of immune-inducible genes of these two phylogenetically distant model organisms of regeneration and provide numerous candidate genes that we can use as a starting point for comparative examination of interrelationships between immunity and homeostasis.
Keywords
Suppression Subtractive HybridizationStem Cell ResearchSubtract cDNA LibraryShare Sequence SimilarityMajor Vault Protein
Background
To date, there is no satisfactory answer to the question why some animals have higher regeneration capacities than others. The ability to replace lost or injured body parts is widely distributed among animals, whereas regeneration of a complete organism from any small body fragment is restricted to only few animal phyla and is accompanied by the ability to reproduce asexually by budding or fission [1, 2]. These features have been attributed to a stable population of stem cells known as neoblasts in Schmidtea mediterranea [3, 4] and to both stem cell-based mechanisms and transdifferentiation in Hydra vulgaris [5, 6]. These two phylogenetically distant animals with remarkable regeneration capacities attract renewed attention as powerful model organisms since both, S. mediterranea and H. vulgaris, are amenable to systemic RNAi mediated gene silencing and other genetic tools for functional gene analyses [7–11].
In their habitats
Hydra
and
Schmidtea
may be wounded by attacks from predators. These natural injuries open their innermost to a wide array of microbes present in the environment. Therefore, we established the hypothesis that regeneration processes may be linked to or at least accompanied by innate immune responses. As a first step towards understanding the immune defense reactions of both model organisms we used the suppression subtractive hybridization (SSH) technique. This method has been proven as a valuable tool for identification of novel immune-inducible genes in a number of animal species, including representatives of Ecdysozoa [
12
–
18
], Lophotrochozoa [
19
–
22
], and Deuterostomia [
23
,
24
]. Here, we applied the SSH method to identify genes that are differentially expressed upon wounding in Cnidaria and Platyhelminthes. We selected
Hydra
and
Schmidtea
for analyses because both are currently emerging as genetically tractable models in regeneration, development and stem cell research. In addition, their complete genome sequences have recently been determined and will be available soon [
25
,
26
]. The phylogenetic relationship between
Hydra
and
Schmidtea
and model organisms whose septic-injury inducible genes have previously been identified using the SSH-method supports comparative approaches to reconstruct evolution and function of genes that are linked to immunity (Fig.
1
). Further reasons that make
Hydra
and
Schmidtea
amenable to comparative approach analyses are that both share similar body sizes and colonize freshwater habitats allowing comparable experimental conditions.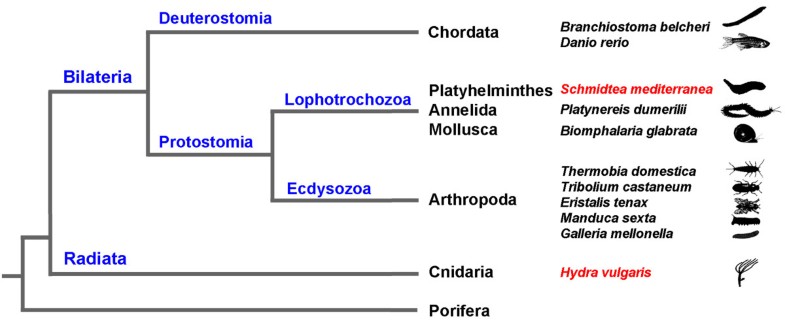 In this study, we report profiles of injury-inducible genes from Schmidtea and Hydra, including genes that encode proteins potentially involved in e.g. immune-inducible signaling and defense reactions. Comparisons of potential calreticulin, matrix metalloproteinase (MMP), and perforin with homologues from other organisms provide novel insights into the ancestral complexity and evolution of the metazoan immune system.
Conclusion
Here, we report a comparative analysis of immune-inducible genes in two phylogenetically distant model organisms of regeneration and stem cell research. We selected the cnidarian H. vulgaris and the planarian S. mediterranea for targeted screening of genes that are up-regulated upon large-scale septic wounding using the SSH method. Obtained results highlight the ancient origin of some genes (e.g. MMPs, calreticulin, p47-phox, perforin, and major vault protein) known from vertebrate immunity. This is consistent, for instance, with the findings that even the most ancient animals, porifera, possess functional Toll-like receptors [56] and with the recent report of a bioinformatic analysis of the immune repertoire in Cnidaria [39]. However, screening for immunity-related genes in genomic or EST databases only allows identification of genes that share sequence similarities with known genes, while the SSH-approach is particularly suitable for the experimental screen for yet unknown or unexpected genes and, therefore, complement the bioinformatic approaches. Confirming this, the present study increases the number of genes identified in Schmidtea and Hydra (e.g. phospholipase C and perforin for S. mediterranea and major vault protein and vWF protein in H. vulgaris). In addition, using the SSH-method we have recently identified novel insect antimicrobial peptides among which some of them emerged as promising templates for the rational design of second generation antibiotics [57] or as transgenes for the generation of disease-resistant crops [58]. Hence, identified immunity-related genes from Schmidtea and Hydra may have also potential therapeutic value. Additionally, it will be a challenge to elucidate physiological functions of the presently identified genes during immune responses and homeostasis and to employ Schmidtea and Hydra as model organisms for the investigation of molecular interactions of pathogens with the host innate immune system.
Declarations
Acknowledgements
We thank Meike Fischer for excellent technical assistance and Katja Altincicek for critical reading of the manuscript. We are grateful to Emili Saló (University of Barcelona, Spain) and Luca Gentile (Max Planck Institute for Molecular Biomedicine, Münster, Germany) for kindly providing us with Schmidtea mediterranea and Monika Hassel (Philipps University of Marburg, Germany) for kindly providing us with Hydra vulgaris.
Authors' Affiliations
(1)
Interdisciplinary Research Center, Institute of Phytopathology and Applied Zoology, Justus-Liebig-University of Giessen, Giessen, Germany
Copyright
© Altincicek and Vilcinskas; licensee BioMed Central Ltd. 2008
This article is published under license to BioMed Central Ltd. This is an Open Access article distributed under the terms of the Creative Commons Attribution License (http://creativecommons.org/licenses/by/2.0), which permits unrestricted use, distribution, and reproduction in any medium, provided the original work is properly cited.